Indian ministers' tweets gift ammunition to China and Pakistan
Several Twitter users had pointed out that images that resembled a Korean airport or a Chinese airport had been used to depict how the Jewar airport may look when ready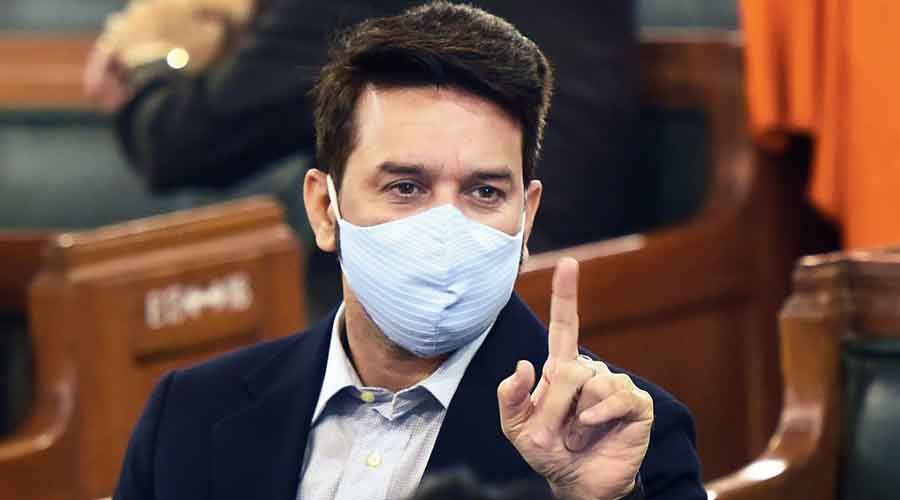 Union information and broadcasting minister Anurag Thakur.
PTI file photo
---
New Delhi
|
Published 28.11.21, 02:22 AM
|
---
The "enemy" lurks within, Mr Modi.
Guess who have provided ammunition to China and Pakistan to ridicule India this time? Some of your own ministers.
Beijing's propaganda machinery has seized with alacrity a boiler-plate video in tweets uploaded by several Indian ministers that show a Chinese airport as part of a drive to extol the magnificence of an airport whose foundation stone was laid by Prime Minister Narendra Modi at Jewar in Noida, Uttar Pradesh, on Thursday.
"Errr.... Shocked to know that Indian government officials had to use photographs of China Beijing Daxing International Airport as proof of their 'achievements of infrastructure' (three emojis denoting a facepalm moment)," tweeted Shin Shiwei, a production editor of the state-run China Global TV Network (CGTN), on Saturday.
Under the control of the propaganda department of the Chinese Communist Party, CGTN has been tasked by Xi Jinping to "tell China's story well".
The Indian ministers who have provided the script to the latest "China story" had not responded to the taunt till late on Saturday night although at least one minister had quietly deleted his tweet with another video on the airport.
Several Twitter users and fact-checking portals had pointed out that images that resembled a Korean airport or a Chinese airport had been used to depict how the Jewar airport may look when ready.
One of the tweets in the panel that Shin shared was from the office handle of Anurag Thakur, Union information and broadcasting minister.
It is not clear why the video, which originated from the electronics and IT ministry-run citizen engagement platform MyGov, included the image of what Shin said was a Chinese airport.
In the absence of clarity, many social media users assumed that the video was passing off the image as an impression of what the Jewar airport would turn out to be.
Thakur's handle stood out. Less than a fortnight ago, on National Press Day, he had tweeted: "On this day, I call upon my friends from media to make all efforts to curb the menace of fake news and fake narratives. The government on its part has taken measures like establishment of fact check unit at Press Information Bureau (PIB) which has gained popularity."
My best wishes to the media fraternity on #NationalPressDay today.

My full remarks pic.twitter.com/oatvVDMW4z

— Anurag Thakur (@ianuragthakur) November 16, 2021
The Pakistanis have jumped in too. Chaudhry Fawad Hussain, Thakur's Pakistani counterpart, re-tweeted Shin's post lampooning the Indian government.
Several Indians have been charged under stringent laws for celebrating Pakistan's victory on the cricket pitch, presumably because it showed India in a poor light. It is not known if Union home minister Amit Shah's department would proceed against his colleagues under the same laws for giving China and Pakistan a chance to maul India's reputation.
Shin did not stop with a solitary tweet. In another message that dripped with scorn, he wrote: "Errr.... Indian government ministers handle are not only passing off design pictures of China's Beijing International Airport as a proof of their 'achievements of infrastructure', but also using South Korea capital's Incheon International Airport as India's Noida Airport."
On November 24, MyGov had uploaded a video of the under-construction Jewar airport that had an image that resembled South Korea's Incheon airport.
Soon, agencies of the Union information and broadcasting ministry, the Gandhi Smriti and the Darshan Samiti under the culture ministry, as well as ministers Arjun Munda and B.L. Verma and other BJP leaders and MPs tweeted the MyGov video. MyGov has since deleted the video. Verma's tweet is no longer visible, either.
On November 25, however, after Modi had laid the foundation stone, MyGov came up with another video, this time having an image that Shin said was of Daxing airport.
Thakur, the PIB and ministers Prahlad Singh Patel and Arjun Ram Meghwal tweeted the second MyGov video. Thakur's Twitter handle had posted along with the video on the Jewar airport: "As Asia's largest airport, Noida International Airport is also going to bring with it an investment of Rs 35,000 crore. This will provide employment to more than one lakh people and will also accelerate the pace of development in the region."
Although MyGov has deleted this video too, it remained on the handles of Thakur and the PIB till late on Saturday night.
Neither the electronics and IT ministry nor the information and broadcasting ministry had responded to questions from this newspaper till Saturday night.
Several claims made about the Jewar airport have also been challenged.
Atal Bihari Vajpayee's former aide, Sudheendra Kulkarni, rubbed the message in. "Din raat 'Boycott #China' chillaate rahate hain (they keep on shouting 'Boycott China'). But come election time, they steal a photo of a brand new #Beijing airport and show it as their own. This is their fraudulent patriotism."
Din raat "Boycott #China" chillaate rahate hain.

But come election time, they steal a photo of a brand new #Beijing airport and show it as their own.

This is their fraudulent patriotism. https://t.co/7BOpHt2Sl8

— Sudheendra Kulkarni (@SudheenKulkarni) November 27, 2021
Congress veteran Mallikarjun Kharge tweeted: "In Arunachal Pradesh, BJP govt lets China build villages. In Uttar Pradesh, BJP govt showcases Chinese airport as its own. In Ladakh, BJP govt surrenders and cedes our territory to Chinese. BJP has transformed into Beijing Janata Party!"
In Arunachal Pradesh, BJP govt let's China to build villages.

In Uttar Pradesh, BJP govt showcases Chinese airport as its own.

In Ladakh, BJP govt surrenders and cedes our territory to Chinese.

BJP has transformed into Beijing Janata Party!

— Mallikarjun Kharge (@kharge) November 27, 2021