Indian history being weaponised: Filmmaker Saeed Akhtar Mirza
'Hope is in seeing millions of youths asking whether this is their future here... I can understand their fear and anxiety'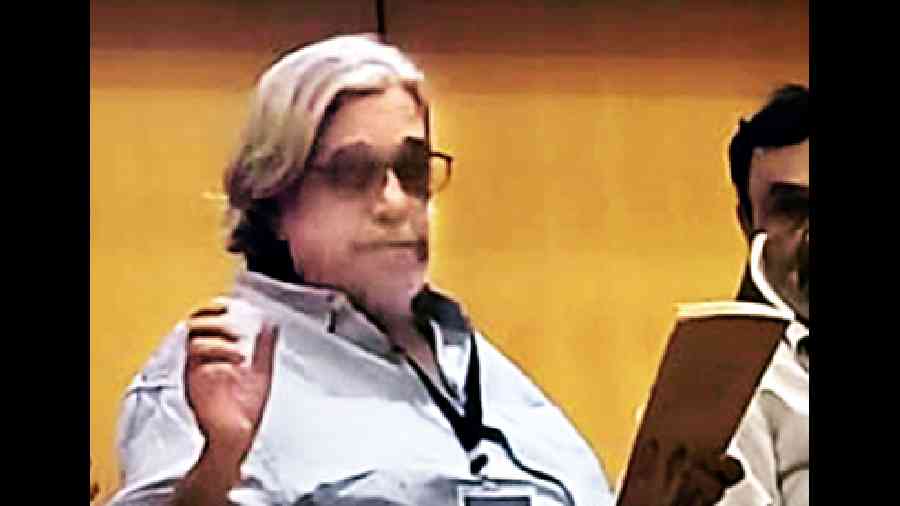 Mirza in Patna on Saturday
---
Patna
|
Published 19.03.23, 03:47 AM
|
---
Kingdoms rose and fell violently and religious sites faced attacks throughout Indian history but many current books seek to portray an era of peace before the advent of Muslim invaders, acclaimed film director Saeed Akhtar Mirza said on Saturday.
He regretted the "weaponisation of history", which contrasted "peaceful" Hindus with "violent" Muslims and authorised a "payback time" that was "loved by the fascists".
"Why do we not mention that there were seven attacks on the ancient Nalanda University since the fifth century AD, but do talk about Bakhtiyar Khalji destroying it (in AD 1193)?"
Mirza, who won national awards for his Salim Langde Par Mat Ro and Naseem, said.  "Books paint a picture of a great civilisation existing in peace and harmony in the country being attacked by barbarous invaders over a thousand years ago."
He added: "This is classic weaponisation of history that is loved by the fascists. It authenticates a payback time without any remorse or fear. It paints a picture of the Muslims being violent and the Hindus being peaceful."
Mirza rued that people did not ask how the great kingdoms of antiquity gave way to others before the advent of the Muslims — whether it happened "over a cup of tea" or involved the spilling of blood.
Mirza was discussing his book, I Know the Psychology of Rats, with writer Shah Alam Khan, former IAS officer Tripurari Sharan and others at the three-day Festival of Words and Performances, organised by Ahad Anhad at the Bihar Museum in Patna from Friday.
The book is Mirza's tribute to filmmaker Kundan Shah.
Mirza expressed anguish at the way people were being classified in terms of their Hindu or Muslim identities, but said he had not lost hope.
"Hope is in seeing people join forces with the Shaheen Bagh and citizenship agitations and the farmers' movement across the country," the maker of Albert Pinto Ko Gussa Kyun Aata Hai said.
"Hope is in seeing millions of youths asking whether this is their future here. They need jobs. I can understand their fear and anxiety."
Authors, thinkers and artists from different parts of the country are participating in the festival, which showcases culture, literature and music. The sessions have included discussions on books such as Folk Tales of Bollywood by Priyanka Sinha Jha, Amar Deswa by Pravin Kumar and Mrityu Katha by Ashutosh Bhardwaj.
Odisha-based painter Jatin Das released author and journalist Santosh Singh's book Kitna Raj, Kitna Kaj at the festival. Outlook magazine editor Chinki Sinha, Abhay K., Atul K. Thakur and Singh participated in a discussion on "Unspooling stories from Bihar".
Chief minister Nitish Kumar released a coffee table book, Bihar: That Was… And Now, by celebrated photographer Raghu Rai and his wife Usha Rai.