Indian high commissioner Ajay Bisaria waits in Pakistan
Pakistan has apparently set a deadline for the Indian high commissioner's return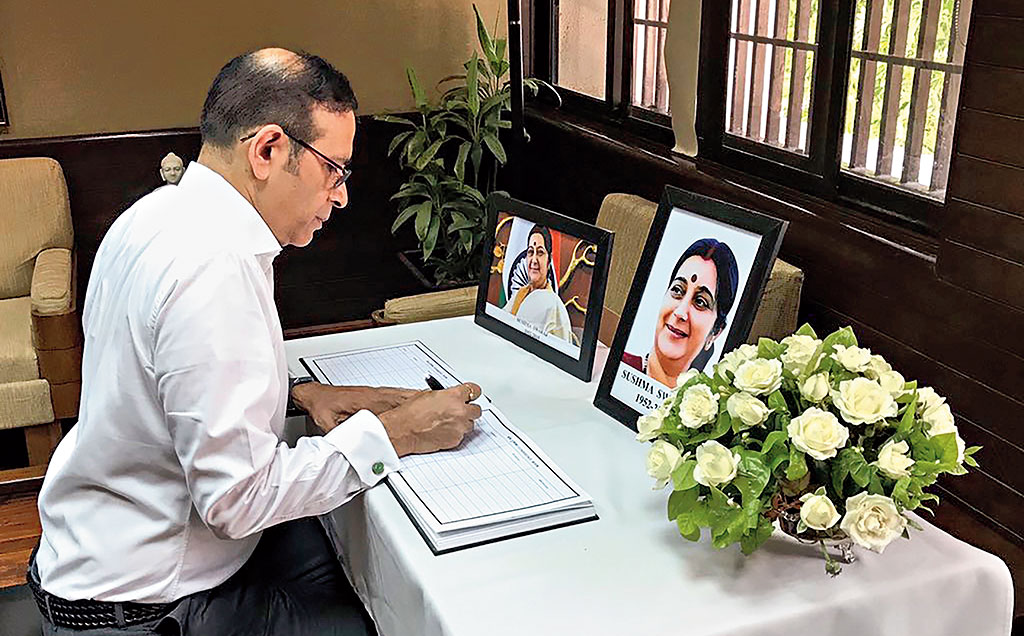 ---
---
India's chief concern now is to manage the optics around the ground situation in Jammu and Kashmir, having ensured that there is not much adverse reaction from world capitals on the decision to change the constitutional arrangement of the state and redraw its map.

With the UN, the US and several international organisations expressing concern about the lockdown in Jammu and Kashmir and the detention of political leaders, New Delhi's priority now is to make sure that reactions on this front from world capitals do not gather steam and raise questions on India's democracy.
Addressing a weekly media conference, foreign office spokesperson Raveesh Kumar said India was still hopeful of Pakistan reconsidering its decision to downgrade diplomatic relations and send back Indian high commissioner Ajay Bisaria.
Asked when Bisaria would return, amid reports that he was already back in Delhi, Kumar's reply was cryptic: "He is not yet in Delhi…. The timing of return is yet to be determined. We have requested a review of the decision."
Pakistan has apparently set a deadline for Bisaria's return. When that expires and if Pakistan does not reconsider, Bisaria is expected to fly back and not take the preferred Wagah foot-crossing route that Indian diplomats normally use as New Delhi would like to avoid giving Pakistan a chance to make a spectacle of it.
The next direct flight from Lahore to Delhi is now only on Wednesday. If he has to leave before that, the other option is to fly back from Islamabad via a third country.
On whether the downgrade would affect the fate of Kulbhushan Jadhav, the retired Indian Navy officer on death row in Pakistan, spokesman Kumar said diplomatic channels were open on this front and India was working to get him unimpeded consular access as directed by the International Court of Justice.
As for world reactions, Kumar refused to be drawn into commenting on each one individually, insisting it was clear that the attempt by Pakistan to present an alarming picture of the situation and the bilateral relationship had not succeeded anywhere.
Pakistan had on Thursday sought to leverage its role in facilitating the Afghan peace process, which the US is keen on wrapping up at the earliest, with Kashmir. This was rejected even by the spokesman of the Taliban, Zabihullah Mujahid, in a statement.
"Linking the issue of Kashmir with that of Afghanistan by some parties will not aid in improving the crisis at hand because the issue of Afghanistan is not related nor should Afghanistan be turned into the theatre of competition between other countries," the statement said.
Again refusing to comment on the statement, Kumar said: "It is clear that what Pakistan tried to link… that hasn't worked…. It is time for Pakistan to accept the reality and stop interfering in the internal affairs of other countries."
According to a PTI report from Beijing on Friday, China has told Pakistan that it regards both India and Pakistan as "friendly neighbours" and wants them to resolve the issue through UN resolutions and the Simla Agreement.