Indian Army to take over Covid-19 facility
At present, the camp has five doctors and eight paramedics, besides armed security personnel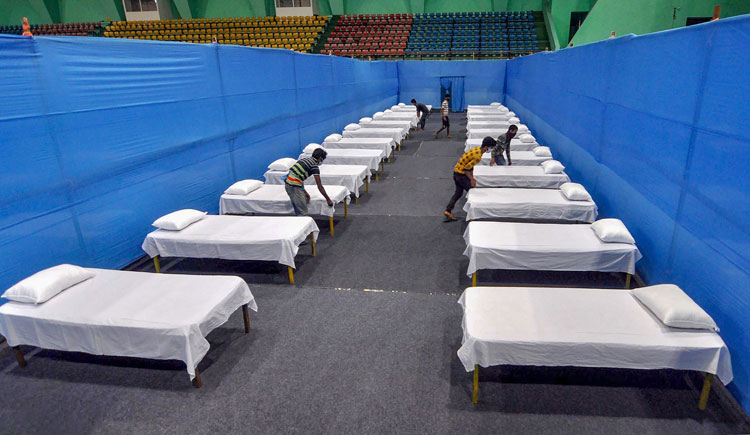 ---
---
The Indian Army is preparing to take control of a quarantine facility in Delhi where some of participants of the Tablighi Jamaat congregation are being lodged, government sources said on Tuesday.
The army is acting on requests to handle medical screening at the Narela quarantine facility in the capital, the sources said. This will be the first civilian set-up for Covid-19 to be under military control.
At present, the camp has five doctors and eight paramedics, besides armed security personnel. Over 200 people, including members of the Tablighi Jamat, have been kept in the quarantine centre at Narela.
"Following the request to take over the medical screening set-up at Narela Camp, additional army medical staff are currently working along with civil medical professionals on the takeover process," said an official of the army headquarters.
Once the army takes over, the official said, the strength of doctors, nursing staff and security teams will be increased.
Last week, Chief of Defence Staff General Bipin Rawat had visited the Covid camp at Narela and interacted with the doctors, volunteers and the military medical team. He expressed satisfaction about the excellent synergy between the civil and military team and assured all assistance to them.
So far, the army's doctors and specialists have been operating only out of the quarantine centres set up by the force. Six quarantine facilities being run by the army in Mumbai, Jaisalmer, Jodhpur, Hindon, Manesar and Chennai.
Sources said the army has been asked to take control of the Narela medical camp at the request of the health ministry after a Delhi government appeal in the wake of pressure on the civil medical teams.
The defence ministry has deployed additional military medical and logistics resources to aid the government's health authorities.
Dedicated Covid-19 facilities, including high-dependency units and intensive care unit beds, are being prepared in 51 hospitals of the armed forces across the country. Some of these facilities are located in Calcutta, Visakhapatnam, Kochi, Dundigal, Bangalore, Kanpur, Jaisalmer, Jorhat and Gorakhpur.
In addition, 15 facilities are being kept ready as standby for use. Together, these have beds for about 15,000 Covid-19 patients, sources in the army said.
As the coronavirus testing picks up momentum, five viral testing labs at armed forces hospitals which can carry out Covid-19 tests have been made part of national grid. These include Army Hospital (Research & Referral), Delhi Cantonment; Air Force Command Hospital, Bangalore, and Armed Forces Medical College, Pune; Command Hospital (Central Command), Lucknow, and Command Hospital (Northern Command), Udhampur.
Six more hospitals are being equipped with the resources to begin Covid-19 testing, said an official of the defence ministry.
The Indian Army has offered more than 8,500 doctors and support staff to assist in the anti-Corvid-19 effort.