Indian Air Force team mesmerises Odisha
Blue sky turns colourful because of breathtaking stunts by nine red and white hawks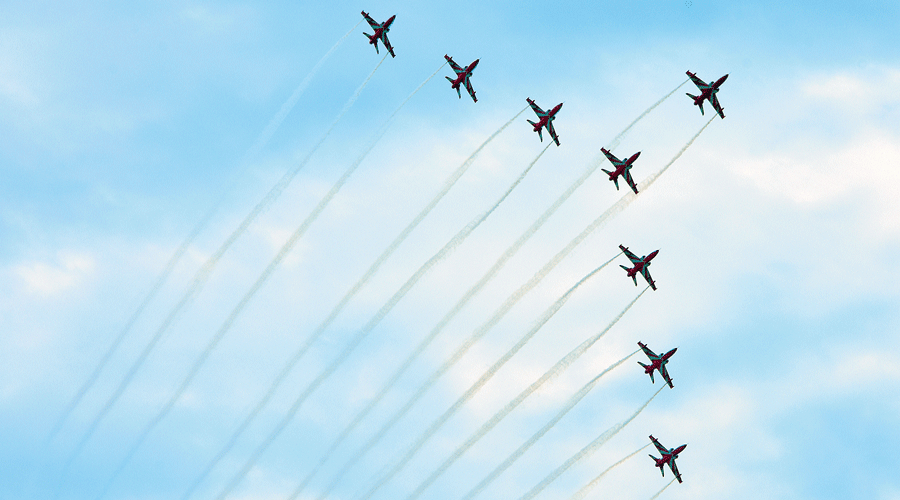 The aerobatic show performed by the Surya Kiran team in Bhubaneswar on Friday.
Ashwinee Pati
---
Bhubaneswar
|
Published 17.09.22, 12:53 AM
|
---
The Indian Air Force's Surya Kiran planes zipped across the Bhubaneswar sky on Friday, painting the horizon with different hues.
Thousands of spectators, who had gathered for the air show on the banks of river Kuakhai, a tributary of the Mahanadi, on the outskirts of the city, were mesmerised by the show.
The blue sky turned colourful because of the breathtaking stunts by the nine red and white hawks.
The internationally acclaimed Surya Kiran team of nine planes displayed spellbinding aerobatic manoeuvres, formations, diving and climbing in aerial ballet, drawing huge applause from the crowd.
Governor Prof Ganeshi Lal was among the VIPs present at the event. The overcast sky and humidity failed to dampen the spirit of the viewers, including schoolchildren and senior citizens.
Group Captain G.S. Dhillon said: "There was a huge response to our team in Bhubaneswar. We would love to come back to Bhubaneswar again given a chance to showcase our performance again. Thank you Bhubaneswar."
"It's a thrilling experience. What a spectacular show. I would love to join the IAF," said Aniket Mohanty, a Class IX student.
Another air show by the team will take place over the Raj Bhavan in Puri on September 18. Air force pilots have already successfully carried out mapping and aerial tracking in Puri for the purpose. The people on Puri beach will get a spectacular view of the aerobatics when the planes will conduct mapping sorties 500 feet above sea level. Seven planes will participate in the show that can watched from the Blue Flag beach stretch, Niladri beach and the beach in front of Digabarini Chhak.
Air Marshal Dillip Patnaik, Eastern Command of the IAF, said: "We would love more and more youths to join the Indian Air Force."
The Surya Kiran team did its first aerobatics show in 2010 followed by another in 2016 to commemorate the birth centenary of former chief minister Biju Patnaik.
The Indian Air Force is organising the show as part of the Azadi Ka Amrut Mahotsav being celebrated to mark the 75th year of Independence. The team will also exhibit its aerobatic skill in Guwahati on September 26 and Chandigarh on October 8.
The police have made adequate arrangements to make the show successful.