'Drug has role when given at the right time'
India set to stick with remdesivir
Pharma industry executives estimate that thousands of patients have received the US-based Gilead Sciences' product, but manufactured in India by multiple companies under licensing pacts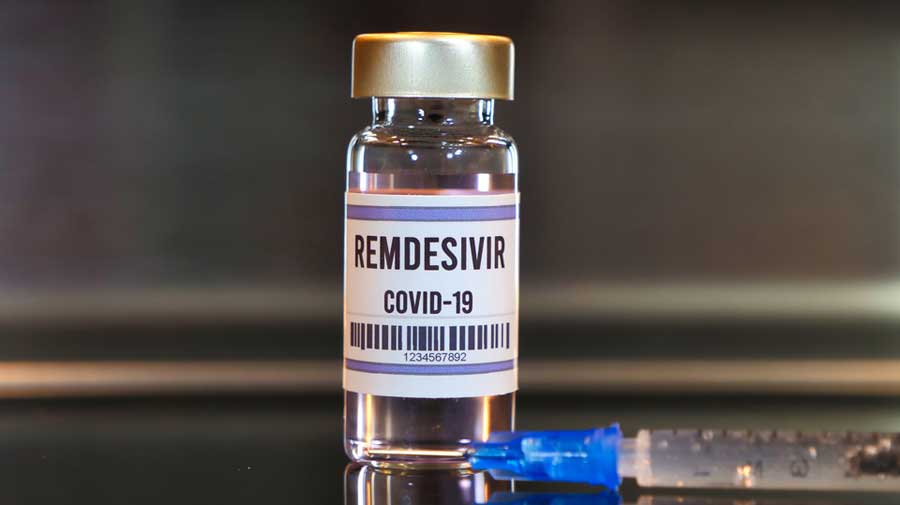 ---
---
Eligible coronavirus disease patients will continue to receive the antiviral drug remdesivir even though the World Health Organisation has recommended against its use in hospitalised patients, top medical experts said on Saturday.
The WHO had said on Friday that remdesivir had "no important effect on mortality, time for clinical improvement, or other patient-important outcomes", but senior doctors said they did not expect remdesivir to be ejected from the Union health ministry's Covid-19 treatment guidelines.
Pharma industry executives estimate that hundreds of thousands of Covid-19 patients across India have received remdesivir, a product of the US-based company Gilead Sciences, but manufactured in India by multiple companies under licensing pacts.
Although India's epidemic has been shrinking over the past two months, health authorities recorded an average of around 40,000 new cases daily over the past week and over 439,000 patients were under medical supervision on Friday.
The WHO said its recommendation against remdesivir was based on guidelines developed by a 33-member international expert panel that reviewed data from four clinical trials, including the WHO's global Solidarity trial involving over 5,400 patients in 30 countries.
But Gilead and sections of the medical community have pointed out that remdesivir is part of treatment guidelines for hospitalised Covid-19 patients in multiple countries, including Germany, India, Japan, the UK and the US.
The treatment guidelines, Gilead said in a statement on Friday, are based on peer-reviewed studies that have demonstrated remdesivir's clinical benefits such as "significantly faster recovery that can quickly free up limited hospital resources".
"We are disappointed the WHO guidelines appear to ignore this evidence at a time when cases are dramatically increasing around the world and doctors are relying on (remdesivir) as the first and only approved antiviral treatment for patients with Covid-19 in approximately 50 countries," Gilead said.
Many frontline critical care specialists who have used remdesivir as prescribed under the Union health ministry's treatment guidelines along with other therapies such as doxycycline, dexamethasone, vitamin-C and zinc say it is difficult at this stage to exactly say what is working and what is not.
"What we know from experience is that the right drug has to be given at the right time," said Anjan Trikha, professor and critical care specialist at the All India Institute of Medical Sciences, New Delhi, who's also chair of the Covid-19 managerial group at the Covid-19 centre.
"We believe remdesivir also has a role when given at the right time, early during viral replication. Patients in hospital in the early infection stages but requiring oxygen would qualify for remdesivir therapy," Trikha told The Telegraph.
Trikha and others also assert that there is no evidence that remdesivir causes harm or that any of its potential side-effects outweigh its potential benefits. "Without evidence of any harm, we cannot issue a directive to stop using the drug," a member of the WHO expert panel told this newspaper.
The cost of remdesivir therapy in India, doctors estimate, would range between Rs 16,000 and Rs 32,000, depending on which company's product is used.
Doctors in Bangalore who conducted a study on remdesivir in Covid-19 patients also said they did not expect national treatment guidelines to change.
"Our study shows the benefits of early start of treatment," said Ravindra Mehta, a senior pulmonologist at Apollo Bangalore.
Mehta and his colleagues examined the outcomes of 346 Covid-19 patients with moderate or severe disease and observed a significant difference between the mortality rates in patients who had received remdesivir within nine days of onset of symptoms and those who received it after that.
The mortality was 18 per cent in the group that received remdesivir early but 33 per cent in those who received the drug beyond nine days of onset of symptoms. "We believe this is a significant difference and points to a benefit resulting from early treatment," Mehta said.