Due recognition must be given to Bose's soldiers: Military veterans
General V.P. Malik suggested the National War Memorial be extended till India Gate and the names of the fallen INA jawans be included in its list of martyrs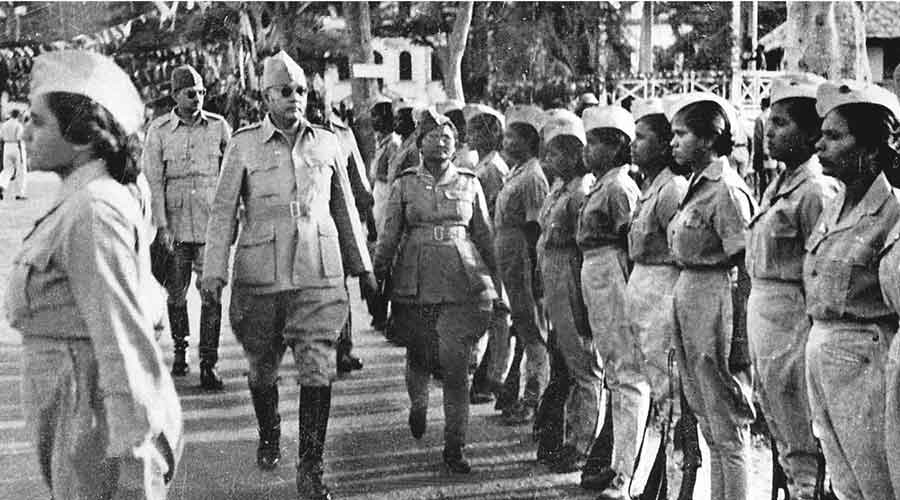 Netaji receiving the guard of honour from the Rani of Jhansi Regiment of the INA.
File photo
---
New Delhi
|
Published 26.01.22, 03:35 AM
|
---
Some military veterans have questioned the Narendra Modi government's efforts to "appropriate" Netaji Subhas Chandra Bose's legacy without giving due recognition to the Indian National Army soldiers who fought under him.
"The government is quick to appropriate Netaji but why has it ignored the INA? So far, those who sacrificed their lives fighting for the INA have not been included among the martyrs named at the National War Memorial," a former lieutenant general told The Telegraph.
The National War Memorial, inaugurated by the Modi government in February 2019, names the Indian soldiers martyred in all post-Independence wars and conflicts. It stands 400 meters from the British-built India Gate, which names the soldiers of the British Indian Army who died in World War I and the Third Anglo-Afghan War.
General V.P. Malik, who was army chief during the 1999 Kargil War, suggested the National War Memorial be extended till India Gate and the names of the fallen INA soldiers be included in its list of martyrs.
"A suggestion. Extend National War Memorial to India Gate (called All India War Memorial when inaugurated on 12 Feb 1931). We will then remember/ honour all Indian soldiers who laid down lives from WW 1 to date, & include those of INA who fought under Netaji Subhas Chandra Bose," Malik tweeted.
A former colonel told this newspaper: "It's so strange and contradictory that the government is desperately trying to iconise Netaji but has not spoken about the INA soldiers or inscribed their names at the National War Memorial. This is nothing but political gimmickry."
The government had on January 21 announced that a granite statue of Netaji would be installed at India Gate, with a hologram statue set up as an interim measure on January 23, the freedom fighter's 125th birth anniversary.
The announcement came on a day the government extinguished the "eternal flame" at the Amar Jawan Jyoti, notionally "merging" it with the flame at the National War Memorial.
Then Prime Minister Indira Gandhi had inaugurated the Amar Jawan Jyoti, built under the India Gate arch in tribute to the soldiers martyred in the 1971 war. Many, including some government sources, have suggested that the announcement of the Netaji statues was probably timed to deflect any backlash over the flame-dousing.
The move to douse the "eternal flame" has divided veterans, some accepting the argument forwarded unofficially by government sources that an Indian monument to fallen soldiers should not be associated with the "colonial" India Gate.
Others have underlined the emotions attached to India Gate and the Amar Jawan Jyoti, insisting that India's army has roots in the past and that troops who died fighting under the British deserve respect too.
"Were they any less Indians?" a former colonel asked.
Replying to Malik, Captain Amar Jeet Kumar tweeted: "Very sane suggestion, the new NWM must be merged with India Gate called India War Memorial (IWM). The Amar Jawan Jyoti must be restored there with an apology and respect…."
Gen. Malik said in another tweet: "History is important. It enables us to remember our past, lessons to be learnt therefrom, and indicates the trends for the future."