In prison in India, in Portrait in Harvard
Sudha Bharadwaj, arrested for the Bhima Koregaon violence, has been honoured by Harvard Law School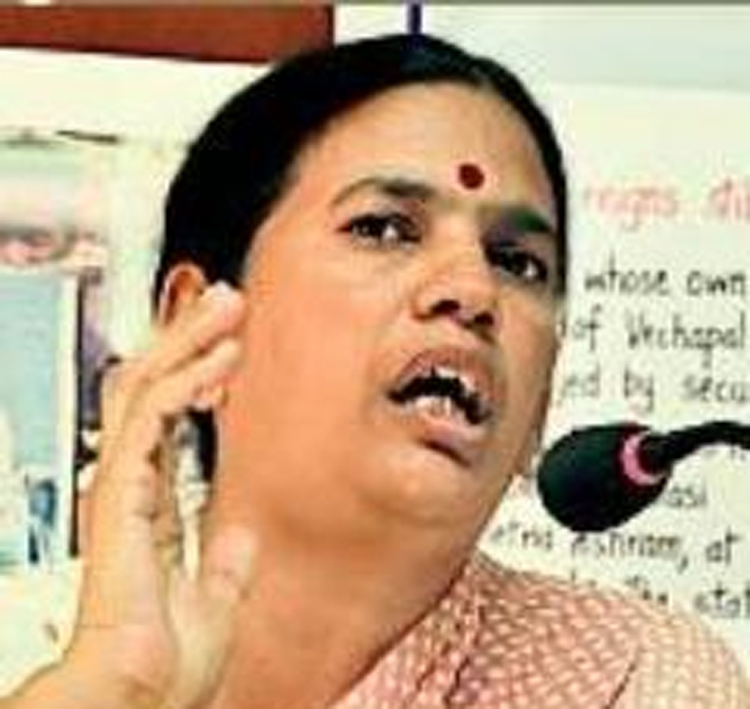 Sudha Bharadwaj, civil rights lawyer, has been lodged in a Pune prison since October.
@Sudhabharadwaj
---
New Delhi
|
Published 08.03.19, 09:58 PM
|
---
Harvard Law School on Friday named jailed civil rights lawyer Sudha Bharadwaj as one of 21 "women inspiring change" in its annual Harvard Law International Women's Day Portrait Exhibit.
Bharadwaj, lodged in a Pune prison since October, is accused under the anti-terror Unlawful Activities Prevention Act of conspiring with Maoists and has been linked by police to violence at a Dalit commemoration at Bhima Koregaon, Maharashtra, on January 1 last year.
The other 20 women honoured by the law school — all nominated by students and staff for their contributions in the areas of law and policy — include former New Zealand Premier Helen Clark and Indian lawyer Menaka Guruswamy, who campaigned for decriminalising consensual homosexual acts. No Indian citizen had made it to the list before.
The previous honourees include former US presidential candidate Hillary Clinton and Nobel laureates Aung San Suu Kyi and Shirin Ebadi. In 2015, two Indian American activists, Sujatha Baliga and Urvashi Vaid, were honoured.
Bharadwaj, who was born in the US and took up Indian citizenship, has organised miners in Chhattisgarh since 1986. Before her arrest, she practised in Chhattisgarh High Court and helped set up the Jagdalpur Legal Aid Group, which fought the cases of tribal people jailed for alleged Maoist links until it was evicted from Bastar under State pressure in 2016.
Bharadwaj is one of 10 rights activists arrested in the Bhima Koregaon case.
The United Nations' Office of the High Commissioner for Human Rights has expressed concern at the arrests.
Last year, the Supreme Court rejected a plea by historian Romila Thapar, economists Devaki Jain and Prabhat Patnaik, sociologist Satish Deshpande and human rights defender Maja Daruwala to order a court-monitored probe into the case.But the apex court extended the house arrest of five of the activists for four weeks, asking them to approach lower courts for relief.
Bhima Koregaon is where the East India Company's predominantly Mahar Dalit force had defeated Peshwa Baji Rao II's army of mostly Maratha troops on January 1, 1818, spelling the end of the Brahmin Peshwas' century-long rule in Pune.
In 1927, B.R. Ambedkar began an annual gathering of his mostly Dalit followers at Bhima Koregaon.
On December 31, 2017, several Ambedkarite groups held an event called Elgaar Parishad (Declaration Council), "calling for an end to neo-Peshwai", in Pune's Shaniwarwada, the former capital of the Peshwa rulers.
On January 1, 2018, Ambedkarites were attacked by mobs allegedly led by Sangh parivar activist Manohar Bhide's Shri Shiva Prathisthan Hindustan and former BJP corporator Milind Ekbote's Samasth Hindu Aghadi. A 28-year-old passer-by --- a Maratha — was killed in stone-throwing.
Bhide has not been arrested and Ekbote is out on bail.
Two FIRs have been registered for incitement, to one of which terror charges under UAPA were added for alleged links to the banned CPI Maoist. The 10 arrests have been made on these charges.