Target Rs 5cr; US, India alumni pitch in with Rs 4.2cr
IITs take to crowd-funding to bridge digital divide
Poor and rural students are struggling to attend the online classes necessitated by the Covid-19 outbreak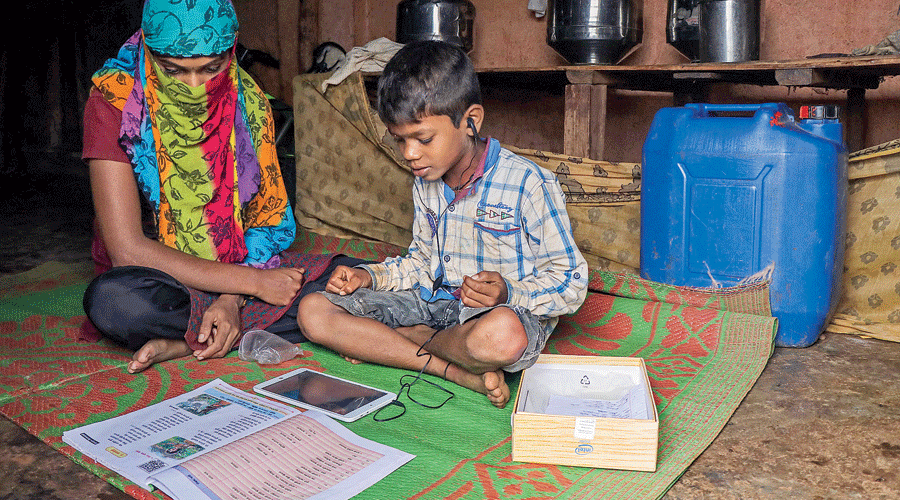 ---
---
IIT Bombay and IIT Kanpur are collecting donations to fund laptops and broadband connectivity for students who lack access to online education.
The gesture comes at a time thousands of poor and rural students, from schoolchildren to university scholars, are struggling to attend the online classes necessitated by the Covid-19 outbreak or take the online exams mandated by their institutions.
IIT Bombay director Subhasis Chaudhuri took the initiative for the crowd-funding after the institute decided to conduct all academic activities online during the coming semester.
He put out a message on the tech school's website on July 1 seeking donations from the public.
"We realised a segment of the students had no computers. We didn't want any student to be left behind," Chaudhuri told The Telegraph.
"Our target is to raise Rs 5 crore. We have received Rs 4.2 crore so far, mainly from our alumni in the US and India."
The institute has more than 1,000 BTech and MTech students from economically disadvantaged families. Each of these students will be given Rs 40,000 to buy a laptop and Rs 7,000 to get broadband connectivity for 10 months.
"This is a kind of loan without interest. They will keep the laptop and pay the money back within five years of graduating. Some may pay it back earlier," Chaudhuri said.
The students, however, will not have to sign any bond promising to repay the loan, sources said.
IIT Kanpur has started a campaign, #OneAlumnusOneStudent, to raise funds to provide impoverished students with Rs 50,000 each to buy a laptop with the necessary accessories and get broadband connectivity. The institute has written to all its alumni seeking donations.
"I received an email this week seeking a donation. This is an opportunity to pay back our alma mater. There's a lot of discussion on this now among the alumni," a former student of IIT Kanpur said, requesting anonymity.
A survey of 410 students conducted by the students' union at the Delhi government-run Ambedkar University has found that 50 per cent have no laptops and 75 per cent lack a stable Internet connection.
A survey of faculty conducted by two JNU teachers last month found that 40 per cent students were unable to access online classes.
Many university teachers, however, said that emulating the IIT model would not work for every institution and that the government should take the responsibility of providing gadgets and connectivity to disadvantaged students.
Rajeev Kumar, professor of computer science at JNU, said that students at general universities were likely to be more handicapped than their IIT peers in the matter of access to gadgets and Internet connectivity.
"Providing laptops with broadband connectivity is not enough. The localities where the students live must have quality Internet services to enable online transactions. Internet services are very poor in rural areas," Kumar said.
"What is required is establishing information centres with gadgets and good connectivity in rural and suburban areas that the students and other local people can use. Providing laptops and broadband connections can address the problems only of those students who live in areas with good connectivity."
Chaudhuri said that students facing connectivity issues can go to their relatives' places to attend their classes. The online classes will start from August 10.
Sudhanshu, a member of Delhi University's academic council, said the human resource development ministry and the University Grants Commission must provide extra funds to public universities to buy gadgets and Internet services for poor students.
"Most IIT alumni are well placed in different industry positions across the world. The alumni of institutions teaching the social sciences and humanities are not so financially stable," he said.
"When the UGC is prodding universities towards the online mode, it must provide funds to create the infrastructure for the students."
In April, the UGC had said it would allow universities to teach up to 40 per cent of any course in the online mode even after the epidemic blew over. It would also allow the top 100 universities to teach entire courses online.
Ajay Singh, a humanities teacher at Jamia Hamdard, a deemed university, opposed the push for online education.
"Online education is very restrictive since it leaves no room for social interaction. Education is a free space for idea generation. Online education can generate skills but certainly not a knowledge society," he said.
"What will gradually happen is that the private information technology firms will control higher education."
Singh said the IT firms would get university professors to start preparing readymade content, turning them from teachers into content generators.
"The relationship between the firms and the State will determine the thrust of the content," he said.
Emails sent to the UGC and the HRD ministry asking whether they planned to provide extra funds to universities to address the digital divide have evoked no response.