Iftar taunt: Nitish Kumar hits back at Giriraj Singh
Nitish Kumar described BJP MP Giriraj Singh as an irreligious person who didn't respect other religions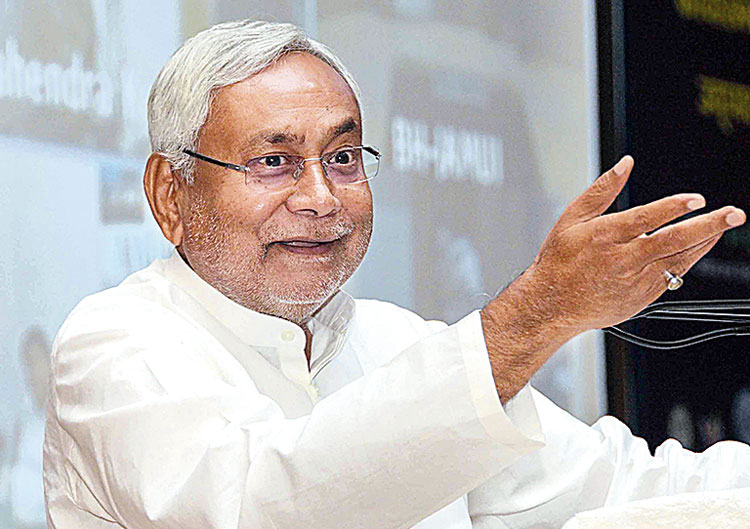 ---
|
Patna
|
Published 06.06.19, 12:52 AM
---
Bihar chief minister Nitish Kumar on Wednesday described BJP MP Giriraj Singh as an irreligious person who didn't respect other religions and would say anything for publicity, just when it appeared that the controversy over the Union minister's iftar taunt had died down.
"All religions give the message of having love and respect towards one another, amity, and the necessity of creating an atmosphere of harmony. If anybody thinks otherwise, then he is not a religious person and has no faith in religion. He wants to give a bad name to religion," Nitish said when reporters asked him about Giriraj's Twitter jibe a day earlier.
"There cannot be anything more wrong than having much respect for your own religion while disrespecting others. Such a thought is not religious. It is irreligious. The use of abusive words towards each other in society should stop and everybody should respect others," the Janata Dal United leader added.
Giriraj had on Tuesday taunted Nitish, a BJP ally, for attending iftar events just "for show".
He had tweeted four pictures from three different iftars, saying: "How beautiful the pictures could have been had falahaar (fruit feast) been organised with similar enthusiasm during Navratri. We lag behind in our own rituals and religion but are ahead in showing off."
The iftars had been organised by Nitish's JDU, fellow NDA ally Ram Vilas Paswan of the LJP and Opposition alliance member Jitan Ram Manjhi.
Nitish had attended the iftars at a time relations with the BJP were tense following a stand-off over ministry allocation at the Centre.
The BJP had offered the JDU a solitary cabinet berth as a "symbolic representation" in Prime Minister Narendra Modi's cabinet, which the Bihar ally had rejected on the ground that it should have been proportionate to the number of Lok Sabha MPs the party has.
A tit-for-tat response followed soon when the Bihar chief minister expanded his cabinet on Sunday and offered the BJP just one seat. The BJP turned it down.
Giriraj's taunt had come in this backdrop. It prompted BJP chief and Union home minister Amit Shah to intervene with a warning to his colleague in the Union cabinet that he "desist from making such comments".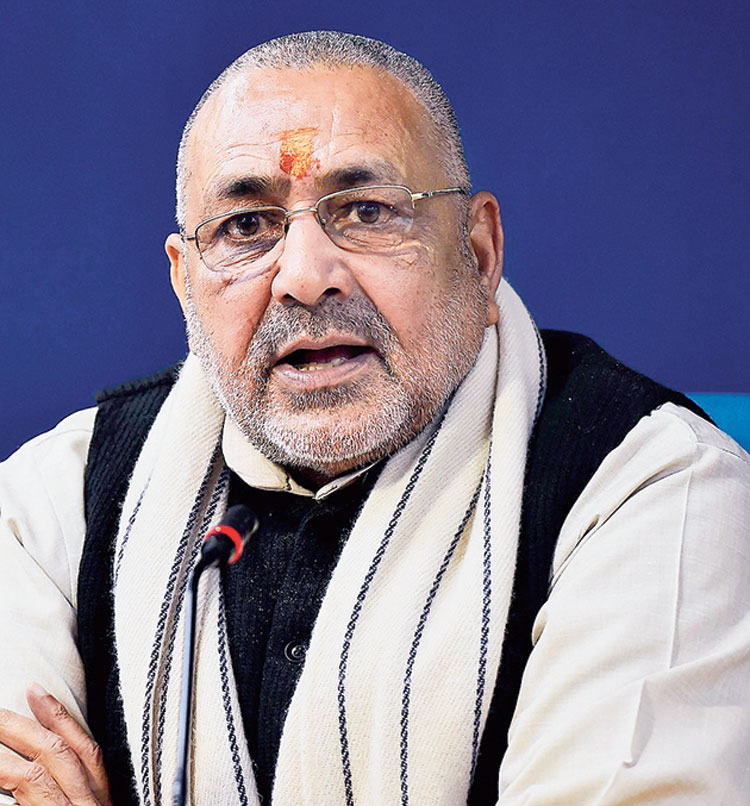 But any notions that the controversy was over ended with Nitish's response on Wednesday as the chief minister spoke to reporters after attending an Id namaz ceremony at Gandhi Maidan in state capital Patna.
"It is the habit of some people to say such a thing on which much reactions come and they get much space in the media," Nitish said.
The JDU boss, who has been visiting Gandhi Maidan on Id every year since 2006, added that he had equal respect for all religions and has always extended his best wishes on festivals of different communities.
Nitish's comments came as a surprise because he usually avoids retaliating. Also, Shah had given Giriraj a dressing down.
Political observers, however, said Nitish's outburst was necessary because Giriraj didn't do anything to show that he was sorry for his taunt even after being pulled up by his party chief.
"Giriraj could have met Nitish at his residence, or could have tweeted again or telephoned to clarify the situation. But he did not do any such thing," said Ajay Kumar
Jha, professor and head of political science and public administration at the AN Sinha Institute of Social Studies in Patna.
"Besides, his controversial tweet had come at a time when the chief minister was hurt at the JDU being (virtually) ignored by the BJP during the formation of the government at the Centre. In such a situation, a reaction from Nitish was necessary as he is a national-level leader who is respected everywhere," Jha added.
Jha also expressed surprise at the timing of Giriraj's tweet. The BJP MP had uploaded the iftar pictures on the eve of Id and days after the Prime Minister had asked party MPs to win the trust of all citizens.