IAM, Institute of Hotel Management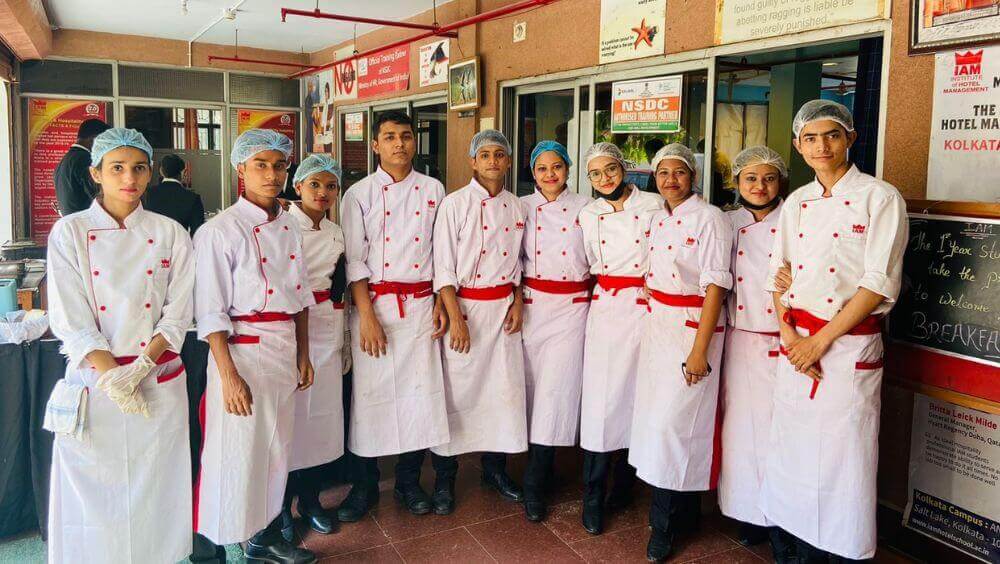 Students of Institute of Hotel Management
---
Published 27.06.22, 02:01 PM
|
---
In a competitive world like today it's important that a student acquires certain skill sets that gives him an added advantage in the job market. A fresh graduate might easily grab a job initially on the basis of the grades he/she obtained in his academics. However, an extensive practical grounding is an inevitable requirement to remain a successful professional in the competitive game called the hospitality industry. Existing in the domain of hospitality management education for over three decades now, IAM Institute of Hotel Management is one among the handful of institutions that firmly stands on the approach of 'blended learning'. The kind of training IAM offers makes its students not only employable, but also lets them sustain in the long run. Right from its inception, IAM has been focusing minutely on delivering value-based education to its students, assuring that they evolve as ethically sound and proficient professionals in the future. IAM is notably the first Indian institute which has been approved to be delivering an international level degree programme.
The institute possesses a curriculum that is validated by international universities and is tailor-made to suit the global hospitality industry. "The idea is to foster optimum application and analysis oriented learning rather than going for (a) traditional theoretical one," shares Miss. Maitreyee Chaudhuri, Founder-Director, IAM. The curriculum at IAM is dynamic and necessary changes are incorporated regularly as dictated by the changing scenarios in the Industry and teaching and learning strategies. On the other hand, the talented pool of faculty members makes it a point to include ample practical sessions and engage the students using technology and real-life simulations, enabling them to think analytically and strategically instead of blindly following the rote system of learning. The in–house teaching is robustly complimented by regular Industry interaction through guest lectures and practical demonstrations by Industry leaders. The institute hosts a dual degree course viz. Advanced Programme in Hospitality Administration (NSDC supported) with an option of BSc.(Hons) in International Hospitality Management from the University of West London, UK. Miss. Chaudhuri points out, "Our association with the University of West London, UK, has brought immense favor and perks to our students as well as the institute. " The students have an opportunity to complete the third and final year of the 3-year course at the University of West London. With the reintroduction of the post study work visa scheme by the UK government, these students have a tremendous employment opportunity in UK, once they complete their course successfully.
Along with its dual degree programme, IAM offers certificate courses in Bakery, Culinary skills, and Bar and Beverage Management. Apart from the above, IAM also offers a Diploma in Hospitality Management and a Diploma in Culinary Service (Centre for Collaborative Programs, Training and Research MAKAUT).
The Institute has associated with National Skill Development Corporation (NSDC) through Smart Edusol to promote skill training in Hospitality at the grass root level as well. Students are further encouraged and supported to undertake the Tourism Studies degree from IGNOU to give them a broader spectrum of the Industry.
Students aspiring to study at IAM are asked to appear for an online admission test (Common Hospitality Aptitude Test) which is held at different centers across India, followed by group discussion and personal interview. "As our students are the upcoming generation of the hospitality industry and would be serving the top-notch organizations, we are bound to give detailed heed to the selection procedure," opines Miss. Chaudhuri.  The students at IAM have to go through a rigorous training process. No matter whether it is on campus or at a particular hotel, they enjoy matchless industrial exposure. Students of IAM are given training by national and international organizations such as Oberoi group of hotels, Taj group of hotels, Hyatt group of hotels, Hilton, Edinburgh, Four seasons hotel, London, Sheraton hotels, Radisson Hotels and so on.
At IAM we acknowledge and recognize the diversity of our students and design our Teaching and Learning strategies in line with this understanding. Our Personality Development programs create platforms to facilitate equal and active participation in academics, events and future employment opportunities.
Gifting Bright Careers
One of the oldest professional hospitality institutes in the country that has been approved by AICTE, IAM Kolkata is known as a leading supplier of skilled manpower. "We have incorporated entire modern day facilities, which are considered to enhance the teaching-learning process," states Miss. Chaudhuri. The campuses are fully equipped with training restaurants, front office and guest rooms, kitchens, bakery, well-stocked libraries with international titles from all over the world, computer centers, hostels and many more. Miss. Chaudhuri adds, "The Institute runs its own training Commercial hotels at Kolkata attached to the campus, ensuring hands-on training. In computer centers, our students are trained on 'FIDELIO' PMS software, which is used in all the large hotels globally." Additionally, it is almost on a regular basis that experts and stalwarts from different areas of the trade are invited to conduct master classes and share their wealth of knowledge with the students.
"Learning by doing", that is the methodology adapted by the Institute and students are encouraged to organize various Hospitality events round the year. One such is the food festivals where the students display their culinary skills, after hours of research and practice to hone their skills. Along with the operational skills, students are also trained in promoting, marketing and manning events, which again help to enhance their managerial skills. These food festivals are much talked about in Kolkata and Guwahati where the gastronomic extravaganzas are a major crowd puller. Apart from food fests, there are other regular events in the college calendar that are designed to promote various skills and foster team spirit amongst students.
The Institute also prepares every student to make their mark beyond the hospitality and tourism world, traversing across various fields. Chaudhuri summarizes, "From being managers of leading hotels to consultants with international organization like Deloitte, MCS, U.K., our students are everywhere." Owing to the international collaborations, many IAM graduates receive job openings in the UK and other parts of Europe. Others are recruited by eminent hotel chains like Leela Palace, Bangalore; Novotel; JW Marriott and Taj Vivanta, just to name a few. Being a futuristic forerunner in major developments in hospitality education, IAM is single-minded in its intention to implement more application oriented learning processes in its curriculum in the coming days.
With the current rage amongst youngsters for a lifestyle-career IAM-IHM has also initiated a culinary event for students under the banner of 'FUTURE CHEF'. It is a platform for young learners to showcase their culinary talent while trying to identify their true vocation.
"For all the Culinary Teachers & Institutions, this is probably the first time that an opportunity of this scale to Learn, Teach and Network from each other has been given. It's a huge initiative that will raise the profile of the hospitality industry." says Prof. David Foskett, OBE, Celebrity.Hospitality Education Personality Emeritus professor, University of West London and Celebrated Author in Culinary Science.
Some of the prestigious awards received by IAM include the following:
IAM, Kolkata was declared the best Hotel Management Institute for Academic Excellence in the year 2020-2021 by ZEE 24 Ghanta.
Best Institute of Hotel Management Education by ASSOCHAM in 2018, 2019, 2020 and 2021.
Ranked No.1 Center for Excellence (2011, 2012 and 2021) by CSR.
Ranked as the fast emerging Private Hospitality Management College in Eastern India by INDIA EXCELLENCE SUMMIT, 2017.
Ranked No.2 best private Hotel Management College in Eastern India and in West Bengal for 2015, 2019 and 2020 (GHRDC).
Ranked best Hospitality Management Institute by PRAXIS Media, 2016 and 2017.
Ranked best Hotel Management Institute by PRIME TIME 2017. To know more please visit - https://iamhotelschool.ac.in/