How BJP almost entered US polls
Party won't brook barbs at Trump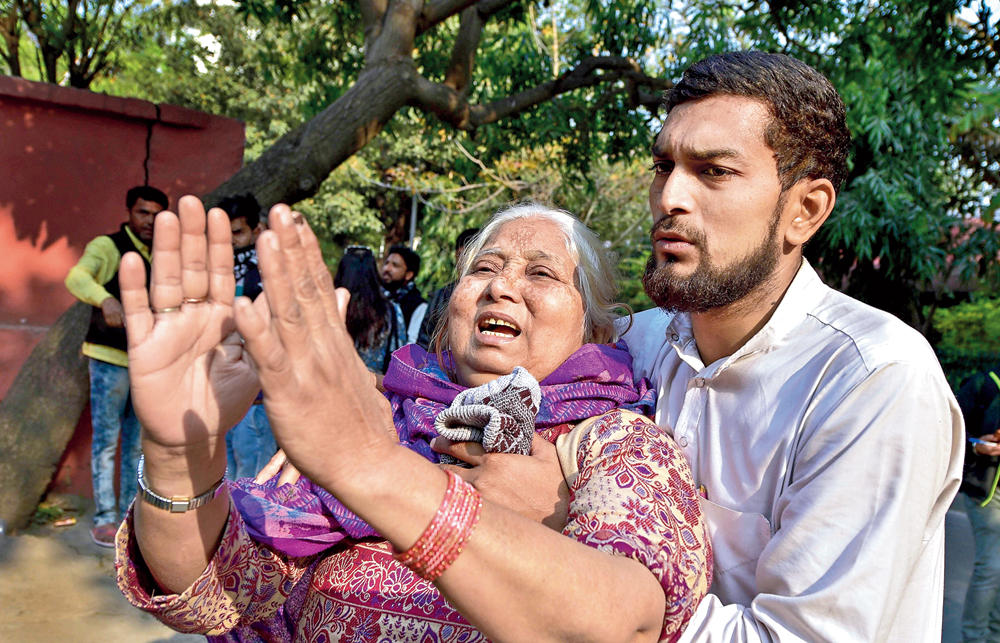 ---
---
BJP organisation secretary B.L. Santosh on Thursday warned Bernie Sanders, lead contender for the Democratic nomination, that he was compelling India to take sides in America's upcoming presidential elections after the senator criticised Donald Trump for not raising human rights issues with India while in the country.
"How much ever neutral we wish to be you compel us to play a role in Presidential elections. Sorry to say so… but you are compelling us," Santosh tweeted.
He subsequently deleted the tweet but by then there were enough screenshots in circulation.
The tweet came three days after Prime Minister Narendra Modi had provided Trump with a Make-America-Great-Again (MAGA) kind of platform that trumped the US President's biggest rallies back home.
Santosh is the BJP's national general secretary (organisation) — a post always held by a senior RSS functionary — and is seen as third in the pecking order of the ruling dispensation after Modi and home minister Amit Shah.
The US President was still in Delhi on Tuesday when the riots were ravaging parts of the capital.
On Wednesday, Sanders had tweeted: "Over 200 million Muslims call India home. Widespread anti-Muslim mob violence has killed at least 27 and injured many more. Trump responds by saying, 'Thats up to India.' This is a failure of leadership on human rights." It was to this tweet that Santosh had responded.
Santosh's tweet fitted into the growing apprehension that Modi's government was jeopardising the bipartisan support India enjoys in Washington with the two platforms he has provided Trump in a span of five months: "Howdy Modi" in Houston and "Namaste Trump" in Ahmedabad on Monday.
Going by the commentary in the American media, the two events are being seen as political. In a report titled "India rolls out the MAGA carpet for Trump", Politico said: "Monday's mega-rally was also designed to appeal to Indian-American voters as Trump heads into his re-election campaign."
The presidential elections are scheduled for November.
The Atlantic titled their report on the Trump visit as "The MAGA show heads to India" and The New York Times said: "Ahmedabad is the biggest city and the main business hub in Gujarat, Mr. Modi's home and political base. Many of the most influential Indian-Americans are also originally from Gujarat, and a growing source of political and financial support for Mr. Trump as he heads toward re-election."
Sanders was not alone in criticising Trump. Several US lawmakers have spoken out and all of them are Democrats, lending credence to apprehensions here of the Modi government investing too much in the Trump campaign.
Elizabeth Warren, another contender for the Democratic nomination, tweeted: "It's important to strengthen relationships with democratic partners like India. But we must be able to speak truthfully about our values, including religious freedom and freedom of expression — and violence against peaceful protestors is never acceptable."
The Chairman of the House Foreign Affairs Committee, Eliot Engel, tweeted: "Deeply troubled by the deaths from the communal violence in India over the past couple of days. The right to protest is a key aspect in democracy, but they must remain peaceful and police must ensure the safety of all."
Mark R. Warner and John Cornyn, co-chairs of the Senate's India Caucus, expressed alarm at the violence while welcoming the decision to expand the bilateral relationship.
Cornyn is the only Republican to have spoken about the riots till Thursday evening.
Indian-origin member of the House of Representatives Pramila Jayapal — who has been vocal against the Modi government's Kashmir moves — tweeted: "This deadly surge of religious intolerance in India is horrifying. Democracies should not tolerate division and discrimination, or promote laws that undermine religious freedom…."
Referring to an article in The Washington Post on the violence, another House member, Rashida Tlaib, commented: "This week, Trump visited India but the real story should be the communal violence targeting Muslims in Delhi right now…."