Hooch creates massacre: Three die in Samastipur
The incident takes place at Ballipur village under Hathauri police station around 90 km northeast of Patna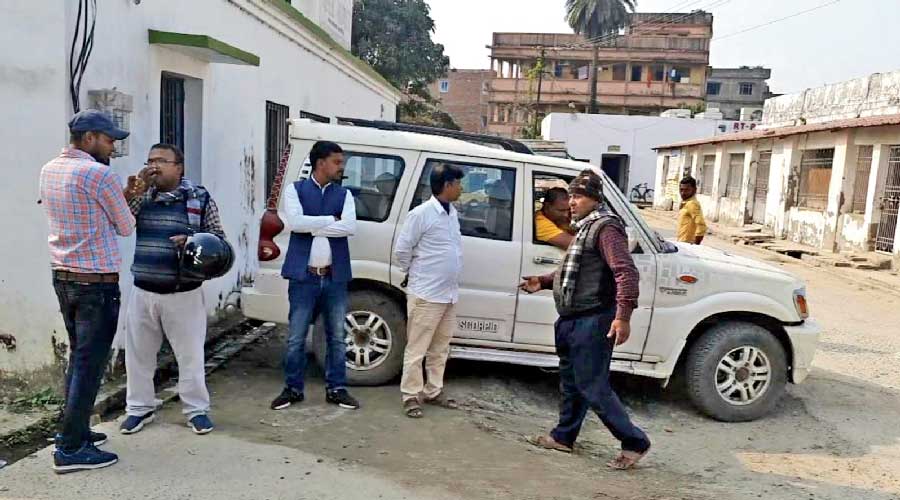 Relatives of some of the people taken ill outside the hospital
Sanjay Choudhary
---
Patna
|
Published 08.12.21, 02:40 AM
|
---
At least three people died and several others were battling for their lives in hospitals in Samastipur district of dry Bihar as another hooch tragedy surfaced on Tuesday. Chief minister Nitish Kumar implemented total prohibition in the state in April 2016.
The incident occurred at Ballipur village under Hathauri police station around 90km northeast of Patna. A group of people allegedly consumed liquor at a wedding on Sunday night.
Many of them fell ill by Monday morning with symptoms of nausea, breathing difficulty, dizziness, impaired vision, body ache and stomach ache. They were taken to various government and private hospitals in the vicinity for treatment.
"Three people of my village Ballipur have died after drinking poisonous liquor. Many others are seriously ill, and are getting treated at different places. I do not know the exact number of people who consumed liquor, but they all had done it at a wedding," Tarun Bharti, brother of one of the deceased Prabhat Kumar, said.
Around 56 people have died in a spate of hooch tragedies in different parts of the state since November first week. Such incidents have snuffed out the lives of around 106 people this year.
This is the second hooch tragedy in Samastipur district in a month.
"The matter is still under verification. We will brief once we get medical confirmation," Samastipur superintendent of police (SP) Manavjit Singh Dhillon told The Telegraph when asked about the incident.
Dhillon later told this newspaper: "One death of a suspect has been reported. His body has been taken to the Sadar Hospital and post-mortem is being done. We are conducting a house-to-house survey in Ballipur village to identify the sick persons, if any."
The smuggling and consumption of illicit liquor did not stop in Bihar despite five-and-a-half years of prohibition. The mafia indulging in such activities is well entrenched in the state and has developed a strong nexus with the enforcement agencies.
However, hooch tragedies are on a rise in the recent times because of the availability of spurious Indian Made Foreign Liquor (IMFL), as well as, those brewing country liquor mixing poisonous substances — knowingly or unknowingly — for providing a good kick and making a fast buck.
"We have unconfirmed reports of consignments of fake IMFL being smuggled into Bihar. We are also getting information about fake IMFL being bottled in different districts in our own state. On the other hand, poisonous substances like methyl alcohol, urea, narcotics and other chemicals are being used in country liquor. All these could be the reasons behind the spurt in deaths," a senior police officer told this newspaper on the condition of anonymity.
The recent promise and directions of Nitish to implement prohibition in a strict manner has failed to check the hooch deaths.