Home ministry sounds alert on counting day violence
States and Union territories have been asked to take adequate measures for security of strong rooms and counting centres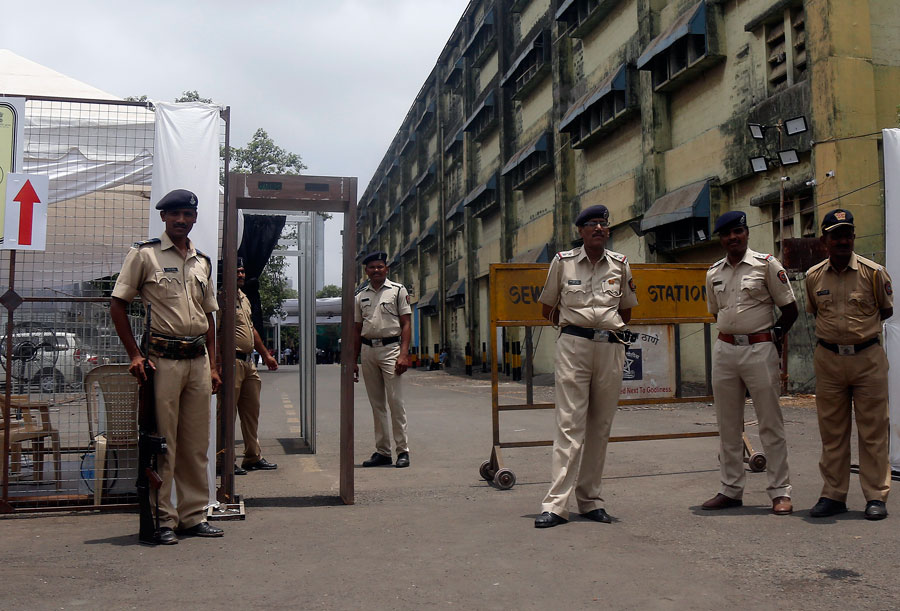 Security officials keep vigil outside a vote counting centre in Mumbai on May 21, 2019
(AP)
---
New Delhi/Patna
|
Published 22.05.19, 09:31 PM
|
---
The home ministry has asked all states and Union territories to remain alert, apprehending violence in parts of the country on Thursday when the Lok Sabha election results are scheduled to be declared.
The ministry said calls had been given "in various quarters for inciting violence".
In Bihar on Tuesday, Rashtriya Lok Samta Party (RLSP) leader and former Union minister Upendra Kushwaha had warned of a "bloodbath on the streets" if the BJP tried to "loot" the people's mandate. An Independent candidate responded on Wednesday by waving a pistol at a media conference in Kaimur district and proclaiming that he was "ready to fire bullets to save democracy".
The Union home ministry said in a statement that it had "alerted the state chief secretaries and directors-general of police regarding possibility of eruption of violence in different parts of the country in connection with the counting of votes tomorrow".
The states and Union territories, it added, have been asked to take adequate measures for security of strong rooms and venues where the votes would be counted.
"This is in the wake of calls given and statements made in various quarters for inciting violence and causing disruption on the day of counting of votes," it said.
Sources said the alert followed inputs central security agencies had received warning that some organisations and individuals, particularly in Uttar Pradesh, Bengal, Bihar, Tripura and Assam, had made statements that might lead to violence and disruption in the counting process.
The Election Commission (EC) on Wednesday held a meeting with Bihar police ADG (headquarters) Kundan Krishnan, IG (operations) Sushil M. Khopde and other senior officers in Patna to ensure that the counting of votes passes off smoothly.
"Our priority is the peaceful counting of votes and the maintenance of law and order in the state. We have directed all district magistrates and superintendents of police to ensure this," Bihar chief electoral officer H.R. Srinivasa said.
EC sources said the commission had taken note of Kushwaha's statements and was considering appropriate action. The state police have said they will act against the RLSP chief if any untoward incident happens because of his comments.
"Kushwaha's statements were provocative and will be considered as abetment to violence if any untoward incident happens. He will be held responsible and we will take action against him. We also appeal to the people, RLSP supporters and the youth to maintain peace," ADG (headquarters) Krishnan said.
Kushwaha had said there was "extreme resentment" among the public over the exit polls and "the attempt to influence the election results".
He had appealed to the people to be "ready to take up arms to stop any conspiracy to rob" the election results. "We are getting information from across the state that if they (the BJP and its allies) continue with their efforts to loot the election results, then they would not be able to check the resentment of the people. There will be bloodbath on the streets," Kushwaha had added.
On Wednesday, Ramchandra Yadav, an Independent candidate from the Buxar Lok Sabha constituency and former Bhabhua MLA, held a media conference where he flashed a pistol.
"I have taken up arms now and am ready to fire bullets to save democracy. Our leaders just need to say when and where I have to wage a war. Thousands and crores of people are ready for it," Yadav said, waving the pistol which was attached to a rifle butt.
He asserted that he was following in the footsteps of Subhash Chandra Bose, Mangal Pandey and Tatya Tope and that there was a need for all like-minded leaders to "unite on the lines of what Kushwaha had asked for".
Yadav claimed that his heart beats for the RJD and Tejashwi Prasad was his leader.
The EC has directed the district administration to take action against Yadav, who cannot be traced since.