Heavy rainfall unleashes flood fury in Bihar
Parts of Bagaha town and several villages in West Champaran district have been submerged; people have started leaving their houses for safer places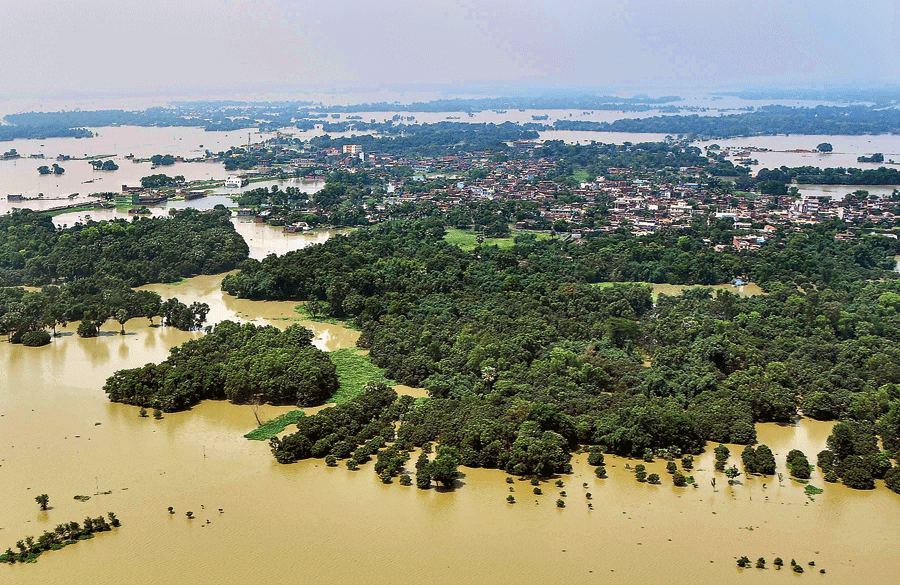 Discharge of a high volume of water into the Gandak river from Valmikinagar barrage along the Indo-Nepal border in Bihar's West Champaran district since Tuesday has worsened the situation
File picture
---
Patna
|
Published 17.06.21, 01:29 AM
|
---
Heavy rainfall in Bihar and neighbouring Nepal for the last two days has made rivers swell and unleashed flood fury in northwestern parts of the state on Wednesday.
Discharge of a high volume of water into the Gandak river from Valmikinagar barrage along the Indo-Nepal border in Bihar's West Champaran district since Tuesday has worsened the situation.
The Gandak (called the Narayani in Nepal) originates from the north of Dhaulagiri mountains in Tibet, flows through Nepal and enters Bihar at Valmikinagar. It falls into the Ganga opposite Patna.
Currently over four lakh cusecs of water is being discharged from the Valmikinagar barrage. One cusec (cubic feet per second) is equivalent to 28.32 litres of water passing at any particular point per second.
This has led to the Gandak and its tributaries like the Sikarahana, Pandarai, Masan, Harbora, Oraiya and others in Bihar flooding several parts of West Champaran, Gopalganj and Saran districts. On the other hand, the Budhi Gandak river is also threatening flood in West Champaran, East Champaran, Muzaffarpur, Samastipur and Khagaria districts.
Floodwater was flowing over the roads at several places in West Champaran and Gopalganj districts, disrupting connectivity and movement of people.
Parts of Bagaha town and several villages in Ramnagar, Chautarva and Thakarha blocks in West Champaran district have been submerged. People have started leaving their houses for safer places to escape flooding. Water has also entered the Valmiki Tiger Reserve (VTR).
As the situation turned grim, Sashastra Seema Bal (SSB) jawans had to leave their border outpost at Jhandutola in West Champaran district and move to safer places.
"Much water has entered West Champaran so we had to pull back our jawans from one of our border outposts. We may shift them from other outposts also if needed. The rain and floodwaters have disrupted the connectivity in the area where we operate. Moreover, we are not allowed to build permanent structures there because they are located in forest areas," SSB Patna frontier inspector-general Pankaj Kumar Darad told The Telegraph.
Meanwhile, the Central Water Commission (CWC) has issued an "orange bulletin" warning about severe flood situation in Bihar. It said the Gandak was flowing at a level of 62.4 metres at Dumariaghat in Gopalganj district, 18 centimetres above the danger level, with a rising trend.
"The Budhi Gandak river at Chanpatia in West Champaran was also in a severe situation, flowing at a level of 74.48 metres, which was 80 centimetres above the danger mark," the CWC bulletin said.
West Champaran district magistrate Kundan Kumar said that apart from very heavy rainfall in the catchment area of the Gandak in Nepal, the intensity of rain in the northwestern area of Bihar has also been high.
"At present around 4.12 lakh cusecs is being released from the Valmikinagar barrage into the Gandak due to heavy rain in Nepal. West Champaran has also received around 160 millimetres rainfall from Monday to Tuesday," he told this newspaper.
"The situation is under control as the rainfall has eased now. All our flood-fighting teams are in place. Personnel of the National Disaster Response Force (NDRF) and State Disaster Response Force (SDRF) have been deployed. We are making announcements on the public address system to alert people about the situation. Around 80 people have been evacuated from Lakshmipur Rampurva," he added.
Around 1,500 people are being evacuated in East Champaran district as a precautionary measure, while Gopalganj has also sounded a flood alert and is planning to shift people before the heavy discharge of water in the Gandak spills over into the district.