Heavy rain forces schools, offices shut in National Capital Region
While traffic movement within the capital was marginally better, several key junctions were waterlogged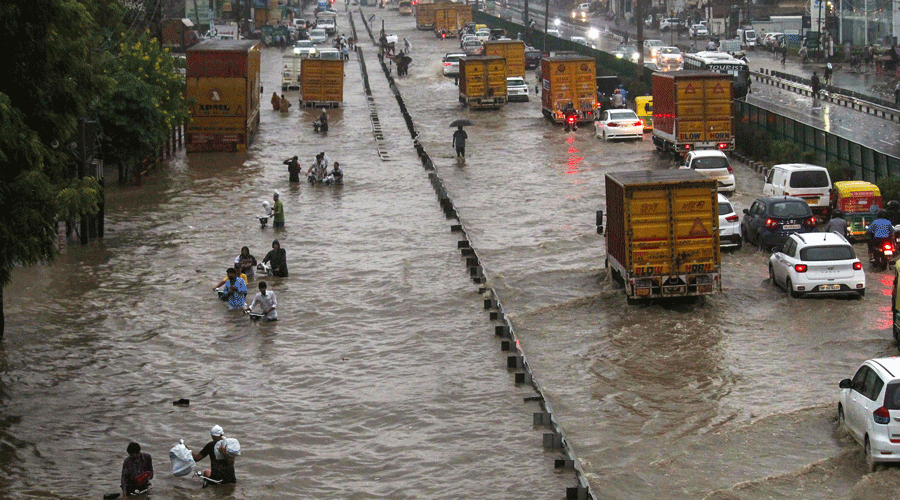 Commuters wade through waterlogged Delhi-Gurgaon Expressway after rainfall.
PTI picture
---
New Delhi
|
Published 24.09.22, 02:33 AM
|
---
A second consecutive day of heavy rain in the National Capital Region saw most schools and offices shut in satellite cities of Delhi.
While traffic movement within the capital was marginally better, several key junctions were waterlogged. The weekly Change of Guard ceremony at Rashtrapati Bhavan on Friday has been cancelled.
Rains ranging up to 10-fold or even higher than the normal expected have battered districts across the NCR and its neighbourhood since Thursday, but weather scientists say the only unusual feature thus far has been the timing.
The India Meteorological Department (IMD) on Friday predicted a fresh spell of intense rainfall across the northwest Indian plains, including the NCR, over the next two days and clear weather starting Monday.
The IMD data on Friday morning show that the rainfall departure from normal — excess over expected — over the previous 24 hours was 1,064 per cent in Rewari, 957 per cent in Gurgaon, 567 per cent in Noida, 433 per cent in Ghaziabad and 103 per cent in Faridabad. Gurgaon received 20.1mm rainfall, 14-fold higher than the normal expected 1.4mm.
"But I would not call the quantum of rainfall unusual — it is only happening in late September, instead of in July or August," said Rajendra Jenamani, a senior meteorologist at the IMD, New Delhi.
The excess rain, he said, was the result of an interaction of two weather systems — an eastward moving so-called western disturbance, a storm that originated west of India close to the Mediterranean Sea, and a westward moving low-pressure system that would have originated over the Bay of Bengal, ferrying moisture over the subcontinent.
"The convergence of these two systems typically results in the rainfall northwest India has experienced over the past day," Jenamani said. "There was a peak in rainfall activity yesterday (Thursday), another peak expected tomorrow (Saturday), but we expect the weather over the NCR will clear by September 26 (Monday)," he said.
On the advice of disaster management authorities, most private offices and educational institutions remained shut in neighbouring Gurgaon and Faridabad in Haryana on Friday.
Since Thursday, arterial roads such as the Delhi-Gurgaon Expressway and the Rajiv Chowk underpass were flooded. Water had been pumped out of most of these roads by evening even as rain continued. Waterlogging has been a problem in all low-lying areas in the Aravalli foothills where construction has taken place on what were once drains and ditches for rainwater.
In neighbouring Noida and Ghaziabad, schools were shut up to Class VIII. Parts of large residential complexes in Indirapuram on Delhi's boundary were flooded.
Several stretches on the roads leading out of the capital were flooded, triggering long traffic jams across Delhi.
Weather scientists say the convergence of a western disturbance and a low-pressure system occur typically once or twice during the four-month monsoon season from June to September.
The IMD said fairly widespread rainfall was "very likely" over east Rajasthan, Haryana, Delhi and west Uttar Pradesh between September 23 and 25 and in Uttarakhand between September 24 and 26.