Health emergency in 'gas chamber' Delhi
The air quality over Delhi-NCR deteriorated further on Thursday night and is now at the "severe-plus" level: EPCA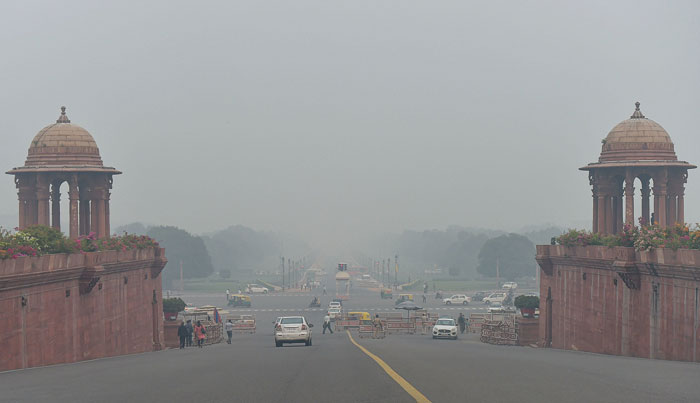 ---
---
An environmental panel tracking air pollution over the National Capital Region declared a "public health emergency" on Friday after pollutants spiked to more than five times safe limits and weather scientists predicted a further deterioration of air quality on Saturday.
The Environment Pollution (Prevention and Control) Authority (EPCA), a Supreme Court-mandated panel tasked with directing measures to combat air pollution over the NCR, declared the emergency and banned all construction activities up to November 5 and firecrackers during the rest of the winter.
The Air Quality Index (AQI), a measure of pollution that combines multiple pollutants, climbed to over 500 at several sites across the NCR, values at which the pollution can affect not just "at-risk" people — such as children or those with underlying respiratory illnesses — but even healthy people.
The air quality over Delhi-NCR deteriorated further on Thursday night and is now at the "severe-plus" level, EPCA chairperson Bhure Lal said in a letter to the chief secretaries of Delhi, Haryana and Uttar Pradesh, a PTI report said.
The EPCA action prompted the Delhi government to declare on Friday the closure of all schools until November 5.
Scientists monitoring air pollutants have attributed the persistent poor air quality to calm surface winds that allow pollutants to accumulate and to continued crop residue stubble burning in Haryana and Punjab.
The average concentrations of particulate matter (PM) sized 2.5 microns over Delhi had climbed to 383 micrograms per cubic metre, or six times the safe limit of 60, while PM sized 10 microns touched 555, or over five times the limit of 100, at about 3pm on Friday.
At some locations, the values were even higher: PM2.5 was 494 and PM10 was 646 at a site in Noida.
"This is very bad — particularly for those who have underlying health conditions such as asthma, chronic obstructive pulmonary disease, pollutant-triggered allergy," said Sushil Dhamija, a physician and secretary with the Indian Chest Society in Bhiwani (Haryana).
The Union science and technology ministry's System for Air Quality and Weather Forecasting Research (Safar), the agency that monitors pollutants in realtime, said the effective stubble fire counts across Haryana and Punjab had increased and peaked to 3,178.
The agency said a western disturbance — the weather term for storms originating in the Mediterranean region — currently over northwestern Rajasthan was expected to advance eastwards on Saturday and "positively influence" the NCR's air quality by increasing surface winds and flushing out some pollutants.
The AQI is expected to remain in the severe category on Saturday — with PM2.5 and PM10 concentrations at some sites likely to rise further — but could improve to the "very poor" category by November 4, Safar said.
Sections of doctors reported anecdotal increases in the numbers of patients visiting hospitals with respiratory symptoms, including persistent nasal discharge, sneezes, cough and exacerbations of asthma.
"Some patients recently discharged in stable conditions are back in outpatient departments with symptoms," said Prashant Saxena, pulmonology and sleep medicine specialist at Max Super-Speciality Hospital in New Delhi.
Faced with the city turning into what he called a "gas chamber", Delhi chief minister Arvind Kejriwal said his government had decided to shut all schools till November 5. The odd-even car-rationing scheme comes into force on November 4 for a fortnight.
"Please write letters to Captain uncle and Khattar uncle and say, 'Please think about our health'," Kejriwal said in a message to children, referring to Punjab chief minister Amarinder Singh and Haryana's M.L. Khattar.