Has to be temple, says RSS chief Mohan Bhagwat
The Ayodhya dispute is in the Supreme Court but Bhagwat seeks law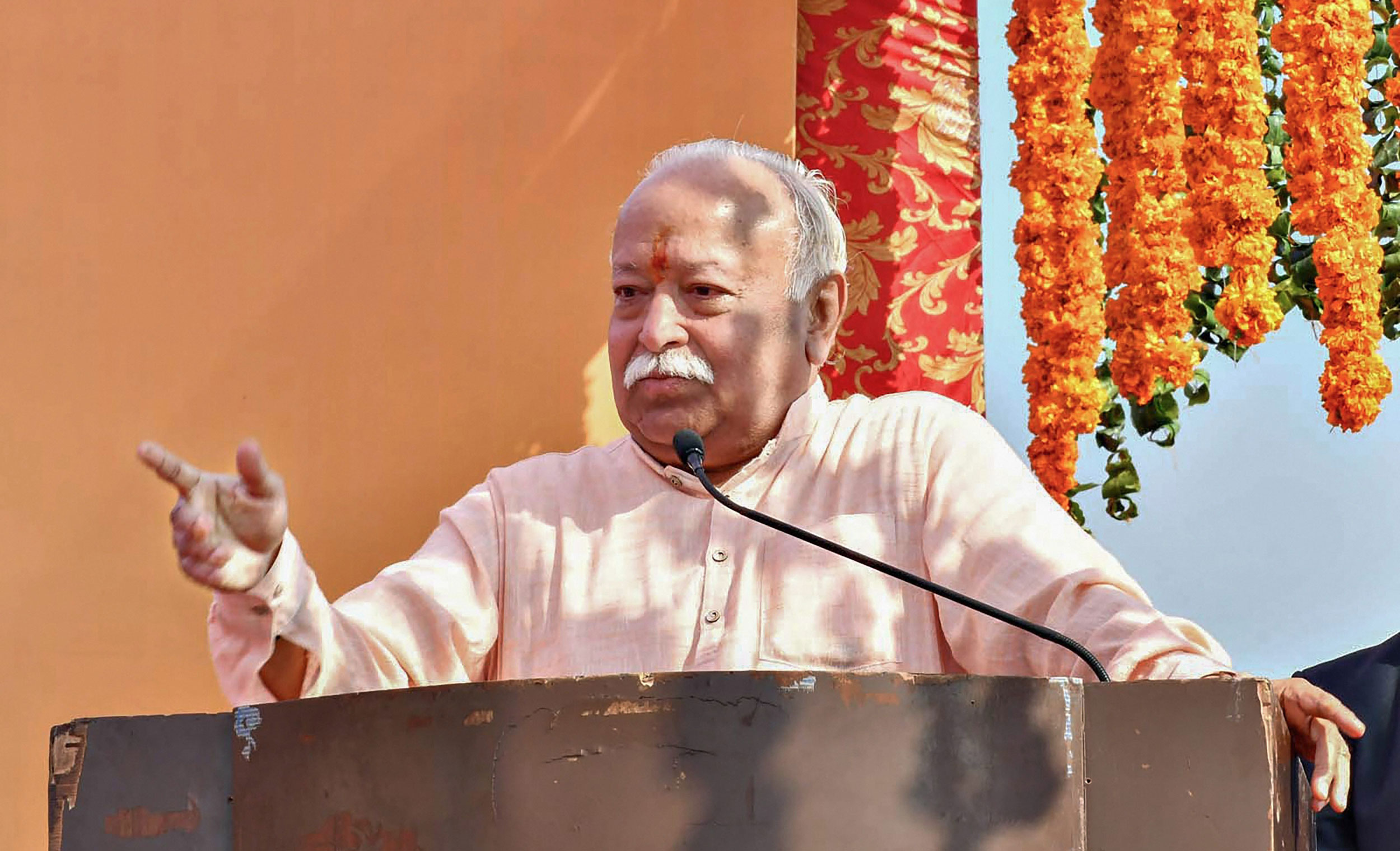 RSS chief Mohan Bhagwat talks during an event at Patanjali Gurukul, in Haridwar, on Saturday.
(PTI Photo)
---
Lucknow
|
Published 24.11.18, 09:35 PM
|
---
RSS chief Mohan Bhagwat on Saturday reiterated that the government should enact a law to clear the decks for a Ram temple in Ayodhya, a month after he had first aired the suggestion that was quickly chorused across the parivar.
"The Ram temple is associated with India's self-respect and identity. The Centre must enact a law to pave the way for the temple to be built in Ayodhya," the Sangh parivar patriarch said at an event organised by yoga televangelist Ramdev in Haridwar.
Bhagwat seemed to imply the Sangh cared little that the Ayodhya land dispute was now before the Supreme Court.
"There's no question now of asking what should be built there (at the disputed site) in Ayodhya. The Sangh is committed to building a Ram temple and will remain committed always," he said.
Allahabad High Court had in 2010 divided the disputed 2.77 acres equally into three parts and awarded a portion each to the Nirmohi Akhara, Sunni Central Waqf Board and Ram Lalla Virajman (infant Ram, represented by a VHP leader).
While the Akhara wants to build and manage a Ram temple at the site, the Sunni Central Waqf Board wants to rebuild the Babri Masjid, which stood at the spot before a mob of kar sevaks demolished it in December 1992.
Bhagwat had first recommended a pro-temple law during his Vijaya Dashami speech in Nagpur on October 18. Leaders of various parivar outfits, even Union ministers from the BJP, immediately began parroting the demand, raising the pitch further after the apex court in end-October dashed all hope of an early verdict saying the case wasn't a priority.
On November 12, Bhagwat asked Sangh pracharaks to talk of the temple and "nothing else" till the general election. But he advised them not to mention the Narendra Modi government in this context —apparently realising the perils of the Centre trying to bypass the apex court before a verdict — which led to a lull in the demand for a pro-temple law.
Ramdev said: "The people are impatient for a Ram temple. The government should either bring in an ordinance or start building the temple on its own. Those who say such action will disturb harmony are wrong. No one in the country is against Ram — the Hindus, Muslims, Sikhs and Christians are all descendants of Ram."