Hardik Patel vows to work as 'small soldier' for Narendra Modi
He will launch a campaign to wean away Gujarat Congress leaders to strengthen BJP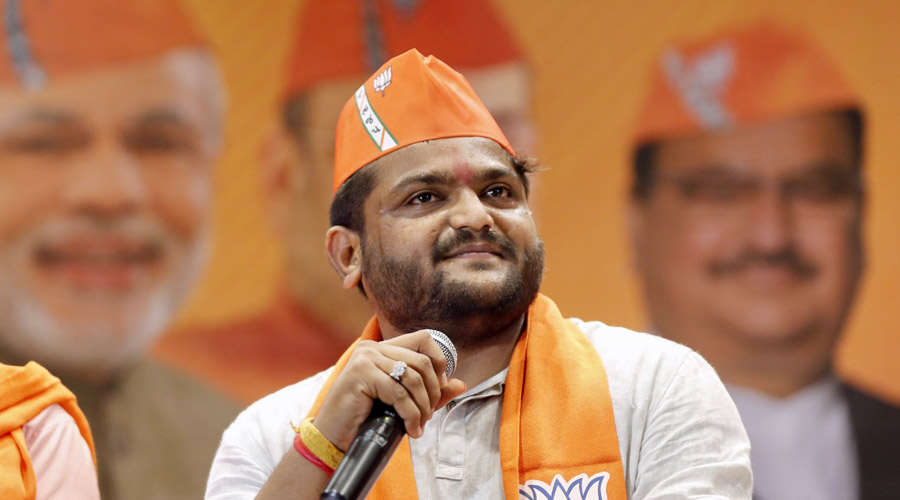 ---
New Delhi
|
Published 03.06.22, 01:48 AM
|
---
The BJP on Thursday welcomed former Congress leader Hardik Patel to its fold, underlining the saffron party's drive to win over the dominant Patidar community in poll-bound Gujarat.
Hardik, who had shot into limelight with his leadership of the 2015 agitation in Gujarat to demand reservation for the Patidar community, joined the BJP in Gandhinagar.
Ahead of the event at the Gujarat BJP headquarters, Hardik tweeted to declare his intention of working for the nation under the leadership of Prime Minister Narendra Modi.
"I will work as a small soldier in the noble work of service to the nation under the leadership of Prime Minister Narendra Modi," he tweeted.
प्रधानमंत्री श्री नरेन्द्र भाई मोदी जी के नक़्शे क़दम पर प्रदेश के लोकप्रिय मुख्यमंत्री श्री भूपेन्द्र भाई पटेल एवं परिश्रमी प्रदेश अध्यक्ष श्री सीआर पाटील जी के नेतृत्व में राज्य को नए मुक़ाम तक पहुँचाने के लिए पार्टी के एक छोटें से कार्यकर्ता की भूमिका में काम करता रहूँगा। pic.twitter.com/1pMuC0rFuE

— Hardik Patel (@HardikPatel_) June 2, 2022
Hardik, who quit the Congress last month, said that he would launch a campaign to wean away Gujarat Congress leaders to strengthen the BJP. He showered praise on the leadership of Modi.
The BJP's acceptance of the young leader reflected the party's drive to leave no stone unturned to ensure that the Patidar community throws its weight behind the saffron party.
The Patidars constitute around 12 per cent of Gujarat's population but wield political clout disproportionate to their population.
In the last Assembly polls, held in the backdrop of the Hardik Patel-led Patidar agitation, the BJP had come down to 99 seats in the 182-member Assembly.
Hardik had managed to build a political agitation against the incumbent BJP government in Gujarat ahead of the 2017 Assembly polls. The Patidar agitation he led caused the resignation of then chief minister Anandiben Patel, considered a Modi nominee, in 2016.
He joined the Congress ahead of the 2019 Lok Sabha polls in the presence of Rahul Gandhi. He was appointed working president of the state Congress.
The Patidar agitation was believed to have reduced the BJP's victory margin, seen as embarrassing in a state considered a Hindutva laboratory and pocket borough of Modi and then BJP chief Amit Shah.
In preparation for the year end elections this time, the BJP started by changing its chief minister and appointing Bhupendra Patel, a Patidar, as the chief minister.
In the run-up to the polls, Modi has been addressing a number of events organised by the Patidar community. The aim is to leave no chances in wooing the community as the BJP this time is striving for a record victory to make up for the blow in the last polls.