HAL strike for hike hits all nine units
HAL had recorded a profit of Rs 2,282 crore in the 2018-19 financial year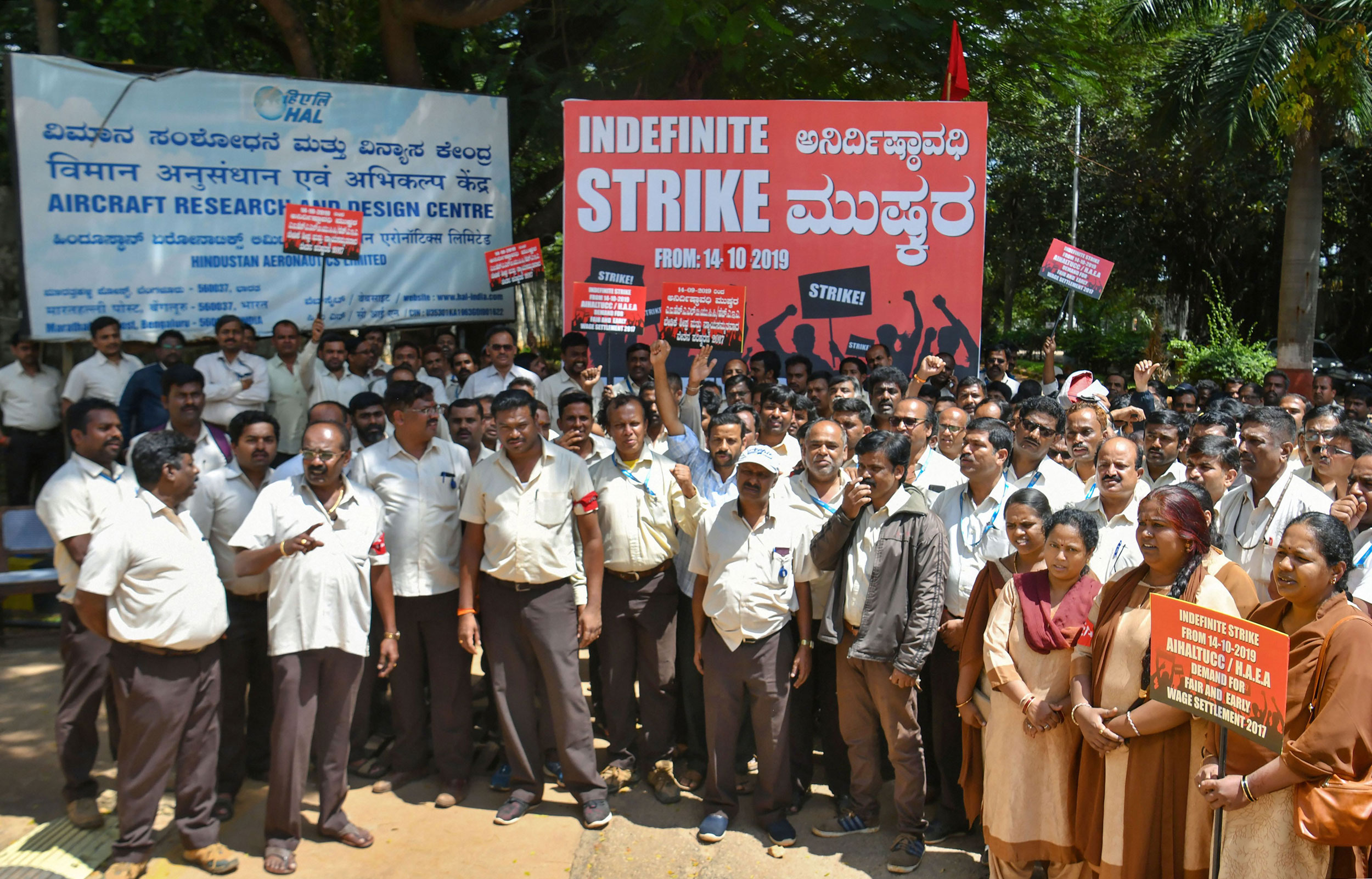 Members of All India HAL trade unions stage a protest during their strike in Bangalore on October 14, 2019.
(PTI)
---
Bangalore
|
Published 15.10.19, 01:42 AM
|
---
Employees of Hindustan Aeronautics Limited on Monday began an indefinite strike demanding a wage revision, throwing production lines off gear at all the nine units of the state-owned aerospace and defence company across the country.
Surya Devara Chandra, general secretary of the HAL employees' union, told The Telegraph that about 20,000 workers across the nine units had joined the strike, organised after talks with the management failed.
"We will not stop this agitation until the management revises our wages. We have waited for almost two years after the management revised the salaries of the officers in November 2017. It is the adamant stand of the management that drove us to this strike," Chandra said.
He said HAL had recorded a profit of Rs 2,282 crore in the 2018-19 financial year. "The wage revision for the officers cost the company about Rs 550 crore. While we have been demanding a worker wage revision worth a similar amount, the management would agree to only half that sum," Chandra said.
"Our company has an annual turnover of nearly Rs 20,000 crore, but still the management didn't do anything to stop this strike."
The management called the strike "illegal" and claimed that conciliatory measures were under way. "The HAL unions have shown total disregard (for) the organisation, classified as Defence Establishment under 'Public Utility Service'," a company statement said.
"There is no justification and rationale in the demand of the unions to extend the benefits on (a) par (with) or more than executives, when salary revision of executives was effected from January 1, 2017, after stipulated 10-year period. On the other hand, workmen have two wage revisions of five years' periodicity during the span."
Chandra contested this argument. He said the wage revision had been split into two parts in 2007.
"It's like dividing one wage revision of Rs 10 into two equal parts, one applicable in 2007 and the next in 20012. But the management is portraying matters as though we got two full wage revisions, which is a blatant lie," Chandra said.
CPM labour arm Citu has backed the striking workers and accused the management of harbouring a "callous attitude" towards a fair wage revision.
Citu expressed concern that the strike had come at a time the company had been excluded from the Rafale fighter jet programme.
One of the Congress's key planks during the Lok Sabha poll campaign was that Prime Minister Narendra Modi had got the offset contract for the French jets handed to Anil Ambani's Reliance at the expense of public-sector HAL.
HAL produces and services aircraft such as the Russian Su-30MKI multi-role fighters, indigenous light combat aircraft, Hawk advanced jet trainers, indigenously developed advanced light helicopters, light combat helicopters and their variants, and light utility helicopters.