Guru Vandana: Dear Voters, look how the Devoted Duo are treating Guru Jo
The move to deny Joshi a ticket completes the process of purging a generation of yesteryear stalwarts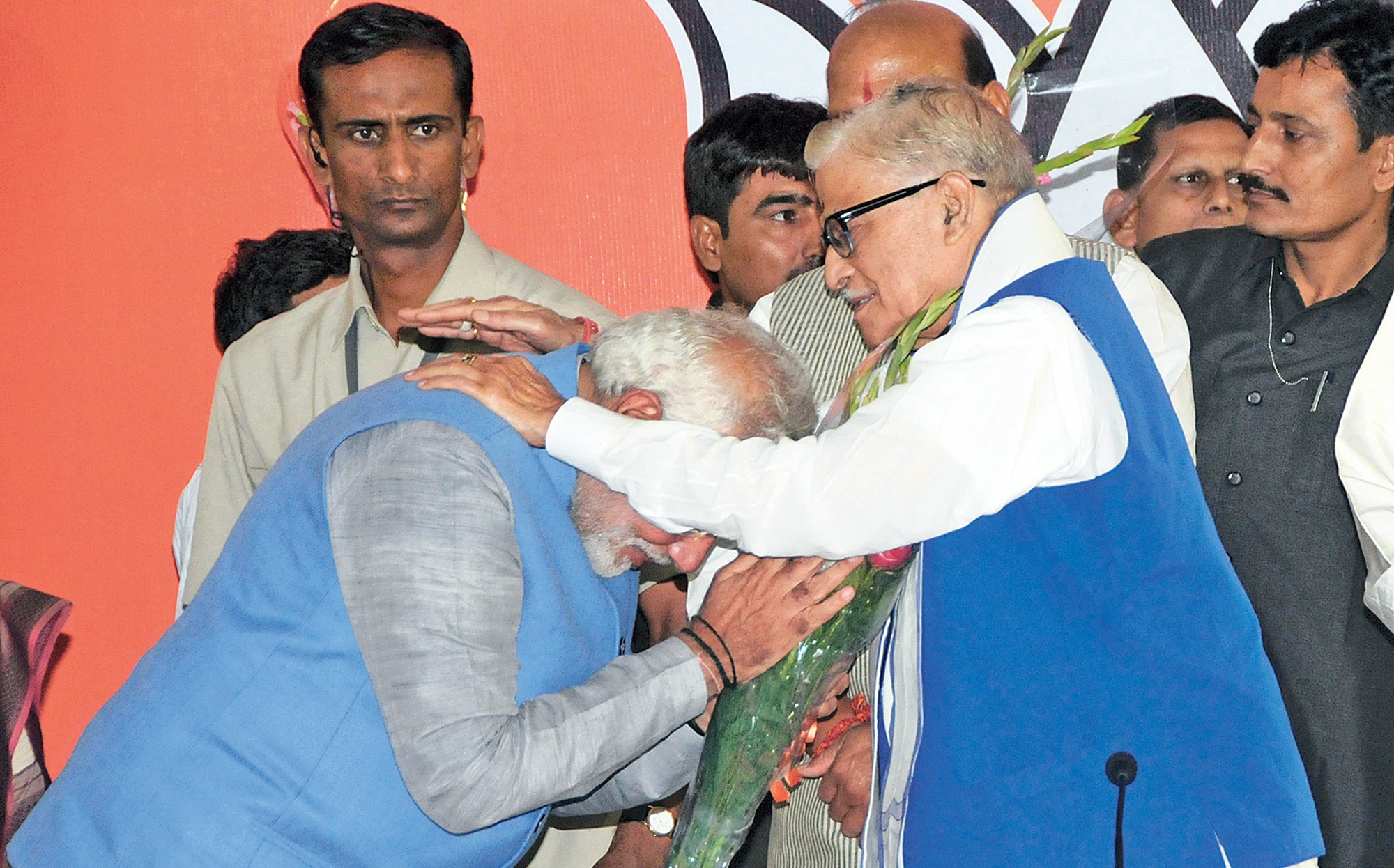 On May 17, 2014, a day after winning the general election and a little over a week before taking oath as Prime Minister, Narendra Modi seeks the blessings of Murli Manohar Joshi at the BJP headquarters in New Delhi.
Telegraph file picture
---
New Delhi
|
Published 26.03.19, 09:19 PM
|
---
Mythology has it that misled and grief-stricken, Dronacharya, counted among the great gurus of all time, simply stepped off his chariot, laid down his weapons, sat in meditation and was beheaded on the battlefield.
Murli Manohar Joshi, no less than a guru to Narendra Modi and officially one who is supposed to show the BJP the right path, has approached what could be his last battle in a dramatically different manner.
An unsigned note attributed to Joshi has been addressed to the "Dear Voters of Kanpur", not to seek votes but to inform them that he had been told not to contest the Lok Sabha elections.
"Dear Voters of Kanpur, Shri Ramlal General Secretary (Org.) Bharatiya Janata Party conveyed to me today that I should not contest the ensuing parliamentary election from Kanpur and elsewhere. (Murli Manohar Joshi)," reads the note typed in plain paper, not on his letterhead.
On Tuesday, the BJP announced that Satyadev Pachauri, a minister in the Yogi Adityanath government in Uttar Pradesh, would contest from Kanpur.
Neither Joshi nor Ramlal had issued any statement till Tuesday night contesting the content of the note that has been circulating on social media since Monday night. Sources in Joshi's office confirmed the note had been sent out by the MP but they declined to say so on record.
Rarely has any leader of Joshi's stature written such an open letter to the voters.
Joshi is 85, and no party should be criticised if it goes against the Indian grain and gives a chance to the young.
But the manner in which a veteran like Joshi has been made to feel in a party that extols the virtues of Bharatiya sanskriti, including the guru-shishya parampara, and uses it as a yardstick to judge others makes the note stand out. The BJP is also a party whose government renamed Gurgaon as Gurugram to underscore the city's mythological association with Dronacharya.
Dronacharya was at least given the benefit of a whispered half-truth about his son. Apparently, even that token gesture was not extended to Joshi when he was dropped.
Those close to Joshi said he was very upset that the BJP leadership did not talk to him and inform him of the purported decision to deny him the ticket.
Joshi, who held the home and science and technology portfolios in the Atal Bihari Vajpayee governments, does not stand alone on the used-and-thrown landscape. Several BJP seniors, including founding member L.K. Advani, have not found a place in the candidate lists released by the BJP so far.
All of them, BJP sources claimed, had been asked to announce on their own that they did not wish to contest. Some like former Uttarakhand chief ministers B.C. Khanduri and Bhagat Singh Koshyari and former Union minister Kalraj Mishra have toed the party line but Advani and Joshi have been refraining from doing so. Advani, 91, has been replaced by BJP president Amit Shah as the party's candidate for Gandhinagar.
In a way, the move to deny Joshi a ticket completes the process of purging a generation of yesteryear stalwarts that include Advani. Both Advani and Joshi have found themselves sidelined in the BJP under Modi and Shah, pensioned off to an old-age home called Margdarshak Mandal whose guidance is not known to have been sought ever.
Not that the BJP of Modi-Shah has shied away from milking the past contributions of Joshi to the party. Earlier this month, the BJP had tweeted a video of a speech Modi had delivered in Srinagar's Lal Chowk, citing it as evidence of the "lion's attitude" towards terrorists.
That event had taken place in 1992 when Joshi had led the Ekta Yatra from Kanyakumari to Kashmir. Modi had delivered the speech two days before the National Flag was unfurled at Lal Chowk. Modi is the only BJP leader among the current crop who had played a key role in Joshi's 1992 yatra.
Uploading on March 16 a combination of clips of Modi's speeches at Lal Chowk in 1992 and another from 2019, the BJP had tweeted: "Sheron ke tevar nahin badalte (The attitude of lions doesn't change)."
Joshi, who had earlier represented Varanasi, had shifted to Kanpur in 2014 to make way for Modi.
Cut to 2019. Apparently realising that they don't have party leaders to back them, Advani and Joshi have not been able to protest in public. People close to the two leaders, however, said that in the days to come they could write to the party leadership underlining the manner in which they were dropped.
Privately, the current generation of BJP leaders justified the denial of tickets to the veterans on the ground that they were too old and it was high time they retired to make way for the younger lot.
The Opposition rubbed in the "Hindu culture" salt. "The way Modi insulted his elders — Advani and Murli Manohar, this is against Hindu culture. In Hinduism, we have been taught to respect our elders," Delhi chief minister and Aam Aadmi Party chief Arvind Kejriwal tweeted.
Bengal chief minister Mamata Banerjee said she felt "very, very bad" and "sad" that Advani has been denied a ticket.