Anandiben settles a score
Gujarat: First-time MLA Bhupendra Patel picked as CM to woo Patidars
BJP leadership sheds its avowed aversion to caste politics ahead of the Assembly elections next year; move seen as surprise direct intervention of PM Modi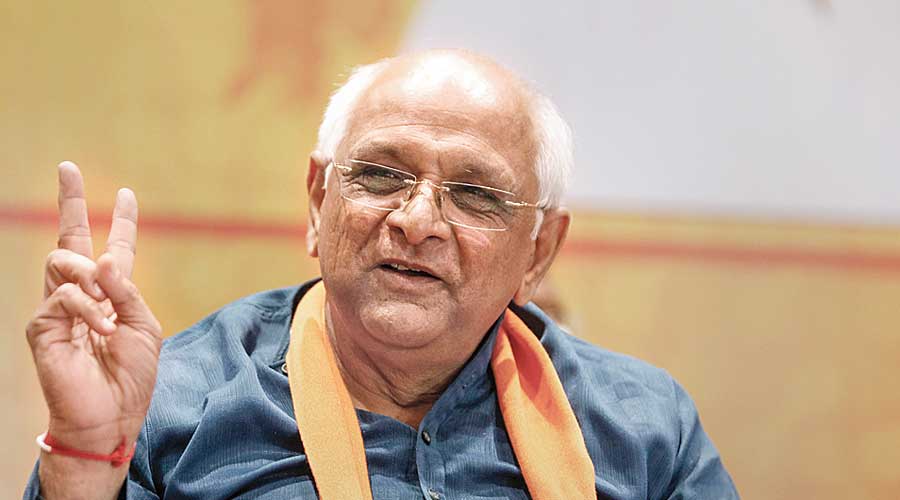 ---
New Delhi
|
Published 13.09.21, 02:08 AM
|
---
Bhupendra Patel, a first-time MLA, was picked on Sunday to be the new chief minister of Gujarat, with the BJP leadership shedding its avowed aversion to caste politics to apparently assuage the influential Patidar community ahead of the Assembly elections next year.
The new face is being seen as a surprise sprung by the direct intervention of Prime Minister Narendra Modi in his home state. It is also being viewed as a revenge of sorts exacted by former Gujarat chief minister and now Uttar Pradesh governor Anandiben Patel on Union home minister Amit Shah.
Five years ago, when Anandiben had to step down in a huff, the exit was said to have been precipitated by those close to Shah, who was then national president of the BJP.
In August 2016, Anandiben, chosen by Modi to succeed him as Gujarat chief minister in 2014, had announced her resignation on her Facebook page a year ahead of the polls, leading to the appointment of Vijay Rupani, who is counted as "Shah's man".
Now, in a replay, Rupani has quietly resigned as chief minister over a year ahead of the polls. Bhupendra, the successor, is known in Gujarat as a "close aide" to Anandiben and represents the Assembly segment in Ahmedabad district vacated by Anandiben.
After he was chosen on Sunday, Bhupendra said: "I have always been under Anandiben's blessings."
He thanked Modi, BJP chief J.P. Nadda, Shah and other party leaders.
In another instance of stark similarity, Bhupendra, 59, is a first-time MLA and so was Rupani in 2016.
"Anandiben then had stressed experience and backed Nitin Patel (the deputy chief minister in the Rupani government). Amitbhai, however, firmly rejected it and picked Rupani," a Gujarat BJP leader said, adding that now "Anandiben has turned the tables on Shah".
Anandiben had to quit in 2016 in the face of the Hardik Patel-led Patidar agitation for reservation and the BJP's defeat in the local body polls, though she had cited her age (then approaching 75) as a reason for her resignation. A section in the BJP had then accused the state party leadership of engineering the Patidar protest.
It's too early to conclude whether Shah's standing has been affected by the turn of events in Bengal, BJP sources said.
"Modiji intervenes whenever things go out of hand. Reports of intense internal bickering and lack of good governance were coming from his home turf and so he had to act," a BJP parliamentarian from Gujarat said.
Both Modi and Shah used to keep an eye on Gujarat but the latter had been in full control post-2014.
But Shah's reputation for election skills received a big blow with the BJP's defeat in Bengal, party insiders said, underlining how the powerful leader had been maintaining a low profile since the Bengal result.
"What role Amitbhai plays in Uttar Pradesh and other state polls, including Gujarat, will indicate whether he remains as powerful or not," a party leader said.
Politically and electorally, the choice of Bhupendra was seen as an outreach to the influential Patidar community. The Patidars' anger had seen the BJP struggle in the 2017 Assembly polls, when it won just 99 of the 182 seats, its lowest tally since 1995.
Gujarat leaders said that this time, many more issues like the Covid mismanagement, price rise, lack of jobs and internal squabbling had piled up, prompting the leadership to take corrective measures.
Under Modi and Shah, the new BJP has been disregarding politically dominant communities in the states to show that it doesn't believe in caste politics. The choice of a Patidar as the new chief minister suggests that such a stand has been shelved, at least for now.
The chief minister-designate's connection with the Prime Minister has been established with past pictures of Modi taking part in kite flying along with Bollywood star Salman Khan from Bhupendra's terrace in Ahmedabad.
Bhupendra, MLA from the Ghatlodia constituency, was chairman of the Ahmedabad urban development authority and headed the standing committee of the Ahmedabad municipal corporation.
Party leaders rubbished the need for administrative experience, recalling that Modi was in a similar position when he was made chief minister in 2001.
"Bhupendra Patel, clearly, is Narendrabhai's choice although Anandiben may have used her influence to get him elected (to the Assembly)," a Gujarat MLA said, attributing the absence of protests against his selection to knowledge that Modi wanted him.