Grandma of an opening
Trolls rant, film makes crores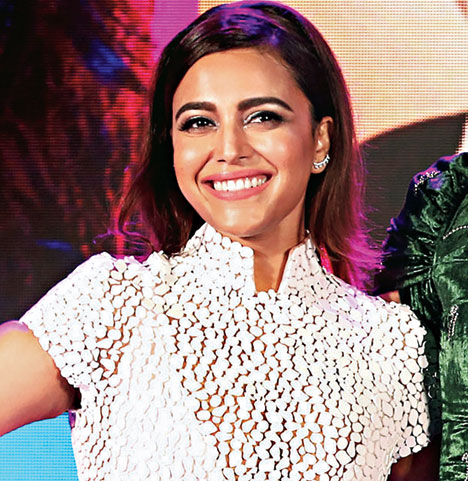 ---
Chandigarh
|
Published 03.06.18, 12:00 AM
|
---
Chandigarh: Veere Di Wedding made Rs 10.70 crore on its opening day and its makers should thank Right-wing trolls and their grandmothers for sending the cash registers ringing.
"Hey @ReallySwara just watched #VeereDiWedding with my grandmother. We got embarrassed when that masturabation scene came on screen. As we came out of the theater my grandmother said 'I am hindustan and I am ashamed of #VeereDiWedding'," tweeted Priya Shah from Mumbai. Priya's Twitter account says she believes in "BJP ideology" and is "followed by BJP mumbai President Ashish Shelar ji".
It turned out Priya was not the only one who went for the first-day show with her grandmother, nor was she the only one to misspell the act as "masturabation".
Twitter users who go by the names Firkiii, Hridaan, Amit Gorai and Mitron uploaded the same tweet, word for word, separately within three hours. While the other four had tagged Swara Bhaskar, Hridaan had tagged Ekta Kapoor, the producer.
The sameness was not lost on many. "For some weird reasons, people who can't spell "Masturbation" are going to watch #VeereDiWedding with their Grandmothers and want answers from @ReallySwara," pointed out Joydas, a Twitter user.
Priya's tweet was in response to one by Swara that said: "Veere di wedding opens to 10.70 crores day 1! Third highest opener this year! A film without a hero and adult rated! Clearly the future is female."
The actress's response to the identical tweets was: "Looks like a certain IT cell sponsored the tickets or definitely the tweets."
The trolls and their grandmothers would not have got attention had not there been a campaign against the film on social media.
"Dear Hindus, if you have any self-respect or dignity left, PLEASE do not watch any movie that stars @ReallySwara, Kareena Kapoor, @humasqureshi, Kalki Koechlin, Sonam Kapoor and all other placard wala B grade actresses. Hit them where it hurts," Shefali Vaidya, whose Twitter profile claims she is a columnist with pro-BJP-RSS magazines Swarajya and Tarun Bharat, had tweeted on April 16.
The reason: these actresses had spoken out against the Kathua rape and murder of an eight-year-old. They had posted pictures of themselves carrying a placard that read: "I am Hindustan. I am Ashamed. #JusticeForOurChild. 8 years old. Gangraped. Murdered. In 'Devi-sthaan temple. #Kathua."
Kareena, Sonam and Swara are co-stars in the Ekta production, with Shikha Talsania making up the fourth member of the girl gang.
After the release of Padmaavat, Swara had written an open letter to the film's director, Sanjay Leela Bhansali, questioning the glorification of jauhar and sati in the film.
Film trade analyst Taran Adarsh said #Veere Di Wedding had received good response overseas too. "The general feeling is, cuss words and adult themed Indian movies don't wrk overseas. Veere Di Wedding has shattered the myth. The film breezes into the top 10 charts of Australia, UK and New Zealand and this is no small achievement," Adarsh said.
A Twitter user reminded Swara she must thank the grandkids and their grandmoms, who went to see Veere when they could have watched Parmanu instead. The John Abraham-starrer is based on the Pokhran nuclear tests every "nationalist" should be proud of. "Hope u thanked all the grand kids who took their grandmoms to this movie and made it such a big hit," the tweet said.