Govt has destroyed banks, says Congress
The party stresses the need for action against defaulters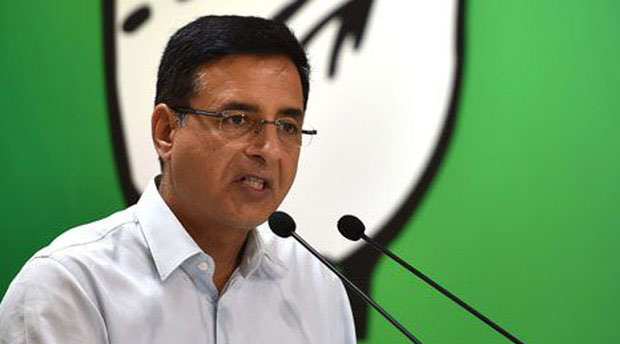 Randeep Surjewala
File picture
---
New Delhi
|
Published 30.07.20, 03:48 AM
|
---
The Congress on Wednesday accused the Narendra Modi government of destroying the banking and financial sectors with bad decisions, failing to punish defaulters and curbing the autonomy of the RBI.
Arguing that the way forward is to restore the autonomy of the RBI, Congress communications chief Randeep Surjewala said: "The Prime Minister met CEOs and executives of India's banking sector today (to take stock of the economy in the wake of the coronavirus crisis). We hope they had the gumption to tell the Prime Minister how his government has destroyed the banking sector and financial institutions."
Surjewala added: "Even if they maintained a studied silence in the face of the Prime Minister's aversion to hear the honest uncomfortable truth, there were three important events, just in the last one week, that reflect the miserable state of India's financial system and the banking sector.
"First, the RBI Financial Stability Report for July 2020 warned that bad loans could reach a 20-year high. Second, former RBI governor Urjit Patel revealed that the government wanted him to go soft on defaulters. Third, former (RBI) deputy governor Viral Acharya disclosed the government's mismanagement in making the entire financial sector unstable, risky and on the verge of collapse."
The Congress stressed the need for action against defaulters, restoring confidence in banks through a no-witch-hunt promise and allowing them to lend prudentially as per their "risk norms", and expanding credit guarantee programmes for MSMEs to propel investment.
Pointing out that bad loans worth Rs 2,16,739 crore (3.8 per cent of total loans) in 2013-14 had risen to Rs 9,35,000 crore in 2019 (9.1 per cent of total loans), Surjewala said the July 2020 Financial Stability Report feared it could reach 14.7 per cent.
"The All India Bank Employees Association has listed 2,496 'wilful defaulters' with amounts totalling up to a whopping Rs 1,47,000 crore. As such huge amounts are being technically written off by the Modi government, there is no effort to investigate or punish the defaulters. A glaring example is lead bank SBI's record of recovering less than 1 per cent of the write-offs each year. As per reports, SBI had to write off Rs 1,23,000 crore while collecting a meagre Rs 8,969 crore in eight years," he said.
Linking the untimely exits of RBI governors Raghuram Rajan and Patel to the government's alleged intention of protecting defaulters, Surjewala said: "With the banks not allowed to recover loans from defaulters, all further lending came to a halt. Bank credit growth was 14 per cent when the Modi government assumed power in 2014."
"Bank credit growth is now down to 4 per cent and will become zero soon, as per the RBI's own report. This means there is no money available for businesses that need them because banks are hesitant to lend."