Govt cites militancy to stall 4G Net in Valley
Petitioners said it amounted to discrimination as people elsewhere in the country were enjoying 4G services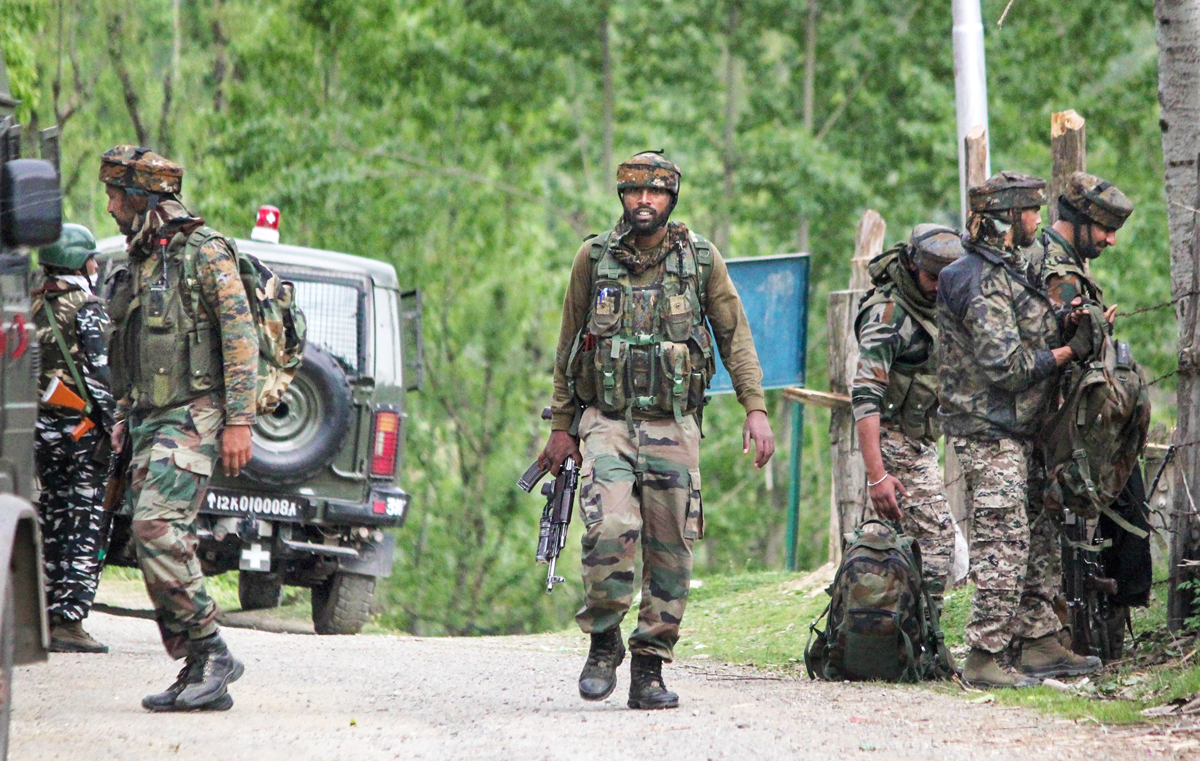 Security personnel during an encounter with the militants in the Chanjmullah area of Handwara in Kupwara district of north Kashmir, Sunday, May 3, 2020. An Army Colonel and a Major were among five security personnel killed in the encounter with terrorists.
(PTI)
---
New Delhi
|
Published 04.05.20, 10:56 PM
|
---
The central government on Monday told the Supreme Court that "those tasked with protecting national security must be the sole judges" on such matters as it cited increasing militant activities to oppose pleas seeking restoration of 4G Internet services in Jammu and Kashmir.
Courts could not "interfere" with matters of policy, attorney-general K.K. Venugopal said during a hearing.
The Centre's contention, which mentioned Saturday night's loss of five security personnel in a gunfight with militants in north Kashmir, came after the petitioners had challenged the administration's decision to allow only 2G services in the region.
The petitioners said it amounted to discrimination as people elsewhere in the country were enjoying 4G services, highly effective during the Covid-19 crisis for both medical and educational purposes.
Venugopal argued that the petitions should be examined in the context of national security. "There are good reasons why only fixed line Internet was permitted. We can keep a check on who is giving information and disseminating terrorist propaganda," he said.
"I am proceeding with the assumption that the claim to fundamental violation is justified. National security is paramount. Those tasked with protecting national security must be the sole judges," he said.
"Such matters cannot be made subject of evidence before the court of law or discussed in public…. Political stability, social stability, territorial integrity are all a part of national security. Matters of policy cannot be interfered with by the court. It must be left to the government."
That prompted Justice N.V. Ramana, one of the judges on the bench, to ask: "So according to you we should not hear the issue at all?"
The bench of Justices Ramana, R. Subhash Reddy and Bhushan Gavai later reserved its order. The verdict is expected in the next few days.
Earlier at the hearing the petitioners had argued that there was no nexus between Internet services and terrorist activities and pointed out that militancy was at its peak in Jammu and Kashmir in the 1990s when there were hardly any mobile or Internet services.
"Has there been any study to show any direct link between 4G Internet and terrorist activities?" senior advocate Huzefa Ahmadi, who appeared for some of the petitioners, said.
"The averment that terrorist activities have increased due to 4G is wrong according to their own data and averments."
He said 2G services were grossly inadequate for video-conferencing, essential for providing both health and educational services.
Venugopal quoted from an earlier recent judgment of the court, saying it had then clearly upheld the government's argument that there could be curbs on Internet services in national interest. "It is about the protection of the lives of the entirety of the population of J&K. Not just the patients. Terrorists are being pushed into the country. Yesterday there were some tragic events," Venugopal said.
"These men (terrorists) could easily take videos of troop movements…. The enemy could know the troop movements if they had 4G," he said.
Justice Ramana pointed out that the court in its earlier judgment had clearly said that while there could be restrictions, they should be reviewed by the review committee the administration has set up.
Solicitor-general Tushar Mehta, who appeared for the Jammu and Kashmir administration, said the government was periodically reviewing the situation and had introduced relaxations, including opening up landline and 2G services.
He said health services and schools were functioning satisfactorily and the petitioners had not been able to produce any material to show that any patient had died due to lack of 4G services.
Ahmadi said the administration had failed to produce any material or even orders of the review committee that are supposed to be passed every week. He also said Jammu and Kashmir had 701 Covid-19 cases and eight deaths so far, compared with only 33 cases when the petitions had been filed towards the end of March.
Former Union law minister and senior advocate Salman Khurshid, who appeared for some schools, said the government could consider blocking Internet sites that could be "misused".
Advocate Sayib Qureshi, who appeared for some other petitioners, said if the government was really concerned about terrorists misusing Internet facilities, it should ideally impose restrictions on social media.