Gone in 2 days: cop with 'bullet in belly'
Injuries to policemen often exaggerated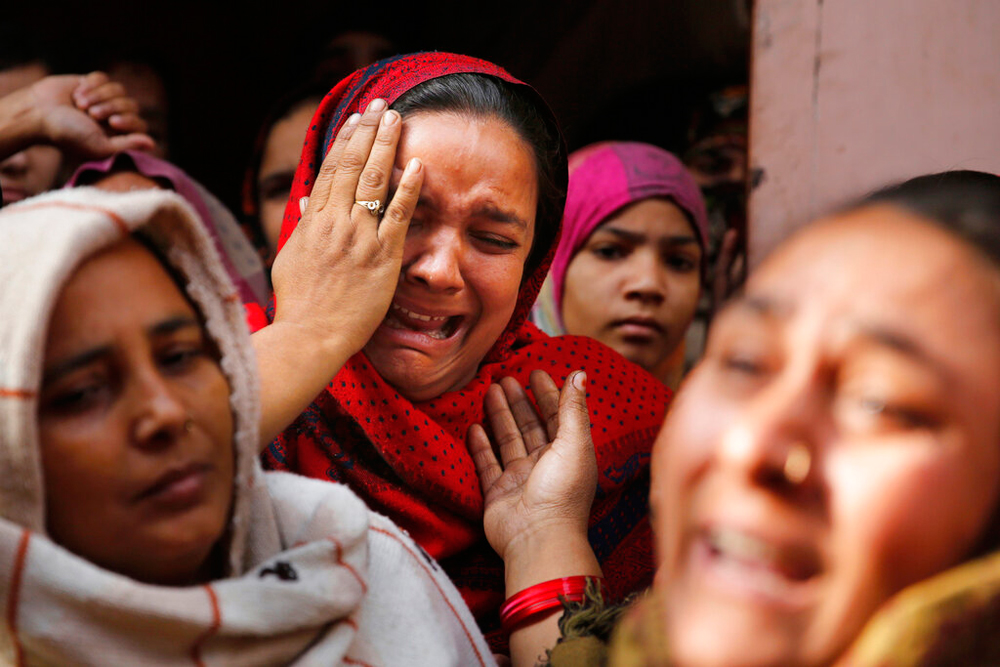 The sister of Mohsin Ahmad, a labourer who was shot and killed allegedly in police firing, outside her home in Meerut
(AP file photo)
---
Lucknow
|
Published 17.01.20, 10:31 PM
|
---
Multiple government officials and hospital sources have told The Telegraph that the gunshot wounds police received during last month's citizenship protests in Uttar Pradesh were all pellet injuries, but the cops themselves have shied off such an admission.
In some instances, officers have tended to exaggerate the injuries suffered by policemen before reporters and before the courts.
Take, for example, constable Mohit Kumar of Bijnore.
Although the DGP had said the police never fired at the crowds, he had later qualified his statement to say that in Bijnore, an undergraduate student, Mohammad Sulaiman, had shot at Mohit Kumar, who had fired back from his service rifle in "self-defence" and killed the assailant. This was on December 20.
Shuaib Hussain Mallik, brother of Sulaiman, said: "My brother had never touched a firearm. Eyewitnesses have said he was returning after praying at a mosque when the policemen dragged him to a corner and shot him."
He added: "Show me any policeman, including Mohit Kumar, with any major injury. It's a lie that Sulaiman fired at the police."
Sanjeev Tyagi, Bijnore superintendent of police, had claimed on December 20 that Mohit, member of the SWAT (special weapons and tactics) team, had taken a bullet in his stomach and been admitted to the district hospital.
The next day, when the reporters went to see him, the doctors said he had suffered pellet injuries in the hip and been shifted to the LLRM Medical College, Meerut.
When they visited the Meerut hospital on December 22, the reporters were told the constable had been discharged and had gone home.
This correspondent asked Tyagi and several other police officers in Bijnore for Mohit's contact details but they said they didn't have them.
Cop secrecy
"The CRPF and state police personnel had pellet injuries," a home department bureaucrat told this newspaper. "All of them are fine now."
Asked by reporters, Tyagi, who had just claimed that 46 cops had been shot and injured, said: "I need to find out who is still under treatment."
Asked what kind of injuries the policemen had, he said: "I need to find out."
"WhatsApp me whatever you want to know. I will get back to you," Tyagi said on January 10.
This newspaper, which sent him three questions — about the number of injured cops, their possible hospital discharge and nature of injury, and Mohit's contact number — is still waiting.
But the chief medical officer of Firozabad, S.K. Dixit, said on January 10: "I don't think any policeman is still under treatment at the district hospital (where all the injured cops had been taken)."
A source at the district hospital said: "Two policemen came with deep injuries on their arms. One constable had multiple fractures in one arm, and an inspector had a muscle tear in one arm. Both had been hit by blunt objects. Both have been discharged. The rest had pellet wounds or stone injuries. All were discharged by December 22 evening."
Firozabad senior superintendent of police Sachindra Patel identified the two cops with arm injuries as inspector Surendra Bhadauriya and constable Ajay Kumar.
Cop 'ache'
At least one court pulled the police up for overplaying the injuries to personnel.
As Lucknow-based social activist Sadaf Jafar's bail application came up on January 8, the police opposed the plea, alleging the protesters at Parivartan Chowk had injured three policemen on December 19. Sadaf was at the protest, broadcasting it live.
The police identified the injured cops as SP (city east) Suresh Chandra Rawat and sub-inspectors Vijay Shankar Tiwari and Priyamband Mishra.
But S.S. Pandey, additional sessions judge, observed that Rawat had a "minor injury" and the two sub-inspectors had complained of "body ache". He granted bail.
Yet, when the bail plea of Lucknow poet and playwright Deepak Kabir came up shortly afterwards in the same court, the police again opposed the plea on the same ground of injuries to the same three cops.
Again, the court made the same observation and granted bail. Kabir says he was beaten up and arrested when he had gone to a police station on December 20 to enquire about missing friends.
Stones vs bullets
"Most of the injured policemen were hit by stones," the home department bureaucrat said.
DGP O.P. Singh had provided partial corroboration, saying that 288 policemen had been injured during clashes with the citizenship protesters, of whom 61 had firearm injuries.
Maulana Alam Raza Khan Noori, the Kanpur shahar-e-kazi, said: "Policemen suffered stone injuries and were given first aid. The people sustained bullet injuries and either died or were still under treatment."
According to Babupurva police station in Kanpur, two constables had received pellet injuries there on December 20. There's no report of their being treated at any hospital.
Aftab Alam and Raees Khan died of bullet injuries suffered in Kanpur on December 20, their families said on the basis of medical reports from the LLR Hospital.
Mohammad Sharif alias Saif was admitted to a local hospital on December 20 and discharged after primary treatment. He was admitted again to the LLR Hospital and died there on December 22. A bullet had been stuck in his stomach. The doctors told his family it was not possible to remove the bullet.
"Eyewitnesses told me a policeman had shot him with a revolver from about 10 metres," said Mohammad Rayis, Sharif's father.
The shahar-e-kazi said: "We wanted to file an FIR against the police but the officers refused to entertain our complaint. So we filed a murder FIR in Aftab's case against unidentified people. We'll file FIRs in the other two cases soon. Our idea is to let the cases begin in court and then try to establish who fired at whom to kill and who threw stones in reply to bullets."
'Two weapons'
Noor Mohammad, father of the disabled Rashid who was shot dead, said: "It happened at 4.30pm when he was returning from the bangle-manufacturing factory where he worked. His body lay near Naini Glass House till 8pm, when a boy told me about the incident.
"We rushed to the spot and saw his entire brain matter had come out from the back of his head. We covered it with a towel and took him to hospital where the doctors said he had been killed by a single rifle bullet."
He added: "The police forced me to bury Rashid at 3.30 the same night (December 21 morning) and threatened to kill my entire family if we didn't follow their instructions. There was not a single person except me and two other family members during the burial, whereas over 100 policemen were there with 'alternative weapons' in their hands, ready to fire."
Asked what he meant by "alternative weapons", Noor said: "Many constables with rifles slung from their shoulders were also holding revolvers in their hands. I'm an illiterate person but I know this is unusual — it was clear they had come ready to shoot."
The home department official denied that the police had "alternative weapons".
Noor, a bangle artisan, said: "The police are not giving us the post-mortem report. We think they will change the report before giving it to us."
The home department official said: "We will give the post-mortem reports to the families after the situation becomes normal. There are intelligence reports that violence may erupt again in parts of the state."
Mohammad Ayub of Firozabad, father of the slain Nabi Jaan, said: "Eyewitnesses said the police were firing indiscriminately on the crowd. The doctors said my son died of excessive bleeding as he had been brought to the hospital after three hours. We will file a murder case against the police as soon as we get the post-mortem report."