'Genius' threatens to split Supreme Court Bar Association
Bid to oust chief who frowned at veneration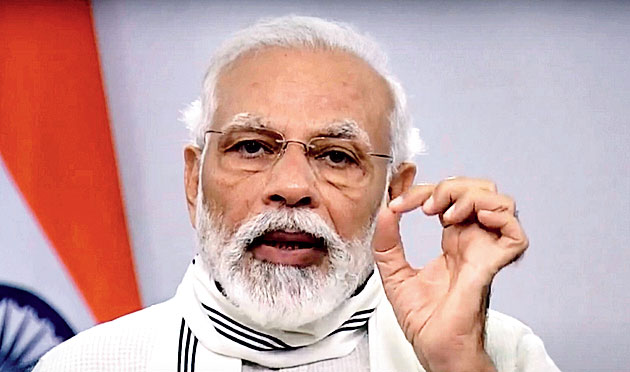 ---
New Delhi
|
Published 07.05.20, 11:59 PM
|
---
A Supreme Court judge's public praise of the Prime Minister in February has triggered a chain of events that threatens to split the Supreme Court Bar Association, with an attempt made to oust its president who is a known Narendra Modi critic.
Association president and senior advocate Dushyant Dave had in an official resolution in February disapproved of Justice Arun Mishra's effusive praise of Modi, saying such remarks were unbecoming of an apex court judge and reflected poorly on judicial independence.
On Thursday, association secretary Ashok Arora announced an "emergent general meeting" at 4.30pm on May 11 to discuss Dave's removal as president and member and the withdrawal of his "unauthorised" February 25 resolution.
Dave promised to defeat the move, calling it "illegal and improper" and the handiwork of "a motivated individual" with a "personal agenda".
Justice Mishra's comments had come during the vote of thanks at a global jurists' conference here on February 22. He had lauded Modi, the chief guest, as "an internationally acclaimed great visionary" and a "versatile genius who thinks globally and acts locally".
Dave's resolution said judges should desist from praising political personalities or displaying any proximity to the executive. "Such proximity and familiarity may impact judicial decision-making process and give rise to justifiable doubts in the minds of the litigants about the outcome of case," the resolution said.
The SCBA, the most powerful lawyers' association in the country, has 1,996 permanent members with voting rights. Its members include India's cream of lawyers such as Harish Salve, Mukul Rohatgi, K.K. Venugopal, Kapil Sibal and Salman Khurshid.
Arora said the May 11 meeting had been called under Rule 22 of the Bar association to consider resolutions signed by 410 members and addressed to the secretary seeking discussion. The issues:
* To condemn and withdraw the "unauthorised" February 25 resolution, purportedly passed by the executive committee through a circular.
* Not to use the office of the SCBA for political agendas.
* To remove Dave as president.
* To remove Dave from the association's primary membership for allegedly working against the interests of the Bar.
When the February 25 resolution was issued, Arora had distanced himself from it. So had Manan Kumar Mishra, chairperson of the Bar Council of India, the regulatory body for advocates and legal education.
The Bar Council had suggested that Justice Mishra had merely extended certain courtesies and made a general thanksgiving speech to the Prime Minister-cum-chief guest.
Dave wrote a letter to the SCBA members on Thursday condemning the attempt to remove him.
"The entire exercise is illegal and improper. The EC (executive committee) has not decided to call any such meeting. So, whole exercise is unfortunate and wrong. It will have no purpose nor can it achieve any objective except to tarnish the reputation of this great body, SCBA," he wrote.
"I am the president elected lawfully and will continue to serve you till my term is over.... I have been elected by you (and) only you have the power and right to act, not some person carrying personal agenda.... (The) dignity and respect of this great institution, SCBA, is at stake."
The keenly contested SCBA elections are held every December. Dave and his team were elected in December 2019.
Dave, a Gujarat native, has represented Muslim clients in the Ayodhya dispute, argued Kashmir journalists' case against the media restrictions imposed in August, and sought the booking of BJP leaders over a provocative poll campaign in Delhi.