From 'toilet trick' to provocation
The protesters are up against one alleged dirty trick after another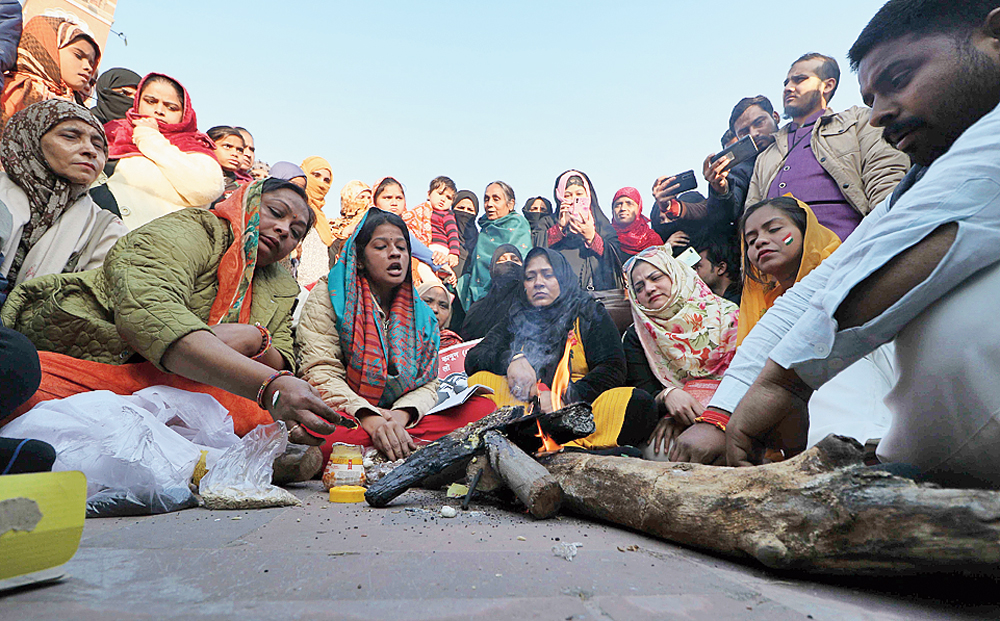 Women perform a havan at the protest against the CAA at the Ghanta Ghar in Lucknow on Wednesday
(Naeem Ansari)
---
Lucknow
|
Published 22.01.20, 10:16 PM
|
---
The Ghanta Ghar vigil in Lucknow, where the crowd count has swelled to 6,000, has replied to Union minister Amit Shah by soldiering on and charting plans for the red-letter days ahead.
The protesters, who want the new citizenship matrix be revoked, are also up against one alleged dirty trick after another.
Sabiya Ali, an undergraduate student, said: "Policemen have asked the caretaker of a public toilet to open it only during the day and charge Rs 10 from the protesters for each visit. The caretaker told us that she was helpless as the policemen have fixed this special rate for the protesters."
Asked, Mukim Jahan, the caretaker of the public toilet, said: "I cannot keep it open for 24 hours. Nobody has asked me to charge more from the protesters. I charge Rs 5 only from each person for using the toilet. The government doesn't give me any salary."
Asked again if she was scared of the police, she said: "I am also against the CAA (Citizenship Amendment Act) but I am not as brave as these protesting women."
A 14-year-old girl said the police entered the courtyard on Tuesday night and threatened the protesters.
"Not one or two but 15-20 policemen entered yesterday night and used dirty abuses against me and other women. They are looking for an opportunity, they need one opportunity — that we give them a reply and they would beat us."
The girl added: "Last night, the policemen were very aggressive and they quoted the Union minister, saying that the CAA will not be withdrawn. They were asking us to leave the place because Amit Shah has rejected our demand."
On Tuesday, Shah had declared that the Centre would not roll back the CAA.
Pramod Kumar Mishra, station house officer of Thakurganj area where Ghanta Ghar is located, denied the allegation and said: "We have no problem as long as their protest is peaceful. The police do not disturb them but keep a close watch on anti-social elements."
The police were earlier accused of snatching blankets and stealing biscuits. The police had denied these allegations, too.
Sabiya, the undergraduate student, said: "It is a slap in the face of Mr Shah that despite his speech on Tuesday, we are undeterred. The home minister shouted at the top of his lungs that the CAA wouldn't be withdrawn. The protesters are Ghanta Ghar are civilised citizens of India who are giving a befitting reply to Shah with their sit-in."
Deepak Mishra alias Deepak Kabir, a local playwright, said he had suggested that the protesters observe sadbhawana diwas (goodwill day) on the birth anniversary of Netaji Subhas Chandra Bose on Thursday, celebrate the Republic Day on January 26 and declare from the clock tower on January 30, the day Mahatma Gandhi was assassinated in 1948, that the protest of women and children was a battle between the Mahatma and his assassin Nathuram Godse.