Works of JP axed from Jai Prakash University course
The thoughts of other prominent socio-political leaders like Ram Manohar Lohia, Bal Gangadhar Tilak, Raja Ram Mohan Roy, M.N. Roy and others have also been omitted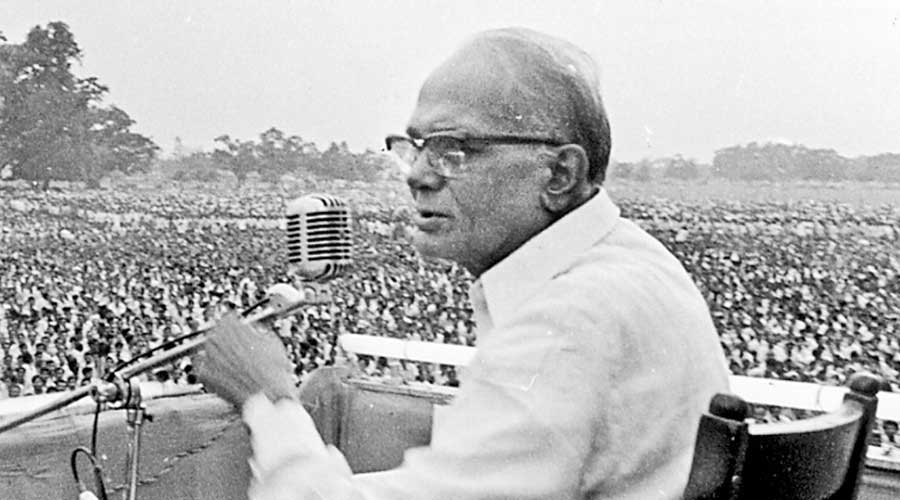 ---
Patna
|
Published 02.09.21, 02:05 AM
|
---
Socialist leader and freedom fighter Jayaprakash Narayan has been omitted from the political science syllabus of the university established in his name in his native Saran district of Bihar.
The thoughts and works of other prominent socio-political leaders like Ram Manohar Lohia, Bal Gangadhar Tilak, Raja Ram Mohan Roy, M.N. Roy and others have also been omitted from the postgraduate political science syllabus of Jai Prakash University in Chapra.
The omission of Narayan's name has shocked politicians, academics and students across the state.
RJD chief and former chief minister Lalu Prasad, who was instrumental in setting up the university, saw the hand of the RSS in the syllabus cuts.
"I established JP University in the name of Jayaprakashji in my karmabhoomi Chapra 30 years ago. Now officials sharing the sanghi mentality of the sanghi Bihar government are removing great socialist leaders like JP and Lohia from the syllabus of the university. This is intolerable. The government should immediately take cognisance," Lalu tweeted.
मैंने जयप्रकाश जी के नाम पर अपनी कर्मभूमि छपरा में 30 वर्ष पूर्व जेपी विश्वविद्यालय की स्थापना की थी।अब उसी यूनिवर्सिटी के सिलेबस से संघी बिहार सरकार तथा संघी मानसिकता के पदाधिकारी महान समाजवादी नेताओं जेपी-लोहिया के विचार हटा रहे है।यह बर्दाश्त से बाहर है।सरकार तुरंत संज्ञान लें pic.twitter.com/t3Hpxz7bLh

— Lalu Prasad Yadav (@laluprasadrjd) September 1, 2021
Top leaders of Bihar such as chief minister Nitish Kumar, Lalu and BJP Rajya Sabha member Sushil Kumar Modi are followers of Narayan.
Student organisations protested the omission of the prominent leaders from the political science syllabus and demanded that they be given their due place in the course.
Education minister Vijay Kumar Choudhary expressed displeasure when the matter came to light and asked senior officials of his department to look into the issue.
Sources said the change in syllabus could not have been done without the knowledge and permission of the governor, who is the chancellor of the state universities.
The additions to the syllabus include Deendayal Upadhyaya, Subhas Chandra Bose and Mahatma Jyotiba Phule.
A senior professor of the university told this newspaper that "adding any political leader or freedom fighter to the syllabus can never justify dropping JP, Lohia or Ram Mohan Roy".