Former top officers learn poll tricks in Odisha
All three — Patnaik, Sarangi and Mishra — hit the campaign trail around 9 in the morning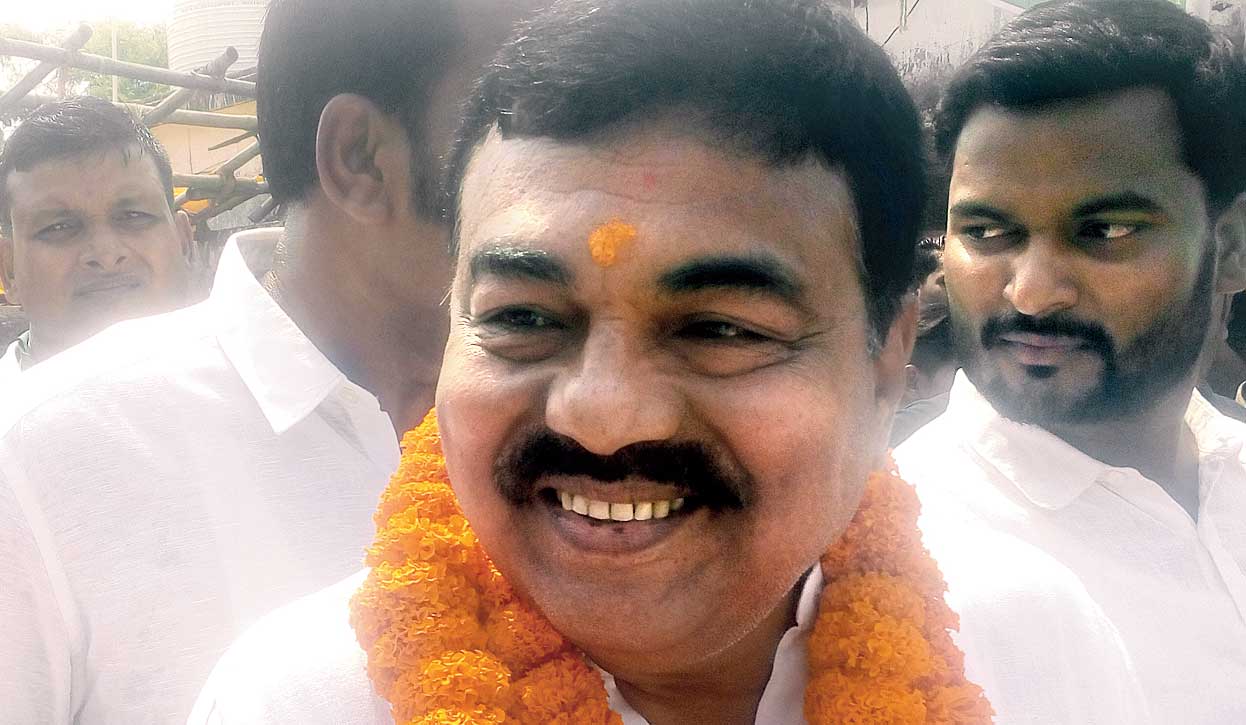 Arup Patnaik
Picture by Ashwinee Pati
---
Bhubaneswar
|
Published 22.04.19, 01:32 AM
|
---
He was known for being tough against gangsters in Mumbai and landed in many a controversy for backing officers over raids on pubs and bars. He had the reputation of someone who hardly listened to politicians, but has turned into one himself. He admits that power is like "current" that leaves one forever once one retires from one's job.
Now, former Mumbai police commissioner Arup Patnaik, 63, a 1979 batch IPS officer who joined the Biju Janata Dal (BJD) in April last year, is pitted in his debut electoral battle — from Bhubaneswar Lok Sabha seat — against former IAS officer Aparajita Sarangi (1994 batch), 49, a former municipal commissioner of Bhubaneswar, who is contesting on a BJP ticket.
The third former officer is in the Lok Sabha poll fray from the Cuttack Lok Sabha seat — former Odisha director-general of police and former CRPF director-general Prakash Mishra, 63, who is up against the BJD and sitting MP, Bhartruhari Mahtab.
Soft-spoken Mishra, who is contesting on a BJP ticket, has a score to settle with Odisha chief minister Naveen Patnaik's government which he feels denied him the opportunity to become CBI director by filing cases vigilance cases against him. He later moved the Supreme Court and was cleared.
He, however, has been saying: "Let bygones be bygones. Everything happens for the good. If one wants to move ahead in life, he has to forget the things that once happened in the past."
All three — Patnaik, Sarangi and Mishra — hit the campaign trail around 9 in the morning. The ongoing hot spell has failed to deter them; they return home around 11.30pm. As officers, they would maintain a distance from the people. Now, they shake hands and accept garlands without hesitation. Temple visits are de rigour, as are road shows in open jeeps. Sometimes, they even ride pillion on motorbikes. On the campaign trail, Patnaik mostly wears white kurta and pyjamas like Naveen. "I am here as a common man and not a former police commissioner. I want to serve the people," says Arup. He totally banks on Naveen's image and the chief minister's work for the masses, including the 1.5 lakh slum dwellers of Odisha's capital city.
"Here, Naveen is the only leader. People will bless me to serve them," Patnaik admits.
His own work during the last one year in forming a voluntary force called the Biju Yuva Vahini is also being appreciated.
Sarangi, on the other hand, is as flamboyant as ever.
"People have known me over the years. They have seen me working as the Bhubaneswar municipal commissioner, Khurda district collector and in various other capacities," she says. Sarangi graciously obliges all the young men who want to garland her. She waves at everyone, and the smile is omnipresent. Besides banking on the undercurrent for Narendra Modi — which the BJP claims is a wave — she is relying on the goodwill she has generated with her work. She has not yet made any direct attack Naveen. Punning on the meaning of her name — undefeated — her enthusiastic supporters chant: "Aparajita will remain aparajita."
Former Odisha DGP Prakash Mishra, known as a fitness freak, is seen roaming around on a cycle and offering a namaskar to everyone. "I believe people will vote for those who speak less but work for them," he says.
The BJP declared his name pretty late, and the buzz is that the 1977 batch IPS officer has not got enough time to reach out to all the seven Assembly segments under Cuttack Lok Sabha seat. Mishra, however, is confident.
"People will vote for Modi. They want a change," he says.
Bhubaneswar and Cuttack vote on April 23