Fish fetches Rs 1.77 lakh in Odisha
22kg rare ghol fish believed to possess medicinal properties bought by Mumbai-based pharmaceutical company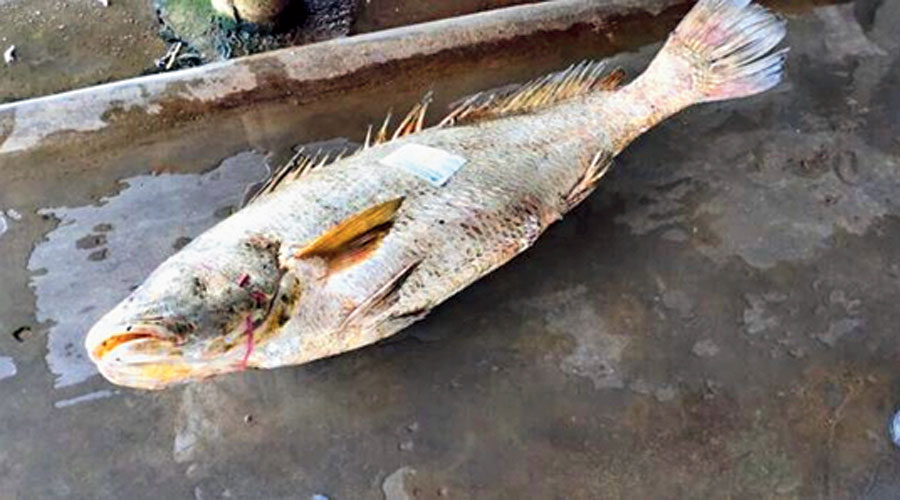 ---
---
A fish weighing 22kg was sold for Rs 1.77 lakh on Friday at a local market in the Chandbali area of Odisha's Bhadrak district.
A Mumbai-based pharmaceutical company bought the fish after the price reached Rs 8,000 per kg during an auction. Sources said the auction began at an initial price of Rs 6,000 per kg and the company bought the fish paying Rs 1.77 lakh.
Sources said a fisherman from neighbouring Kendrapara district's Talachua area had netted the rare 22kg ghol fish, locally called telia, while fishing in deep sea during the low pressure-induced rains two days ago. Due to Covid-19 restrictions he went to Chandbali to sell the fish instead of travelling to Calcutta.
Ghol is one of the most exotic and expensive varieties of marine fish. The heart of this predator fish, known as sea gold, is believed to possess medicinal properties. Native to the Indo-Pacific region, this species is hard to catch. They surface predominantly during the breeding season. Two fish of the same species were earlier sold for Rs 6,000 per kg at a local village, the sources added.
Chandbali is around 150km from here.