First choice of 'Modi fans' to publicise PM schemes
Slain cop's wife forces retreat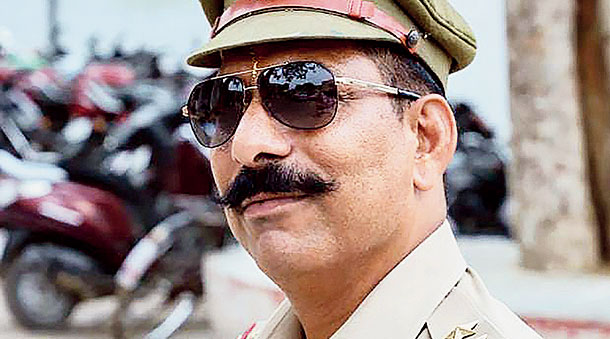 Subodh Kumar Singh
Telegraph picture
---
Lucknow
|
Published 20.07.20, 04:09 AM
|
---
A BJP youth wing member accused in the lynching of a police officer by cow vigilantes has been dropped from a campaign to publicise Prime Minister Narendra Modi's schemes after Priyanka Gandhi Vadra tweeted a video showing the slain cop's outraged wife.
"Is the government trying to create another Vikas Dubey?" Rajani Singh, wife of the slain inspector Subodh Kumar Singh, says in the video, referring to the recently gunned down gangster.
Shikhar Agrawal, accused of conspiracy in Subodh's murder in Bulandshahr in December 2018 and a member of the Bharatiya Janata Yuva Morcha till Saturday, had been appointed district general secretary of the state-wide "Pradhan Mantri Jan Kalyankari Jagrukta Abhiyan", mostly being conducted on social media.
The local BJP has disowned the campaign after the controversy and the organisers say they are just Modi fans. But Agrawal was handed the appointment letter by district BJP president Anil Sisodia at a small event in Bulandshahr city on July 14.
On Sunday, Rajani confirmed to The Telegraph over the phone from Noida that the video, which shows her and her son Abhishek wearing masks, was genuine.
"Haan maine kaha hai (Yes I have said that)," she said. "Mera sawal sarkar ke logon se hai jo in apradhiyon ko badhawa dete hain. Inko haqiquat ka pata hota hai ki nahin ki kya ho raha hai? BJP join karne pe sau khoon maaf hain kya? (My question is to those in the government who promote criminals. Do they know the truth about what is going on? Can a hundred murders be pardoned if you join the BJP?)"
Agrawal told reporters: "It's only an allegation that I was involved in a crime. It is yet to be proved."
After a photo of the Bulandshahr event began circulating on social media on Saturday morning, Priyanka tweeted the video, where Rajani says: "I am Rajani Singh. Is the government trying to create another Vikas Dubey, or does it not know what is going on in its district committee?"
Vikas, a dreaded gangster who had enjoyed political and police patronage over the past two decades, was killed in an "encounter" last week, seven days after his men butchered eight cops in his village in Kanpur Rural.
Priyanka had tweeted with the video: "Listen to the statement of the wife of Subodh Singh ji, who had laid down his life while doing his duty.... According to reports, the BJP has appointed an accused in his murder as its office-bearer."
Agrawal, one of 29 people accused in the murder, had been arrested and released on bail. His term as district BJP youth wing chief had ended a few months before the murder but he continued to be part of the organisation.
A mob had carried cow carcasses found in a field on to a highway, blocked it and attacked police posts on December 3, 2018, with the obvious motive of inflaming passions. Subodh was hacked to death and then shot when he tried to check the violence. A youth, Sumit Kumar Singh, too was killed.
The prime accused, local Bajrang Dal activist Yogesh Raj, is out on bail too. The case is pending in a lower court.
Sisodia has distanced himself from the appointment.
"A programme was organised here and I was invited as chief guest. I was asked there to hand the certificate over to one person, which I did. Let me clarify that the Pradhan Mantri Jan Kalyankari Jagrukta Abhiyan has nothing to do with the BJP," he said on Saturday afternoon.
He later told reporters at night: "We have removed Agrawal from the party (youth wing)."
Priyatam Kumar, Bulandshahr head of the campaign, said on Saturday night: "We have dropped Agrawal from the Abhiyan, which has no link with the BJP."
He did not cite any reasons.