Tractor rally in Bangalore
Farmers marched in large numbers from the railway station to Freedom Park for their 'Jana Ganarajyotsava Parade'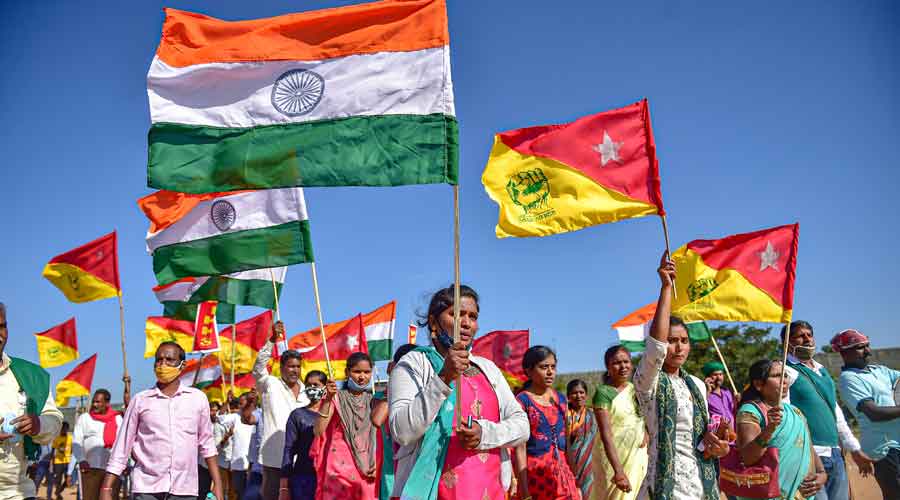 ---
Bangalore
|
Published 27.01.21, 01:50 AM
|
---
Thousands of farmers descended on the tech city of Bangalore with their tractors and lorries on Republic Day to express solidarity with their brethren protesting in Delhi against the three new farm laws.
Although Bangalore police restricted the number of tractors entering the city, farmers marched in large numbers from the railway station to Freedom Park, a distance of about 3km, for their "Jana Ganarajyotsava Parade" in solidarity with the farmers protesting in Delhi for over two months. Similar protests were held in many districts of Karnataka.
The farmers started arriving from distant parts of Karnataka to Bangalore on Monday evening itself. The flow intensified on Tuesday morning as they rode on hundreds of tractors and lorries from across the state to converge in the Karnataka capital.
Hundreds of tractors were stopped at police barricades erected at entry points on highways heading to Bangalore. One large group of farmers who arrived from Kolar near the city told reporters outside the railway station that the police allowed only 10 tractors to enter Freedom Park.
Similar complaints were heard from farmers who arrived from other parts of the state and had to park their tractors several kilometres away and then hop on to lorries to reach Bangalore railway station from where they marched to the protest venue.
The president of the Karnataka Sugarcane Growers Association, Kurbur Shanthakumar, criticised the police for detaining a large number of tractors before they could enter the city.
"The police stopped hundreds of tractors from entering the city. We condemn this action that violated our right to organise peaceful protests," Shanthakumar told reporters.
The farmers sang, danced and raised slogans against "anti-farmer" Prime Minister Narendra Modi and the BJP governments in the state and at the Centre.
Farmers from several frontline organisations such as the Karnataka Rajya Raitha Sangha (Karnataka state farmers' organisation), Left trade unions and Dalit outfits participated in the protest.
Freedom fighter H.S. Doreswamy, 102, defied his age to address the gathering and expressed solidarity with the farmers protesting in Delhi. "This government has allowed corporates to do whatever they want with the farm sector…. Modi doesn't have any shame in treating Adani and Ambani as great personalities of this country," he said.
"I express solidarity with our brothers from Punjab and Haryana who have endured the cold winter to protest in Delhi," he added.
Mavalli Shankar, secretary of the Dalit Sangarsh Samithi (Ambedkar Group), described chief minister B.S. Yediyurappa as a "fake farmer leader".
"Yediyurappa always calls himself a farmer leader. Yet, he did his best to stop farmers from protesting today, which makes him a fake farmer leader," Shankar said.
"This protest has helped remove the mask of people like Yediyurappa and show to the people that they are taking away our rights and livelihood," he added.