Highway is new home, with friendly neighbours
Since they arrived at the Delhi gateway nine days ago, the farmers have been preparing langar every day to feed over 5,000 people, including locals and visitors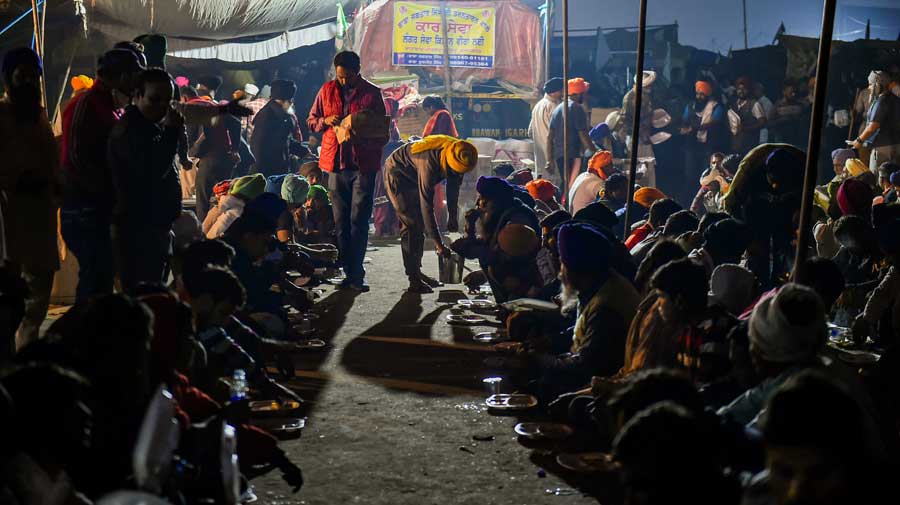 ---
---
Tents pitched on tractors, people busy chopping vegetables to get meals ready, solar panels to charge mobile phones, medical camps and even hookahs — once a thoroughfare teeming with traffic, Delhi's Tikri border resembles a pind (village) now.
"This is going to be our home in the near future as it is going to be a long fight. We are here to stay," says Gurunam Singh, 50, who came from Punjab's Mansa district.
Since they arrived at the Delhi gateway nine days ago, the farmers have been preparing langar every day to feed over 5,000 people, including locals and visitors.
Doctors have set up medical camps to tend to farmers braving the winter chill.
Gurunam, who set out from home on November 26, complained of chest pain soon after he arrived at the Tikri border and was referred to Ram Manohar Lohia Hospital here. After he was discharged from the hospital, he chose to stay back with other protesters.
"We are from Punjab, we spread love wherever we go. Neither coronavirus nor winter can stop us from fighting our battle," said Gurunam.
Over 500 tractors are lined up along the road. Many have posters with messages like "No farmer, no food, no GDP, no future".
Honey, a second-year BA student who discontinued his online classes to join the protest, is busy making one such poster. It reads: "We are farmers, not terrorists".
"I am a farmer's son. If today I don't fight for the farming community's rights, what is the point of such an education?" he asks.
Local support
Some good samaritans have set up solar panels so that the farmers can charge their mobile phones. Others are providing water, soap, dry fruits and mosquito repellents. Temporary toilets have also been set up at the Tikri border.
Acknowledging the support, the farmers said people have not just opened their doors to them but also their hearts.
Sandeep Sharma, who runs a small workshop in the area, has laid out pipes to ensure farmers have enough water for bathing and washing clothes. "These farmers are our guests. They are our backbone," Sharma said. "We would consider ourselves fortunate if we are able to help them today."
"Within a week, we have developed a close relationship with them. When they have breakfast or lunch, they insist we join them," he added.
Krishnan, who supplies medical oxygen, has extended an electricity connection via his shop to the farmers for charging their mobile phones.
Health camp
Two brothers who are doctors in Chandigarh have set up a free medical camp at the Singhu border with the help of friends.
Sukhwinder Singh Brar and Ramanjit Singh Brar have stored medicines in two cars. "Most people are coming with complaints of hypertension, joint pain, diarrhoea, constipation," said Sukhwinder. A team of 10-15 people are working at the camp, he said.