Sanjay Raut hints at Assembly dissolution
Eknath Shinde claims support of 46 MLAs, says he won't switch parties
'I am not breaking away from the Shiv Sena. We believe in Hindutva'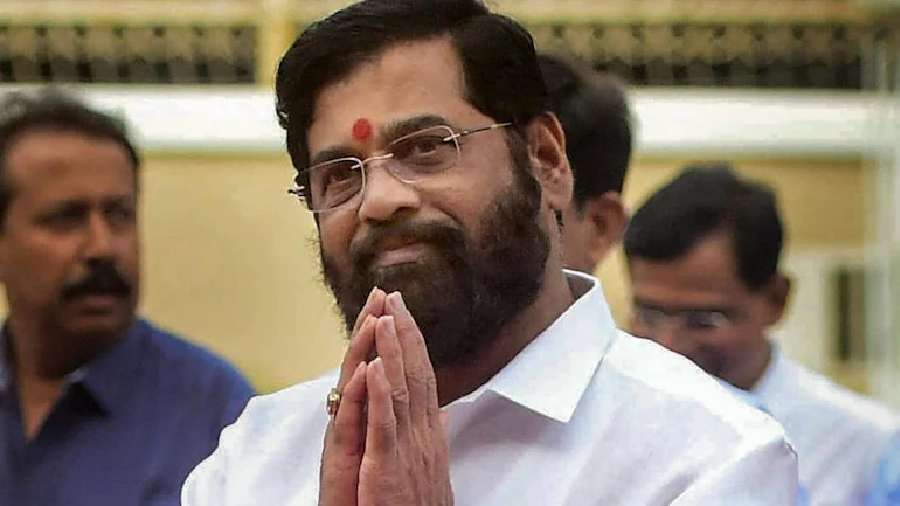 Eknath Shinde
File picture
---
Mumbai, Guwahati
|
Published 22.06.22, 11:25 AM
|
---
Rebel Shiv Sena leader Eknath Shinde, who arrived in Guwahati in BJP-ruled Assam early this morning in a chartered flight, claimed he has the support of 46 MLAs (40 from the Shiv Sena and six Independents) but that he had no intention of leaving the party.
"I have the support of 46 MLAs including Independents," he told NDTV and denied he was planning to switch parties. Shinde said that he was not breaking away from the Shiv Sena and that he would carry forward the ideology of Balasaheb Thackeray.
Shiv Sena calls meeting of all MLAs at 5 pm at CM Uddhav Thackeray's home, reports NDTV
Congress's ​Kamal ​Nath says Uddhav has said there's no question of dissolving Assembly, reports NDTV
Uddhav Thackeray tests positive, to attend cabinet meeting over video link
Crisis to dissolution of Assembly? tweets Sena's Sanjay Raut, reports NDTV
MVA Cabinet meet to begin shortly
Maharashtra cabinet meeting at 1.00pm
NCP meeting today
Shiv Sena's Sanjay Raut: A solution will be found, reports NDTV
More MLAs to join rebel camp, claim sources, reports NDTV
Kamal Nath to meet Sharad Pawar and CM Uddhav Thackeray, reports ndtv.com
'We have not left Balasaheb Thackeray's Shiv Sena and will not leave it. We believe in Hindutva," he said.
The MLAs were received at the airport by BJP MPs Pallab Lochan Das and Sushanta Borgohain Shinde, who initially refused to talk to mediapersons waiting outside the airport.
The MLAs arrived here from Surat and were taken to the hotel in three buses of the Assam State Transport Corporation.
महाराष्ट्रातील राजकीय घडामोडींचा प्रवास विधान सभा बरखास्तीचया दिशेने..

— Sanjay Raut (@rautsanjay61) June 22, 2022
The move to shift them to Guwahati came shortly after Shinde's telephonic conversation with Chief Minister Uddhav Thackeray during which he demanded that the Sena renew its alliance with the BJP and jointly rule Maharashtra, ndtv.com reported quoting sources.
Reports suggest the MLAs were airlifted to Assam by the BJP to avoid any further confrontation with Sena leaders.
As the government stands deep in crisis, Shiv Sena has housed its remaining MLAs in different hotels in Mumbai.
Shinde was sacked as party's chief whip on Tuesday afternoon. He, in turn, dropped Shiv Sena from his Twitter bio. But before making the change, he tweeted that he was a "Balasaheb Thackeray's Shiv Sainik" and would never cheat for power.
"Balasaheb has taught us Hindutva. We have never and will never cheat for power regarding Balasaheb's thoughts and Dharmaveer Anand Dighe Saheb's teachings," he said in the tweet.
The developments of the last 24 hours in Maharashtra and Gujarat closely resemble a template seen in Karnataka and Madhya Pradesh where ruling dispensation MLAs had rebelled and taken refuge in BJP-ruled states, their resignations lowering the majority mark and allowing the BJP to wrest power.
Officially, the BJP said it had nothing to do with the Sena rebellion but former Maharashtra chief minister Devendra Fadnavis rushed to Delhi and was huddled with chief party strategist Amit Shah and BJP president J.P. Nadda. Party insiders said in private they were itching for revenge on a once loyal ally that had "backstabbed" them after the 2019 Maharashtra polls.
Shinde, minister for urban development and public works, had been sulking for the past two years, complaining that his importance in the government was not commensurate with his political clout. But Uddhav refused to address his concerns, failing to appreciate either his capability or his inclination to wreak such heavy damage.