Opportunity for course-correction: Opp nominee
Droupadi Murmu vs Yashwant Sinha: PM Modi, ex- PM Manmohan Singh among first to vote in presidential polls
Counting of votes to be held on July 21, new President to take oath on July 25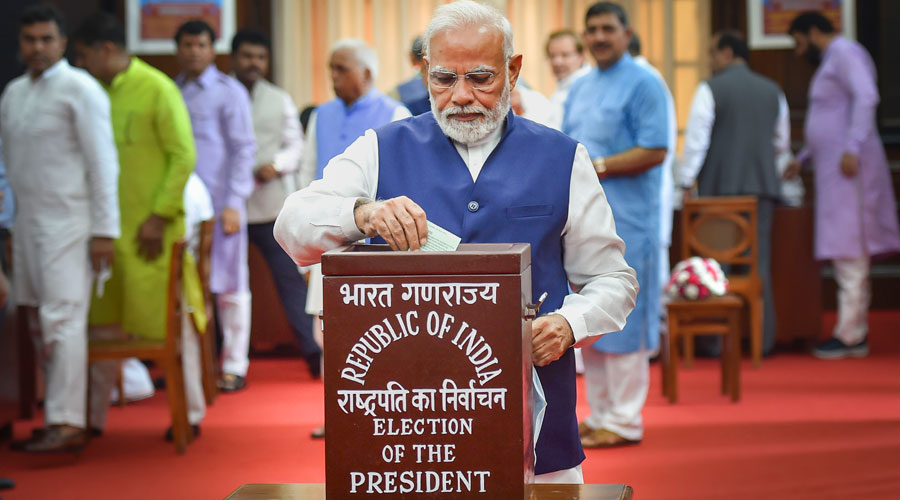 Prime Minister Narendra Modi casts his vote for the election of the President, at Parliament House in New Delhi
PTI
---
Published 18.07.22, 12:35 PM
|
---
As many as 350 electors, including Prime Minister Narendra Modi and former prime minister Manmohan Singh, cast their vote in the first hour and a half of the presidential poll, sources said Monday.
Voting for the presidential election in which NDA candidate Droupadi Murmu is pitted against joint opposition pick Yashwant Sinha began on Monday morning with Prime Minister Modi being the first to cast his vote.  The contest, however, looks a foregone conclusion given the number of parties that have voiced support for her.  
The voting process would conclude at 5 pm.
Voting was also underway in various state assemblies for the presidential poll and the early voters in the states included Rajasthan Chief Minister Ashok Gehlot, Tamil Nadu Chief Minister M K Stalin, Maharashtra Chief Minister Eknath Shinde, Deputy CM Devendra Fadnavis and Delhi Deputy Chief Minister Manish Sisodia.
Nearly 4,800 elected MPs and MLAs are entitled to vote in the election, but nominated MPs and MLAs, and members of Legislative Councils are not. Besides Room number 63 on the first floor of Parliament House, which has been converted into a polling station, voting is simultaneously taking place at various state assemblies.
In the national capital, voting is also underway at the Delhi legislative assembly.Counting of votes will be held on July 21.
Secret ballot 
The system of secret ballot is followed in the presidential election, and parties cannot issue whips to their MPs and MLAs with regard to voting.
The value of the vote of a Member of Parliament has gone down to 700 from 708 in this presidential poll due to the absence of a legislative assembly in Jammu and Kashmir.
The value of vote of an MLA varies in different states. In Uttar Pradesh, the value of vote of each MLA stands at 208, followed by 176 in Jharkhand and Tamil Nadu. In Maharashtra, it is 175. In Sikkim, the value of vote per MLA is seven, while it is nine in Nagaland and eight in Mizoram.
Proportional representation
In accordance with the system of proportional representation by means of single transferable vote, every elector can mark as many preferences as there are candidates contesting the election.
These preferences for the candidates are to be marked by the elector, by placing the figures 1,2,3, 4, 5 and so on, against the names of the candidates, in the order of preference, in the space provided in column 2 of the ballot paper.
According to Election Commission's directions, while MPs will get a green-coloured ballot paper, the MLAs will get a pink ballot paper to cast their vote. Separate colours help the returning officer ascertain the value of vote of each MLA and MP.
Seeking to maintain secrecy of voting, the EC has issued a specially designed pen with violet ink to enable voters mark their ballot papers in the presidential poll.
Course correction
On Sunday, Sinha exhorted all disgruntled BJP lawmakers to treat Monday's election as an opportunity to trigger "course correction" in their party, making a last-ditch attempt to make inroads into the ruling party's votes with the numbers stacked against him.
Sinha asked the MPs and MLAs whether they wanted a President who would protect the Constitution or one who would protect the Prime Minister, trying to tap the anger within segments of the RSS-BJP over Narendra Modi-Amit Shah's stranglehold on the party, with all other seniors rendered inconsequential.
Sources said Sinha was well aware of the strong displeasure within the RSS and the BJP over the Modi-Shah duopoly but understood that a revolt was not possible at this stage.
Internal disquiet
Still, he chose to work on the internal disquiet in his final appeal, made on the eve of the presidential election.
"Today, I would like to make a special appeal to BJP voters. I too once belonged to your party. However, I regret to say that the party that was once led by Atal Bihari Vajpayee and Lal Krishna Advani is dead and gone. Under the present sole leader, it is an altogether different — and degraded — party," he said.
"I am sure most of you know the difference and lament it as much as I do. This election is your last chance to introduce much-needed course correction in the BJP. By ensuring my election, you will have rendered a great service to the cause of saving the BJP and saving democracy in India."
Sinha appeals to key BJP leaders
Sinha had approached several key BJP leaders during his campaign, and most of them had assured him — as the better candidate — their moral support but did not commit their votes.
The Opposition's challenge has floundered with parties like the Biju Janata Dal, YSR Congress, JMM and the Shiv Sena pledging support for NDA candidate Droupadi Murmu, who is set to become the first tribal President of India.
While Murmu hasn't addressed any news conference and her views on critical national issues remain unknown, Sinha has questioned the worth of the tribal symbolism and spoken eloquently on a range of subjects.
'Not for appeasement'
Contesting the importance of Murmu's identity as an Adivasi, Sinha said: "It was never the intention or purpose of the great makers of our Constitution that the highest office of the republic should be used for the appeasement of any section of our society.
"Much less did they envision the office of President to be subservient to that of an all-powerful Prime Minister. I have repeatedly pledged that, if elected, I shall function without fear or favour, as the custodian of the Constitution and restrain, when the need arises, institutional misuse by an authoritarian and undemocratic executive."
Eloquent silence
Sinha added: "My rival candidate has made no such pledge. Indeed, throughout the campaign, she has remained eloquently silent, thereby giving advance notice that, if elected, she will become a silent, pliant and rubber-stamp Rashtrapati."
Outgoing President Ram Nath Kovind, whose Dalit identity was exploited by the BJP, too remained silent through his tenure on critical issues, including the atrocities on Dalits and the communal tension across the country.
Appealing to the electoral college to vote according to the "call of their conscience" instead of toeing the party line, Sinha said: "This is not about the identities of the two candidates in the fray but about the ideologies and ideals they represent.
'Constitution my ideology'
"My ideology is the Constitution of India. My rival candidate represents those forces whose ideology and agenda, let's make no mistake, is to change the Constitution. I stand for safeguarding India's democratic system. My rival candidate is supported by those who are mounting daily attacks on democracy."
Sinha added: "I stand for protecting secularism, a preambular pillar of our Constitution, which is best exemplified by India's age-old Ganga-Jamuni heritage of unity in diversity. My rival candidate belongs to a party that has made no secret of its resolve to destroy this pillar and establish majoritarian supremacy. I stand for encouraging the politics of consensus and cooperation. My rival is backed by a party that practises the politics of confrontation and conflict."
Federal spirit
Sinha also flagged the Centre's undermining of the states in violation of the federal spirit.
"I stand for the constitutionally guaranteed freedoms and rights of every Indian citizen; my rival is chosen by those who are violating this principle with impunity," he said.
"Finally, I stand for one nation, many parties, collective leadership. My rival, again, make no mistake, will be under the control of those whose aim is to convert democratic India into an imitator of communist China — one nation, one party, one supreme leader. Must this not be stopped? Yes, it must be. Only you can stop it."
SAD leader Ayali boycotts
Voting for the Presidential election is underway even as SAD MLA Manpreet Singh Ayali announced to boycott the poll over various "unresolved" issues related to Punjab.
In neighbouring Haryana, Congress MLA Kuldeep Bishnoi, who had cross-voted in last month's Rajya Sabha polls, said he has voted in the Presidential election according to his "conscience".
Necessary arrangements for the polling had been made at the Vidhan Sabha complexes and the voting will be held till 5 pm, officials said.
In Punjab, MLAs and ministers who cast their vote so far included Chief Minister Bhagwant Mann, cabinet minister Harpal Singh Cheema, cabinet minister Lal Chand Kataruchak, Congress' Partap Bajwa, Sukhpal Singh Khaira and Sukhjinder Randhawa.
In Haryana, Chief Minister Manohar Lal Khattar, Deputy Chief Minister Dushyant Chautala, and most other MLAs of the ruling BJP-JJP combine voted in the morning while legislators from the main opposition Congress exercised their franchise at around 3 pm.
Meanwhile, Shiromani Akali Dal (SAD) legislator from Dakha constituency in Punjab Manpreet Singh Ayali announced he will boycott the Presidential poll and blamed the BJP-led Centre as well as the previous Congress-led government for "failing to resolve" issues related to Punjab.
With this announcement, Ayali went against his own party, which supports NDA candidate Droupadi Murmu.
In a video message, Ayali said he was boycotting the polls at his own level. He also said the party leadership did not consult him before deciding to support Murmu.
Ayali alleged the previous Congress-led regime at the Centre always discriminated against Punjab.
He said there was a huge expectation from the BJP but "our issues remain unresolved".
Not allocating Punjabi speaking areas to the state, not ceding Chandigarh to Punjab and non-resolution of river water disputes were the issues that Ayali highlighted.
On the other hand, indicating that he had supported the NDA candidate, Kuldeep Bishnoi, who cast his vote in Delhi, said, "Like Rajya Sabha, I have cast my vote in this election too as per my conscience".
When reporters asked him about his future course of action now, Bishnoi replied, "I will reveal this soon."
Prior to last month's Rajya Sabha polls, Bishnoi, younger son of former Haryana chief minister late Bhajan Lal, said he would vote according to his conscience.
Speaking to reporters after casting his vote, Haryana Chief Minister Manohar Lal Khattar said he was sure of Murmu's victory on July 21.
"We will attend the oath-taking ceremony on July 25... From Haryana, we will get more votes than we have accounted for in her favour," Khattar said.
Earlier, speaking to reporters, Punjab Congress MLA Khaira said, "We will vote for Yashwant Sinha and we expect that he will become the country's next President."