Puri temple administration implements dress code for servitors
All the priests will be required to wear traditional clothes like dhoti, gamuchha and patta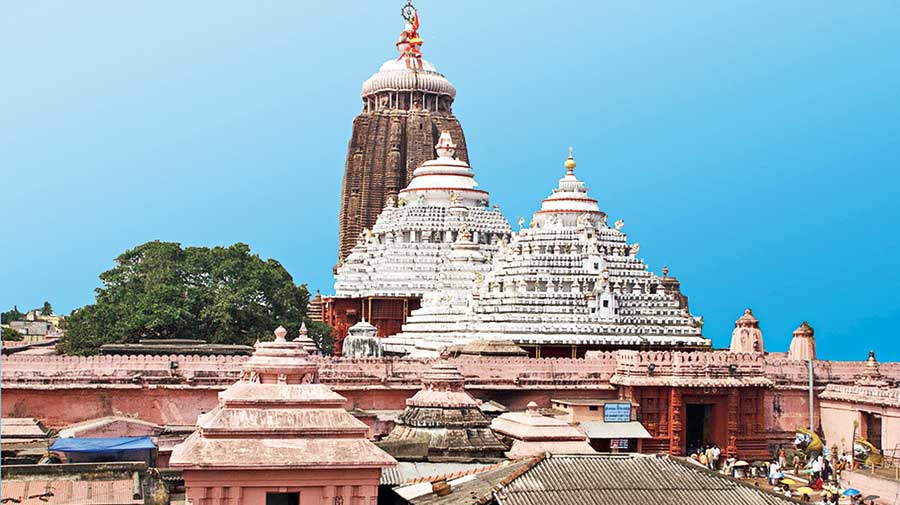 Shree Jagannath Temple in Puri.
File picture
---
Bhubaneswar
|
Published 24.10.21, 12:05 AM
|
---
The Puri Shree Jagannath Temple administration has implemented a dress code for its servitors who have to enter the sanctum sanctorum for performing rituals.
All these servitors will be required to wear traditional clothes like dhoti, gamuchha and patta. No one will be allowed to enter the sanctum sanctorum of the temple in modern clothing like shirt and trousers.
"Earlier, we had servitors with no ritual duties in the sanctum sanctorum entering the area wearing shirts and trousers. This makes a bad impression on the devotees who are unable to differentiate between the public and temple servitors," said Jitendra Sahu, administrator (rituals) of the temple.
He added: "The servitors themselves have been demanding a dress code. This will help identify servitors who will also be conscious about their duties."
Senior servitor Rama Krushna Das Mohapatra told The Telegraph: "Since ages our forefathers have been entering the temple in traditional clothes. But now we are noticing a deviation in the new generation. We have even noticed a few are entering the shrine wearing half-pants and even in jeans.
"We have no objection to wearing modern clothes but they should be worn outside the temple. This will help maintain the sanctity of the shrine and devotees coming from far and wide will be able to easily identify servitors. It's a win-win situation both for the devotees and the servitors."
The temple administration has also decided to implement the dress code for its employees from November 5, the day after Diwali. The Jagannath temple police and other staff who need to enter the sanctum sanctorum and its periphery areas within 10 metres will have to wear traditional clothes. However, the police and other staff are allowed to wear their official uniform in other parts of the temple.
The temple is spread over a huge area and there are many small temples within its premises. "The temple police will help the devotees if they need their assistance. There will be cameras keeping an eye on what is happening inside the temple," an official said.
However, the temple administration is yet to take a call on whether they would implement any dress code for devotees entering the shrine.
"Though it has been implemented in many temples, including Sabarimala in Kerala, we are yet to take a call on the issue. Before taking any such decision, we will have discussions with various stakeholders, including public servants," said another official.