Double suicide bid at Yogi Adityanath's door
A woman and her daughter who came to complain about a land grab and molestation set themselves ablaze after being denied a meeting with the UP CM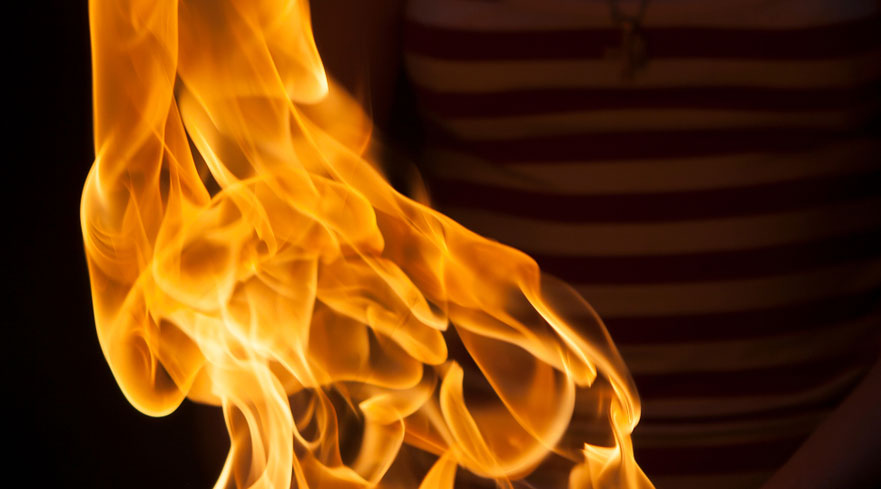 ---
|
Lucknow
|
Published 19.07.20, 02:20 AM
---
A woman and her daughter set themselves on fire at the gates of the chief minister's office in Lucknow, staging a near-rerun of the suicide bid by the Unnao gang-rape survivor and her mother two years ago outside Yogi Adityanath's residence.
Unlike the Unnao women, the 56-year-old mother from Jamo in Amethi and her 28-year-old daughter had arrived at the Lok Bhavan gates on Friday to complain about a land grab and molestation.
Like the Unnao women, they were denied entry or a meeting with Adityanath. At 5.30pm, an hour after their arrival, they poured kerosene on themselves, lit matchsticks and attempted self-immolation.
The police personnel on duty somehow covered them in blankets and took them to Civil Hospital, whose director, Dr D.S. Negi, said the mother was critical. Hospital sources said the mother had 70 per cent burns and the daughter, 40 per cent.
An officer said either woman carried a handwritten application that claimed some affluent people from their locality had grabbed their two-bigha plot and would beat them whenever they tried to get it back. It said goons would molest the daughter and threaten to kill her if they didn't leave the place. "They beat us whenever we go to the police. The police too terrorise us and ask us to follow the instructions of my land grabbers," the application said.
"While registering a case against three accused, the police also booked us in a false case of taking the law and order into our own hands."
The police have registered a case charging four people with provoking the woman and her daughter to attempt suicide and arrested two, Lucknow police commissioner Sujit Pandey told reporters.
Those arrested are local All India Majlis-e-Ittehadul Muslimeen politician Qadir Khan and a woman named Asma Begum. The other two accused --- Lucknow-based Congress politician Anup Patel who has roots in Amethi, and a woman named Sultana — are in hiding, police sources said.
A sub-inspector and two constables attached to Jamo police station have been suspended.
The last two years have witnessed two suicide attempts by women outside Adityanath's residence but neither bore the results the women wanted.
The Unnao girl, who had alleged gang-rape by BJP lawmaker Kuldeep Sengar and his men, and her mother had torched themselves on April 8, 2018. The next day, the girl's father, beaten inside jail after being allegedly arrested in a false case at Sengar's behest, died. Still no FIR was registered. Eventually, Allahabad High Court took cognisance of the matter on its own and got the case transferred to the CBI and the MLA arrested.
Sengar, his brother Jaideep, two henchmen and two policemen are in jail variously on charges of gang-rape, murder of the girl's father and conspiracy to murder two of the girl's aunts who died when a truck rammed a car in which they, the girl and her lawyer were travelling.
A 35-year-old woman from Karnailganj, Gonda district, had torched herself at the gates of Adityanath's residence on August 15, 2018, but no case was registered against the men she had accused of gang rape.
She eventually hanged herself at home on January 14, 2019. Her family alleged the rapists assaulted her every day since her self-immolation attempt.
After her suicide, the state government suspended two police inspectors and got FIRs registered against two accused.