Don't vote for liars: Priyanka Gandhi urges Bundelkhand voters
She reminded the audience of the economic package that the Manmohan Singh government had in March 2011 awarded to the region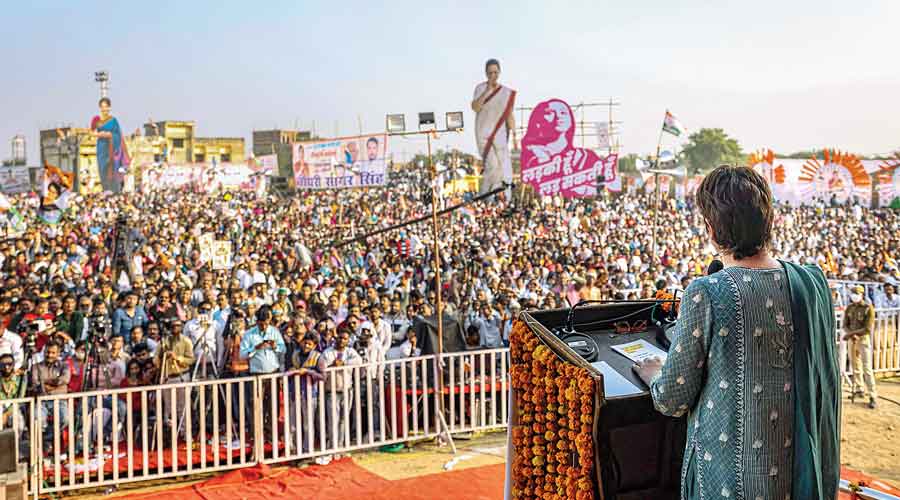 Priyanka Gandhi Vadra addresses a rally in Mahoba on Saturday.
PTI Photo
---
Lucknow
|
Published 28.11.21, 01:12 AM
|
---
Priyanka Gandhi Vadra on Saturday urged the voters of backward Bundelkhand to reject political parties that lie to them and do nothing during their five years in power.
"How long will you tolerate a party that makes false promises just to win an election?" the Congress general secretary asked a massive crowd at the Chhatrasal Stadium in Mahoba city, Mahoba district, Bundelkhand.
"When will you understand that you have the power to defeat them if they believe that making fake promises is good enough to win an election? When will you be able to understand their nautanki (drama)?"
Police and residents estimated a crowd of about 1 lakh people compared with the 60,000 to 70,000 who attended Prime Minister Narendra Modi's November 19 rally on the city's Police Line Ground.
Apart from its size, Priyanka's rally impressed Mayank Kumar, a resident, for another "unique" reason.
"Women made up about 60 per cent of the crowd. I can say there were over 1 lakh people, who included 60,000 women," he said.
"The glowing saris and lehengas of the Bundeli women and their continuous chanting of Priyanka's name made it an unusually colourful rally."
Priyanka told the crowd that the Prime Minister travelled by aircraft that cost Rs 8000 crore but didn't do anything to increase the farmers' income. "His industrialist friends earn Rs 10,000 crore per day but your earning is Rs 27 a day," she said. She did not reveal the source of the information.
Priyanka reminded the audience of the economic package that the Manmohan Singh government had in March 2011 awarded to Bundelkhand, an impoverished and parched region made up of seven districts of Uttar Pradesh and six of Madhya Pradesh.
"You don't have to trust the politicians who come, deliver false speeches and leave. But you must remember that the Congress (UPA) had opened a unit of Bhel (Bharat Heavy Electricals Limited) and the Parichha thermal power plant, Rani Laxmi Bai Central Agriculture University and a medical college (all in Jhansi district of Bundelkhand)," she said. "You must also remember our work to turn barren areas green."
The Rs 3,506-crore special package had been released to cover several of the projects Priyanka mentioned, including one for water resource management that included the construction of dams and wells.
Priyanka did not mention the farmers' protest on Delhi's borders but said: "If voted to power in Uttar Pradesh, we shall waive all the loans of the farmers the way we had in the past."