Dolphin, bird numbers go up at Chilika
Nearly 12,42,000 individuals of 105 water bird species and 26,405 individuals of 76 wetland dependent species were counted in the entire lagoon on January 5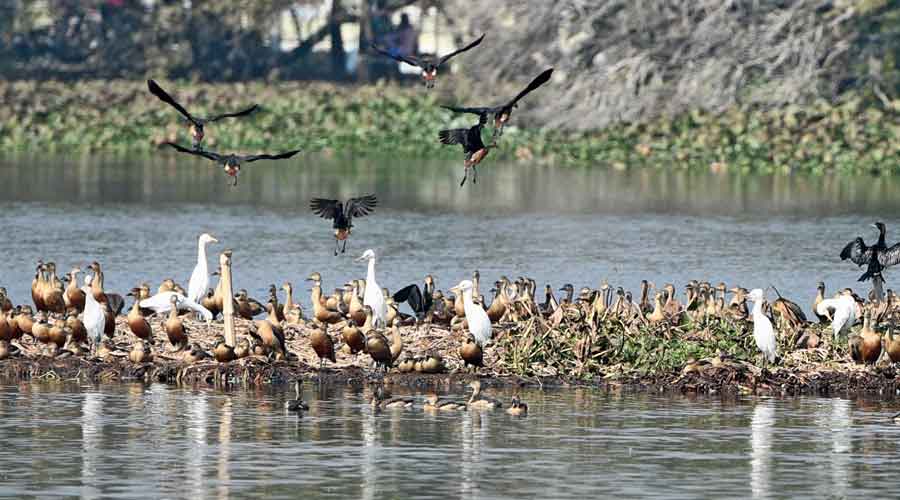 ---
---
The number of Irrawaddy dolphins, an endangered species inhabiting the Chilika lake in Odisha, has increased to 156 from 150 in 2019, according to a census report by the Chilika Development Authority.
Chief executive of Chilika Development Authority, Sushant Nanda, said: "We have initiated many conservation measures for the protection and conservation of Irrawaddy dolphins.
"We have taken steps for widening and deepening of the Magarmukha channel for free movement of dolphins from the outer channel to the main lake. During the survey conducted on Friday, we found the number of dolphins has increased because we have been able to provide them a conducive atmosphere."
"One significant population is now observed in the southern sector, by moving from other sectors. The dolphin population was 152 in 2013, 158 in 2014, 160 in 2015, 145 in 2016, 121in 2017, 155 in 2018, 150 in 2019 and 156 in 2020," he added.
Irrawaddy dolphins are protected under the Wildlife Protection Act, 1972, and listed under the Red List of Threatened Species of the IUCN (International Union for Conservation of Nature).
The present distribution range of this species only found in Asia is from Chilika to Indonesia.
Nanda said: "The movement of the rare species has been facilitated by clearing of gherries (obstructions created to catch fish using bamboo and nets) at places in the lake. The annual population estimation survey of Irrawaddy dolphins has been conducted by CDA since 2003.
"This time, the annual survey was conducted using the 'transact survey method' followed worldwide for estimating the population of aquatic mammals."
Each survey team was equipped with binoculars, GPS, range finder and data recording sheets, etc. "One of the reasons for increase in the number of dolphins is the almost non-existent movement of boats in the lake because of the lockdown due to the coronavirus pandemic," a source said.
Officials said as the Chilika lake offers a good environment, the number of migratory birds has also increased this year. Nearly 12,42,000 individuals of 105 water bird species and 26,405 individuals of 76 wetland dependent species were counted in the entire lagoon on January 5.
"The survey on Friday validated this data and a population of 1 million-plus birds is estimated.
"This year, more birds have been found in the central and southern sectors of Chilika. Sudden increase in the population of diving ducks which prefer open water was noticed during the current season, particularly in the areas where prawn gherries (dykes) were removed, clearly indicating its beneficial impact for migratory birds," Nanda said.
The number of wanderers have also increased across the lake compared to the last census data.
"Flamingo, Ferruginous Pochard and common Shelduck were encountered after a long gap," Nanda said.
Besides during the survey, the authorities have found five species of seagrasses — Holodule uninervis, Holodule pinifolia, Halophila ovalis, Halophila ovata and Halophila beccarii. With this finding, Chilika lake now has 22 per cent of India's seagrass area.