'Disturb' tag on Kashmir visit
Kansal denied that the administration was treating the visit as a threat to peace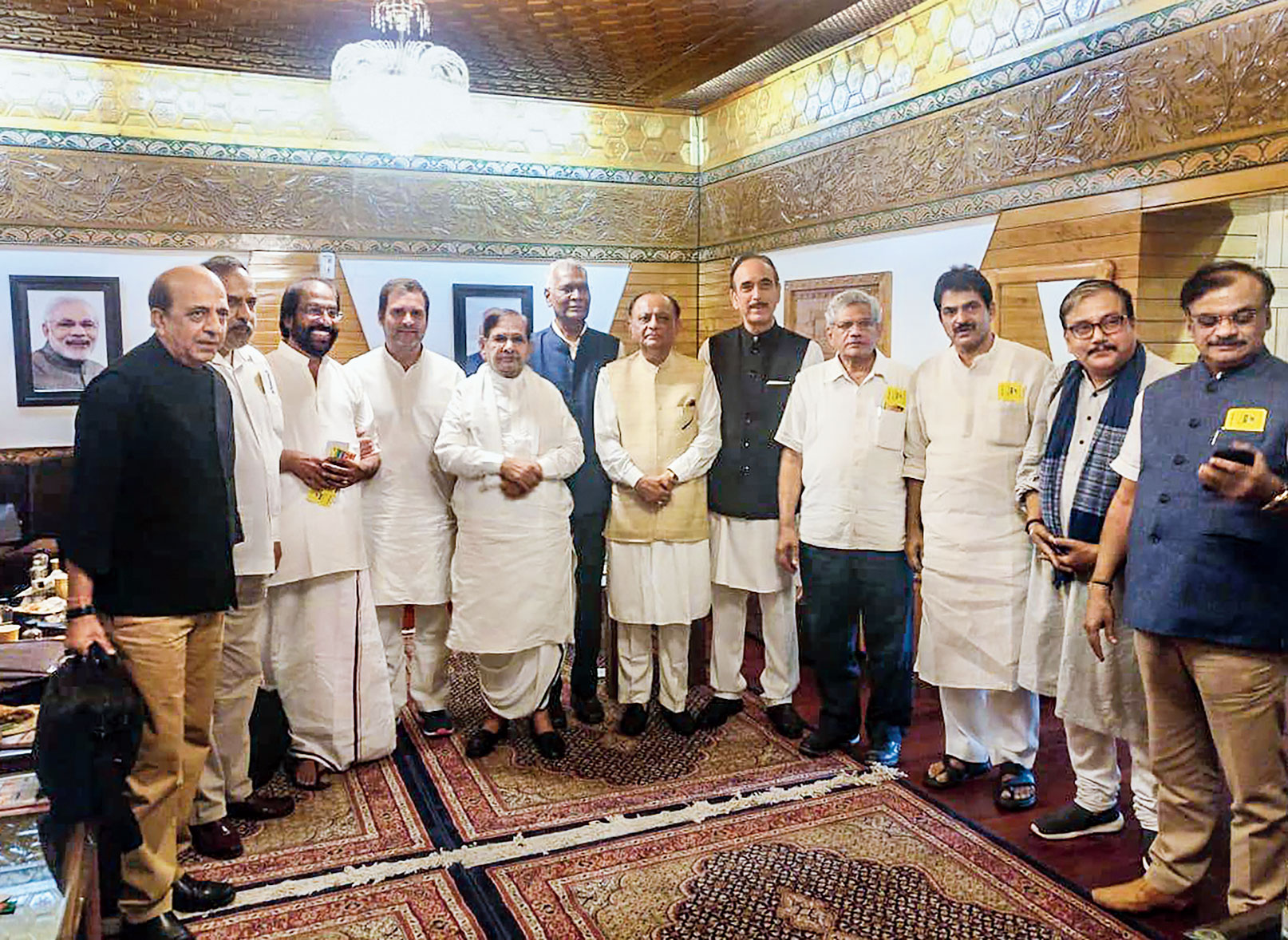 ---
Srinagar/NewDelhi
|
Published 24.08.19, 07:50 PM
|
---
Jammu and Kashmir government spokesperson Rohit Kansal on Saturday appeared to insinuate that the aborted visit by an Opposition delegation was an attempt to disturb the "gradual restoration of normal life".
Questioned by reporters at the evening briefing, however, Kansal denied that the administration was treating the visit as a threat to peace. "Nobody is saying that," he said, without elaborating.
Earlier, Kansal had told reporters at the briefing that the administration had made its position clear about the visit on Friday evening through a tweet.
He then read out from the tweet: "At the time when the government is trying to protect the people of Jammu and Kashmir from cross-border terrorism and attacks by militants and separatists and gradually trying to restore public order by controlling miscreants and mischief mongers, attempts should not be made by senior political leaders to disturb the gradual restoration of normal life."
One of the reasons the tweet had cited for advising politicians to stay away was that they would be "violating restrictions that are still there in many areas". However, Kansal said at the briefing that the curbs had been lifted in 69 of the 105 police station areas in the state.
Although the government had on Friday night requested the Opposition politicians through the media not to come, this was not communicated to them directly, CPI leader D. Raja told The Telegraph.
An official in Srinagar said: "The administration had decided last evening not to allow them to visit the state. The return tickets for the delegation were made last evening."
This was the third attempt by national-level politicians to visit Srinagar since the government revoked the state's special status on August 5, first by former chief minister Ghulam Nabi Azad and then by CPM leader Yechury and Raja together. They were sent back in similar fashion.
Azad tried to visit Jammu and received the same treatment, although the situation is supposed to be better there compared with the Valley.
With several journalists tracking the Opposition leaders from Delhi to Srinagar, many getting on the same Vistara flight, the visit caused a degree of chaos on board and at Srinagar airport.
The visit got considerable media traction all morning but, soon after the flight took off for Srinagar, got overtaken by news of BJP leader Arun Jaitley's death.