Dharna at Aligarh's Shah Jamal Idgah: Drenched in rain after cops seize tent, women ill
The women have been on dharna at the Idgah, protesting against the new citizenship regime, since January 29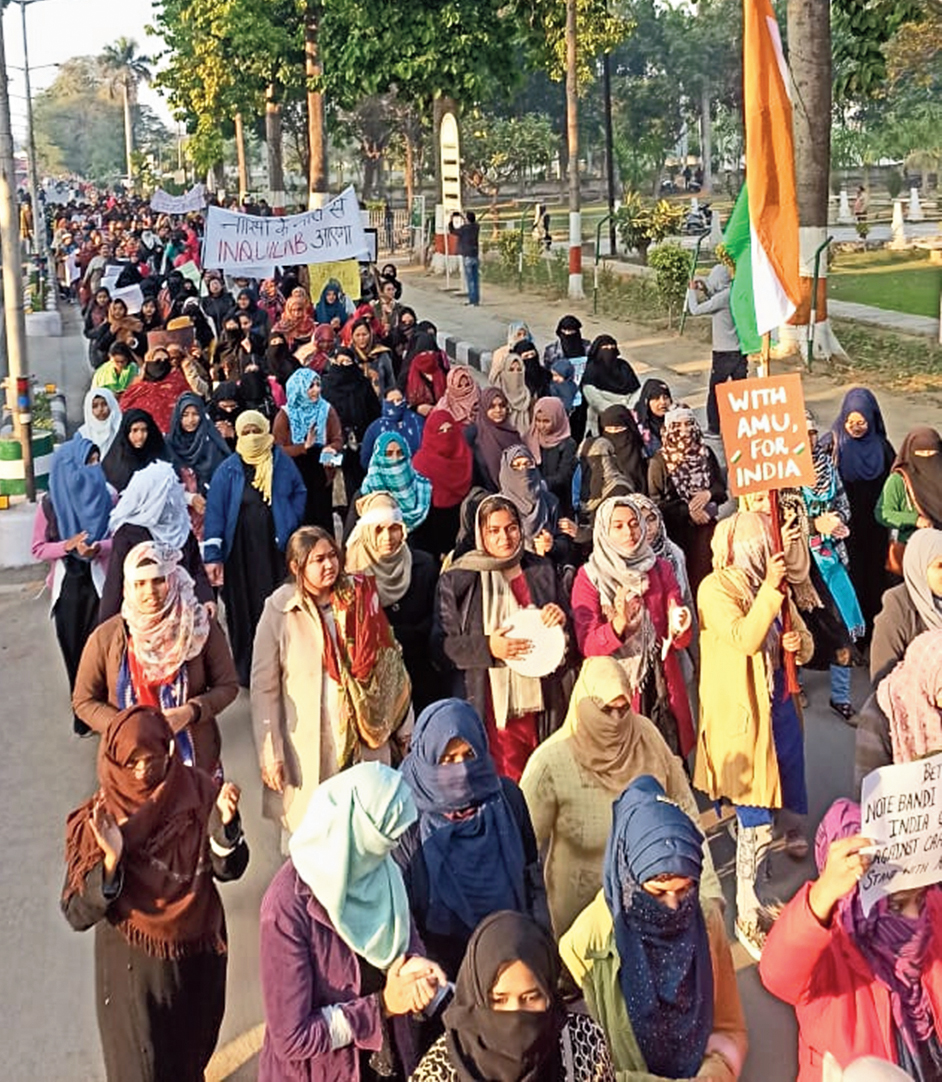 ---
|
Lucknow
|
Published 02.03.20, 09:39 PM
---
Over a dozen women on dharna at Aligarh City's Shah Jamal Idgah are down with fever, having been drenched on Friday night after the police removed their tent to scare them away.
"When a dust storm broke and was followed by rain, most of the women took shelter in nearby houses but 300 of us decided to stay put. This was necessary because the police believed we would run away if they snatched our tents. We knew we could fall ill," a woman protesting at the site told local reporters.
"We sent our children home because they had to attend school and stay fit to look after us. Neither a fever nor any other illness will, however, deter us from continuing our protest."
She said some local doctors had organised a medical camp at the site on Monday and provided free medicine to the ailing women. Several other doctors had made themselves available over the phone and sent free medicines.
The women have been on dharna at the Idgah, protesting against the new citizenship regime, since January 29.
A fresh sit-in began at Chungi Gate near Aligarh Muslim University on Sunday night, the participants alleging the police were trying to protect "criminals" who had attacked protesters at several places in the city between February 22 and 24.
They alleged that these goons had resorted to violence "on behalf of the police".
"Security camera footage can help identify the criminals but the police are more interested in blaming the AMU students for the violence," said Mohammad Anwar, a protester at Chungi Gate.
"We know very well who is resorting to violence against us. We need to fight and nip in the bud any design to create a Delhi-like situation in Aligarh."
More than 40 people have been killed in communal riots in Delhi.
Circle officer Anil Samania said: "We are not acting against innocent people. But those seen resorting to violence will not be spared. The protesters must follow democratic norms to help the police maintain order."
From the Idgah, the women's protest had spread to the Kotwali police station, Chungi Gate and the Quarsi Bypass around February 23-24. But the women had vacated Kotwali and Chungi Gate within a few days.
On Sunday, they also vacated the Quarsi Bypass after the police accepted their demands to provide financial aid to an injured youth and to stop harassing them and their families.
Mohammad Tariq, 25, who suffered a gunshot injury during a clash between protesters and the police on February 23, will receive an assistance of Rs 2 lakh.