Devotees throng 'Magh Mela' in UP post two-year Covid-19 ban
The Mela is also being looked at as a trial run for the Maha Kumbh 2025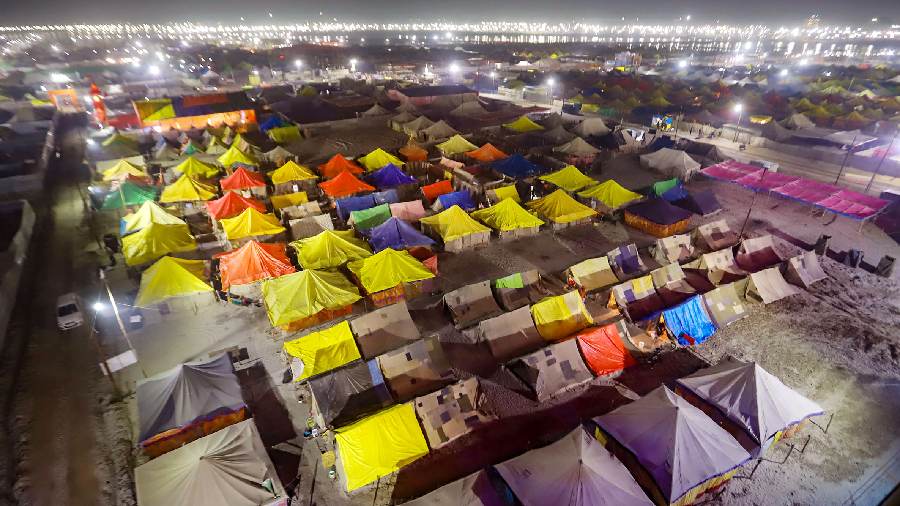 A view of tents which are installed for pilgrims ahead of the month-long annual fair Magh Mela at Sangam, in Prayagraj, Saturday evening, January 7, 2023.
PTI image
---
Prayagraj
|
Published 08.01.23, 04:46 PM
|
---
'Kalpvasis' or devotees turned out in large numbers in the city for the month-long Magh Mela after a gap of two years owing to coronavirus outbreak, even as the authorities implemented a slew of measures to prevent the spread of the disease at the fair venue. Magh Mela authorities have implemented many measures like setting up help desks, hospitals, police posts and arranging adequate security to prevent any inconvenience to visitors in the wake of rising COVID-19 cases in China and other countries.
The Mela is also being looked at as a trial run for the Maha Kumbh 2025.
Additional Director (Health) K K Verma said help desks have been set up at each entry point in the fair area where preliminary screening of those visiting the fair is done and if any symptoms of coronavirus are found, he is not allowed to go to the fair.
He said two hospitals of 20 beds each have been opened in the entire Mela area and 10 hospitals of 2 beds each have been opened for first aid.
A large number of sweepers have been deployed to ensure cleanliness at the venue, he said.
Superintendent of Police (Magh Mela) Aditya Kumar Shukla said 13 police stations and 38 police posts have been set up at the fair site. "Two superintendents of police (SPs), three assistant superintendents of police (ASPs), nine circle officers (COs) and 5,000 policemen have been deployed for security arrangements at the fair," he said. The authorities, however, said ensuing a proper communication system in the Mela ares is a challenge. Magh Mela, situated in an area of about 650 hectares, has only one mobile tower installed on the Gangoli Shivala Marg due to which mobile phone signal is negligible in the entire fair area.
Revenue official Pankaj Kumar said this time the fair was held much earlier due to which adequate number of mobile towers could not be installed.
The authority is trying to get more mobile towers installed. The absence of a proper mobile network poses problems for both the devotees and the administrative officials.
This year, the mela area has been increased to 650 hectares as compared to last year's 641 hectares.
President of Triveni Sangam Aarti Seva Samiti and Jyotishacharya Pandit Rajendra Mishra said this year, 3,000-5,000 organisations have set up their camps in the Mela.
In Khak Chowk, Dandi Bada and Achari Bada, a large number of Kalpavasis will stay for a month.
Notably, the 'kalpvasis' spend one month in tents. They bathe in the Ganga twice a day and eat once. They spend the rest of the time listening to worship songs and religious texts.
Dharmendra Shukla, who came here from Kaushambi, said this time, the security system at the Mela is tighter. More number of policemen can be seen at the site as compared to last year, he said.
According to the Uttar Pradesh government, over 5 lakh people took bath in the holy Sangam and Ganga rivers on 'Paush Purnima' on January 6.
The next bathing festival of Magh Mela will fall on Makar Sankranti on January 14.
This year, 14 bathing ghats have been built for the convenience of devotees. Screens have been installed in a control centre for monitoring the entire area of the fair and crowd management, an official of the Magh Mela administration said.
Five pontoon bridges have been built on the Ganga river for the smooth movement of devotees. The entry of vehicles into the fair area is prohibited, he added.
Except for the headline, this story has not been edited by The Telegraph Online staff and has been published from a syndicated feed.