Delimitation Commission to visit J&K from July 6 to July 9
Panel to interact with political parties, public representatives and Union Territory administration officials to gather first-hand information and inputs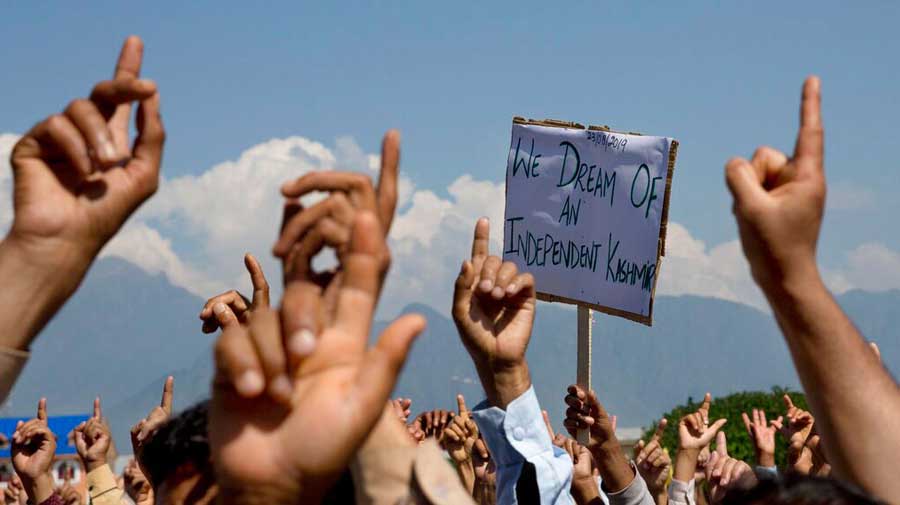 The decision was taken after a meeting was held on Wednesday at the headquarters of the poll panel.
File picture
---
New Delhi
|
Published 30.06.21, 04:03 PM
|
---
The Delimitation Commission (DC) will visit Jammu and Kashmir next week for discussion with political leaders and administrators over demarcation of constituencies for the Union territory that lost its statehood and legislature in 2019.
The visit, scheduled between July 6 to July 9,  has been announced after PM Narendra Modi and Union home minister Amit Shah met leaders of the key parties from the territory—many of whom were detained for close to a year after the removal of the state's special status in 2019.

"So far, the views of only one party have been aired at the commission-- which has the five MPs from J&K as associate members. Three associate members did not attend the meeting in February. The commission absolutely wants to hear the concerns of all parties concerned and we will invite all national and state parties," a senior DC source told The Telegraph after a meeting on Wednesday.

Only the two BJP MPs attended the DC meeting in February. The DC is redrawing the boundaries of seats based on the 2011 census. This is opposed by almost all Opposition parties and several civil society groups. The NC rejected the nomination of three of its MPs to the delimitation commission on grounds that delimitation should be done on the basis of the 2021 Census like the rest of India—except four North Eastern states, where there is also Opposition to delimitation.
The NC, however, has recently authorised its leader Farooq Abdullah to consider any future invitation from the commission but has also stressed on the restoration of statehood before elections are held.

Besides the eight national parties—of which only the CPM is part of the alliance to restore constitutional autonomy and statehood— J&K has three state parties. These are the J&K National Conference (NC), J&K Peoples Democratic Party (PDP), and the J&K National Panthers Party. The former two are also part of the alliance.
Besides the four parties, those invited to the PM's meet last week included representatives of the Congress, BJP, Apni Party and People's Conference. The PM stressed on delimitation and elections, the first after the Assembly of the undivided state was dissolved by the governor in 2018.

Wednesday's meeting included only chairperson Justice Ranjana Desai and chief election commissioner Sushil Chandra. J&K's state election commissioner K. K. Sharma, an ex officio member, views were heard over telephone, a source confirmed.

In a statement after the meeting, the DC said that it would visit the UT from July 6 to 9.
The commission explained, "During this period, the Commission will interact with political parties, public representatives and Union Territory administration officials including District Election Officers/ Deputy Commissioners of 20 districts of the Union Territory to gather first-hand information and input concerning the on-going process of delimitation as mandated under the Jammu & Kashmir Reorganization Act, 2019."

It added, "The Commission already had series of meetings related to data/ map of the Districts/ Constituencies related to census 2011. Earlier, it invited all Associate Members for interaction, which were participated by two of the Associate Members. A number of representations has also been received on various aspects concerning delimitation from civil societies and members of public from the Union Territory. The Commission has already taken note of all such suggestions and directed that these may be deliberated further in the context of ground realities concerning delimitation.

The Commission expects that all stakeholders will cooperate in this endeavour and will provide valuable suggestions so that the task of delimitation is completed timely."