Bakery gutted, a four decade-old dream turned reality shattered
You've destroyed the shop, now don't burn the lane, she said. Old woman, we'll throw you in the fire as well, a man in the mob said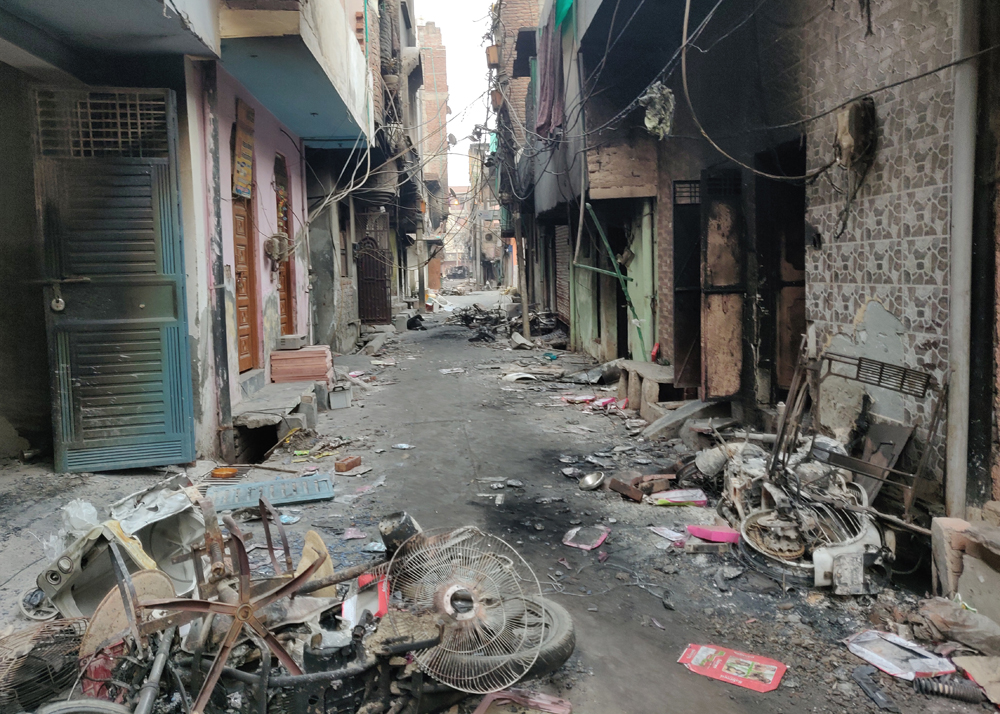 Rows of destroyed houses inside Lane 4 at Khazoori Khas
(The Telegraph picture)
---
New Delhi
|
Published 29.02.20, 03:44 PM
|
---
When a violent mob began targeting Muslim establishments in northeast Delhi's Khazoori Khas area last Monday, 40-year-old Mohd Asif managed to flee his home after his bakery downstairs was set on fire.
His neighbour, an old woman, spoke up. She was sitting outside Asif's bakery and saw a mob of hundreds vandalising and burning shops and houses that afternoon. 'Bhaiyya tumne yeh tod di ab aag mat lagao gali me sari (You have destroyed this shop, now don't burn the entire lane),' Ram Sakhi cried out.
But one of them in the mob yelled back: 'Budhiya hum tere ko aag me phenk denge (Old woman, we'll throw you in the fire as well,' the men told her and lit the shop).'
It was then that Ram Sakhi then told the Asif brothers and their wives to get out. All of them were trapped in the house above as the shop below was on fire.
'Humare dukan ke taale tode, aur saara samaan nikal ke bahar phenk diya. Petrol bomb andar daal ke sab tahesnahesh kar diya (The broke the locks of our shop and threw out all everything. They threw petrol bombs and destroyed everything),' said Mohd Sajid, Asif's younger brother.
'Neeche aag lagi thi aur upar sirf dhuan tha (It was burning downstairs and there was smoke upstairs),' he added.
Asif and Sajid's four decade old Nagina Bakery was gutted in a few hours. The two-storey house above the shop where the brothers lived with their families was covered in soot. Their bakery is a few metres across the road from former AAP municipal councillor Tahir Hussain who has been booked in connection with the killing of Intelligence Bureau (IB) officer Ankit Sharma whose body was found in a nearby drain.
Hussain, since suspended from the party, was accused of inciting violence after videos appeared of a mob pelting stones from the roof of his residence that also housed a manufacturing unit.
The next day, another Muslim mohalla was vandalised. Mohd Ajmal Hussain was among those who were trapped in their homes. He had to be rescued by police. Once he and the rest were evacuated as many as 42 houses, including a shrine, were gutted.
In the market on Karawal Nagar main road, which runs through Khazoori Khas, Chandu Nagar, Chandbagh and Moonga Nagar, most shops belonging to Muslims were either burned or destroyed.
A shop, Suraj Band, and a coaching institute, Mission Guide Institute, that were housed in buildings owned by Hindus, weren't burnt down. But these were vandalised. Goods from the shop and material from the institute were brought and burnt.
While he was trapped inside his home, Asif said he saw a mob coming from Sherpur chowk towards where Hussain lived.
Muslim residents of the area told The Telegraph Online that the violence went on for the next two days. They claimed the violence stopped at Hussain's house.
Four days after the violence started, Asif and Sajid returned to their home. Everything in the bakery was burnt.