CPM sees police pattern in Delhi riots arrests
The party politburo urged all like-minded people to jointly demonstrate against the attempts to criminalise protests by manufacturing a narrative with a view to silencing all dissent in the country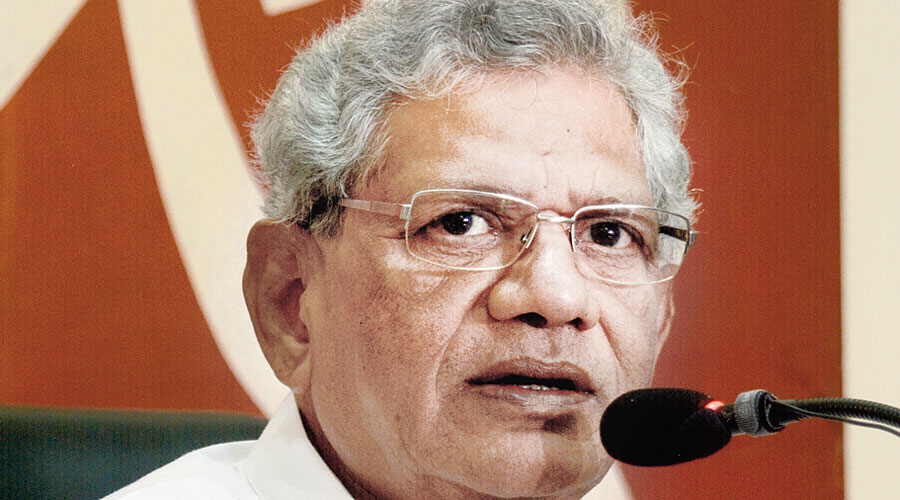 ---
New Delhi
|
Published 14.09.20, 01:51 AM
|
---
The CPM on Sunday expressed shock at the brazen manner in which Delhi police, "acting under home minister Amit Shah", have tried to implicate prominent political leaders including party general secretary Sitaram Yechury, academics, cultural personalities and activists in the February riots in the capital.
CPM leaders asserted that they would not be cowed down by such tactics, pointing out that they belong to a party that had participated not only in the freedom struggle and other revolutionary movements but also battled the Emergency.
The names of Yechury, economist Jayati Ghosh, Swaraj Abhiyan leader Yogendra Yadav and Delhi University professor Apoorvanand figure in a supplementary chargesheet filed by Delhi police in riots cases, allegedly for "provoking and mobilising" anti-CAA protesters.
Kerala finance minister Thomas Isaac summed up the mood in a tweet: "Whom are the BJP leadership trying to intimidate by foisting cases against Com Sitaram and some of the best minds among intellectuals? Want to remind BJP that we belong to the tradition of struggle for freedom and people's rights. No threat shall waver us from this chosen path."
The CPM politburo urged all like-minded people to jointly protest the attempts to criminalise protests by manufacturing a narrative with a view to silencing all dissent in the country.
Calling this an assault on democracy, the politburo said in a statement: "The politburo… is shocked by the brazenness with which the Delhi police, acting under home minister Amit Shah, has tried to implicate prominent political leadership, academics, cultural personalities and activists in connection with the horrific communal violence in Northeast Delhi in February. No condemnation is strong enough for this act of crude partisanship and vengeance."
It added: "In scripting its own narrative of the organised communal violence, it is amply clear that the BJP-RSS has gone about to portray the Delhi riots as a 'deep-rooted conspiracy' by anti-Citizenship Amendment Act (CAA) protesters."
This, according to the CPM, is in line with the growing pattern of the most blatant abuse of the police and other central agencies such as the CBI, NIA and the ED to frame prominent opponents and demonise them.
"The pattern includes slapping of provisions of the draconian NSA, UAPA and Sedition Act to harass and incarcerate those who vigorously oppose such blatant misuse of powers by the government contrary to that as ordained by the Constitution," the statement said.
"The arbitrary conduct of the NIA in the Bhima-Koregaon case and expanding its ambit is telling commentary of this course. Similarly, the dropping of the provisions of the NSA and granting of bail to Dr Kafeel Khan by Allahabad High Court have graphically underlined this. Overall, this outlines a severe onslaught on democracy and the Constitution," it added.
The CPM in Bengal has called for statewide protests. State CPM secretary Surjya Kanta Mishra tweeted in Bengali: "The declaration of the communist party as illegal after the freedom struggle, the arrest of leaders one after another in cases of conspiracy and the murder of thousands of comrades have not been able to finish us. The more the attacks, the more the resistance…."
Yechury tweeted the politburo statement. On Saturday evening, reacting to the reports of Delhi police naming him along with several others in the supplementary chargesheet, Yechury had tweeted: "Delhi Police is under the Centre and Home Ministry. Its illegitimate, illegal actions are a direct outcome of the politics of BJP's top leadership. They are scared of legitimate peaceful protests by mainstream political parties & are misusing state power to target the Opposition."