Defence ministry to stop importing 101 items to boost domestic production
It is estimated that contracts worth almost Rs 4 lakh crore will be placed upon units within the country in 6 to 7 years: Rajnath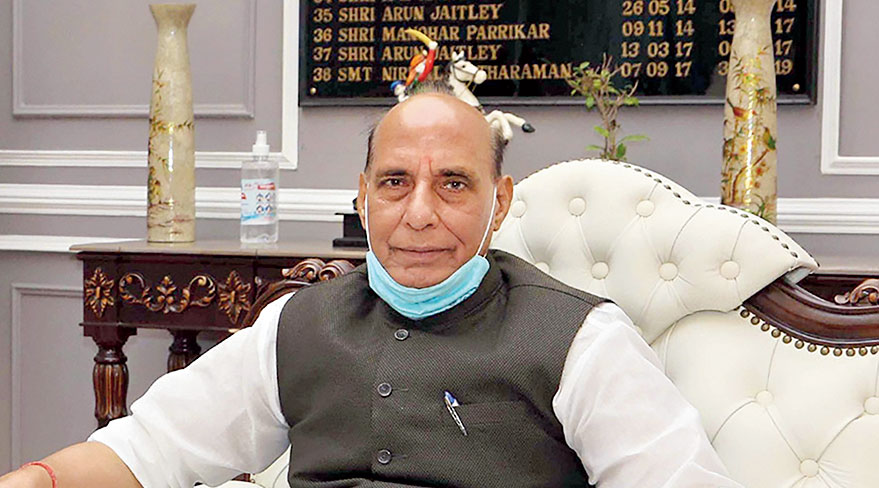 Defence minister Rajnath Singh
PTI
---
New Delhi
|
Published 10.08.20, 03:13 AM
|
---
The defence ministry on Sunday announced it would stop importing 101 items, including weaponry, in a phased manner from December to try and strengthen the country's fledging defence production industry under the Atmanirbhar Bharat initiative.
Defence minister Rajnath Singh said: "It is estimated that contracts worth almost Rs 4 lakh crore will be placed upon the domestic industry within the next 6 to 7 years."
Although the proposed amount need not be distributed equally, the annual break-up ranges from Rs 57,000 crore to Rs 66,600 crore. This is higher than the Rs 45,700 crore India spent on importing defence equipment in 2018-19.
The domestic defence players in India now include Hindustan Aeronautics Ltd, the Adanis, Anil Ambani, the Tatas, the Hindujas, L&T, Kalyani Group and Mahindra Aerospace.
The government did not reveal the share of the 101 items in India's current import bill. India is now among the top three arms importers in the world.
Among the embargoed items are high-technology weapon systems like "artillery guns, assault rifles, corvettes, sonar systems, transport aircraft, light combat helicopters, radars".
Announcing the list, Rajnath tweeted: "The ministry of defence is now ready for a big push to Atmanirbhar Bharat initiative. MoD (ministry of defence) will introduce import embargo on 101 items beyond given timeline to boost indigenisation of defence production."
He called the decision a "big step towards self-reliance in defence".
Responding to Rajnath's tweet that the decision will offer a great opportunity to the Indian defence industry, Vipin Narang, MIT professor, tweeted: "Because DRDO (Defence Research and Development Organisation) has an… excellent track record of doing this, having 'not produced a single weapons system that could alter the country's strategic situation' (Cohen and Dasgupta, Arming without Aiming, p.26)."
Narang, an expert on nuclear security and terrorism, was referring to the book Arming Without Aiming (Stephen Cohen and Sunil Dasgupta), which deals with India's dependence on foreign suppliers for weapons.
Defence ministry sources said Rajnath's announcement had been expected following the Centre's May declaration that it would draw up a negative import list for defence.
Rajnath said his ministry had prepared the list after consulting all the stakeholders, including the military and public and private-sector companies, to assess the Indian defence industry's current and future capability to manufacture ammunition and equipment.
A military veteran said later: "The big question is, do we have enough indigenous capability? The embargoed items like artillery guns, sonar systems, light combat helicopters and radars are still at various stages of development by the DRDO."
What is needed is a policy intent to reduce the import of critical components, he said. "If material components are imported and assembled in India, what is the purpose behind such an embargo? India cannot be atmanirbhar (self-reliant) by being hostage to import procurements."