Cyclone Yaas: Odisha govt begins evacuating people from vulnerable places in the coastal belt
With many people reluctant to shift to the cyclone shelters for fear of catching Covid, CM Naveen Patnaik issued an appeal asking people to cooperate with the officials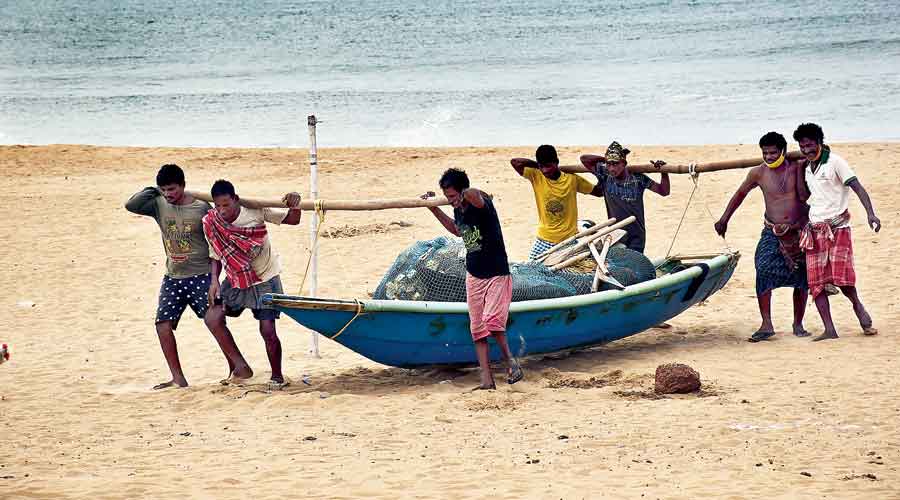 Fishermen carry a boat to a safe place at a beach in Puri, Odisha, on Monday ahead of cyclone Yaas
PTI
---
Bhubaneswar
|
Published 25.05.21, 01:15 AM
|
---
The Odisha government began evacuating people from vulnerable places in the coastal belt from Monday morning, ahead of the expected landfall by Cyclone Yaas on Wednesday evening.
With many people reluctant to shift to the cyclone shelters for fear of catching Covid, chief minister Naveen Patnaik issued an appeal asking people to cooperate with the officials.
The government has stressed that enough precautions are being taken at the cyclone shelters against the spread of Covid, and arrangements are being made for detection, isolation and treatment of patients.
The evacuation is likely to be completed by Tuesday evening.
Pre-cyclone rainfall has begun in many parts of Odisha, including Bhubaneswar, Puri, Jagatsinghpur, Bhadrak and Balasore.
With high tide noticed in the sea in many areas such as Astaranga and Kakatpur in Puri district, the threat of saline ingress looms.
Announcements are being made over the public address system asking fishermen in particular to shift to safer places.
"As this is the time of Covid, we need to be more careful. Whether you are in a cyclone shelter or in your own house, I request all of you to wear double masks. Besides, wash your hands frequently with soap and sanitiser," the chief minister said.
Naveen has directed the district collectors to provide masks to the people through Mission Shakti, a self-help programme for empowering women.
Odisha on Monday launched a door to-door campaign to identify people with Covid-19 symptoms.
The state has seen 7.03 lakh people get infected with Covid, of whom 2,516 have died. The number of active cases is 1.11 lakh, with the daily infections currently numbering around 11,000.
Odisha has deployed more than 700 units of disaster fighting personnel, including 60 units of the Odisha Disaster Rapid Action Force (ODRAF), 22 of the National Disaster Response Force (NDRF) and fire services teams in vulnerable areas. Another 30 NDRF units are expected to arrive by Tuesday morning.
The state has deployed five senior IAS and IPS officers to monitor relief and restoration. They will remain in charge of the coastal districts and coordinate with special relief commissioner P.K. Jena.
"We are working with the goal of achieving zero casualty," Jena told reporters.
"Around 60 ODRAF units, 200 fire-fighter units, 165 special engineering teams, 52 NDRF units and an equal number of units from the works and rural departments will be deployed for relief and rescue. We are prepared to face any situation."
The state government has drafted in women's self-help groups and panchayat members too.
The cyclone is expected to make landfall between Paradip in Odisha and Sagar Island in Bengal.