Cyclone Gulab: Rains lash several parts of Telangana, IMD issues red alert to 14 districts
Neighbouring Andhra Pradesh too witnessed widespread rains in several districts as the cyclonic storm weakened into deep depression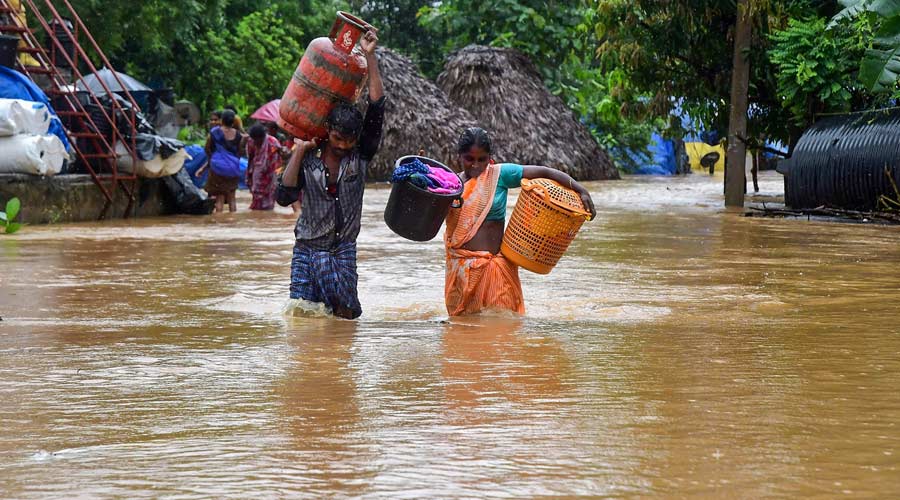 ---
Hyderabad, Amaravati (Andhra Pradesh)
|
Published 27.09.21, 11:22 PM
|
---
Rains pounded several parts of Telangana on Monday, even as the India Meteorological Department (IMD) warned that heavy rains are expected at isolated places in different districts of the State over the next 48 hours. Telangana Chief Minister K Chandrashekhar Rao took stock of the situation with Chief Secretary Somesh Kumar.

Rao directed the Chief Secretary to take necessary precautions against any loss of life or property due to heavy rains forecast across the State for another two days due to the impact of cyclone 'Gulab', an official press release said.

The Chief Minister said all government offices, including schools, colleges and educational institutions in the State, would remain closed on Tuesday due to heavy rains.

Examinations of engineering and degree courses scheduled for September 28 and 29 were also postponed in view of the heavy rains.

The Chief Secretary said the departments of Revenue, Police, Fire Services, Municipal, Panchayati Raj, Irrigation, Roads and Buildings should be on emergency duty to ensure that no property or lives are lost due to heavy rains, the release added.

The IMD, which issued a red alert to 14 districts of the State, warned of heavy to very heavy rain with extremely heavy rain that are very likely to occur at isolated places in Nirmal, Nizamabad, Jagityal, Rajanna Sircilla, Karimnagar, Peddapally, Bhadradri Kothagudem, Khammam, Mahabubabad, Warangal (Rural), Warangal (Urban), Janagaon, Siddipet, Kamareddy districts today.

The rains would result in massive water-pooling on roads and low-lying areas in most places and agriculture land submerge/crop damage, it said, adding, thunderstorm accompanied by lightning with wind speed 30-40 kmph is very likely to occur at isolated places in all the districts.

Bachodu in Khammam district received highest rainfall of 151.5 mm followed by Wyra (141.5 mm) till 3 PM today. Similarly, several parts of Hyderabad also witnessed rains since this morning.

The downpour caused waterlogging on some roads and low-lying areas.

The IMD further warned of heavy rain that is very likely to occur at isolated places in Adilabad, Nirmal, Nizamabad, Jagityal, Rajanna Sircilla, Vikarabad, Sangareddy, Medak and Kamareddy districts of Telangana between 0830 hours of September 28 and 0830 hours of September 29.

Thunderstorm accompanied with lightning very likely to occur at places in all the districts of Telangana.

Meanwhile, Somesh Kumar once again held a teleconference with District Collectors in the wake of heavy rains. Kumar said Collectors have been directed to remain vigilant in the wake of warnings from the Meteorological Department that there will be heavy rains for another two days across the State.

He said the Revenue, Police, Panchayati Raj, Irrigation and Fire departments in the district should work in tandem. If necessary, services of NDRF teams in Hyderabad, Kothagudem and Warangal should be utilised, he said, adding separate control room should be set up in each District Collectorate office and information should be provided to the control room set up in the Secretariat. The Chief Secretary further said the situation should be reviewed by appointing Special Officers at problematic areas such as inland areas, ponds, ditches and bridges.

Telangana Director General of Police M Mahender Reddy said he had directed the Police Commissioners and Superintendents of Police to work in coordination with the District Collectors.

The police advised citizens to stay indoors unless needed. "Do not cross overflowing streams. Remain indoors in view of heavy rainfall. Dial 100 in case of emergency," they said.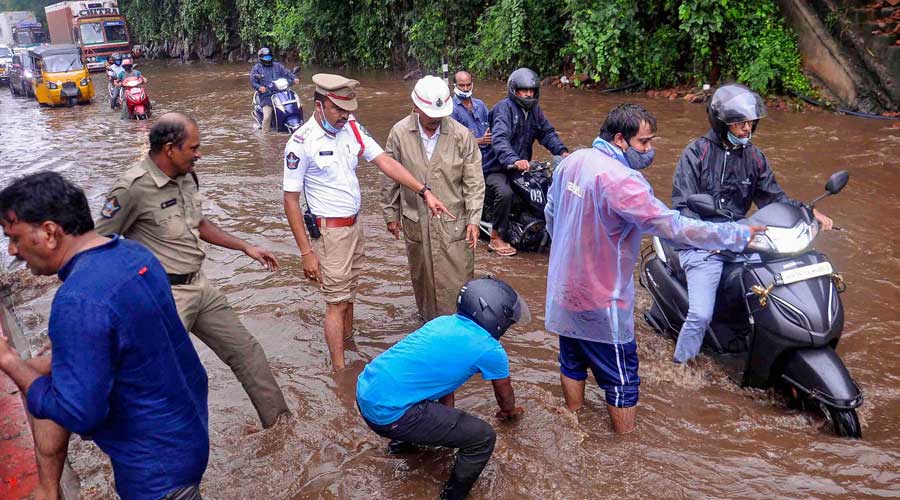 Heavy rains batter AP districts
Cyclone Gulab, which crossed the Bay of Bengal coast near Kalingapatnam on Sunday night, weakened into a depression and caused widespread rains in several districts of Andhra Pradesh on Monday and also left a trail of destruction, as the death toll rose to two with a woman's death.

Port city Visakhapatnam received a 30-year high rainfall of over 33.3 cm in 24 hours under the cyclone's impact and left a woman dead on Monday, taking the toll to two since Sunday.

On Sunday, a fisherman was killed in the cyclonic storm in Bay of Bengal in Srikakulam district.

Chief Minister Y S Jagan Mohan Reddy reviewed the situation with Collectors of the rain-affected districts and directed them to step up relief works.

The Chief Minister announced an ex-gratia relief of Rs 5 lakh each to the kin of those killed in the cyclonic storm.

In Vizianagaram district, agricultural crops in 13,122 hectares and horticultural crops in 291 hectares were damaged, according to the Collector A Surya Kumari.

Nine head of cattle also died in the cyclone.

In Visakhapatnam, boulders fell on a house, causing its collapse and killing a woman, district Collector A Mallikarjuna said.

The Collector, along with Greater Visakhapatnam Municipal Corporation Commissioner G Srujana, inspected the rain-affected areas in the city and supervised the relief operations.

Chief Secretary Aditya Nath Das visited Srikakulam, the district worst affected by Gulab, and reviewed the rescue and relief operations.

The district administration sheltered over 1,500 persons in 38 relief camps and provided food.

Trees that were uprooted by the cyclone were cleared from the roads on a war-footing while the Eastern Power Distribution Company personnel carried out repair of the damaged power lines.

According to IMD data, rainfall ranging from 60.3 mm to 333 mm was recorded in over 450 places spread over Srikakulam, Vizianagaram, Visakhapatnam, East Godavari, West Godavari and Krishna districts in 24 hours.

Guntur and Prakasam districts received up to 7.5 mm rainfall while SPS Nellore and the four Rayalaseema districts received up to 2.4 mm of rain, according to the State Disaster Management Authority.

The sea still remained rough in north coastal Andhra, which could cause moderate to heavy rainfall.