Crushed farmers' ashes trigger anguish and anger in Odisha
The urn was brought here by the members of the SKM Odisha unit from Lakhimpur Kheri as a mark of respect for the departed souls and immersed in river Daya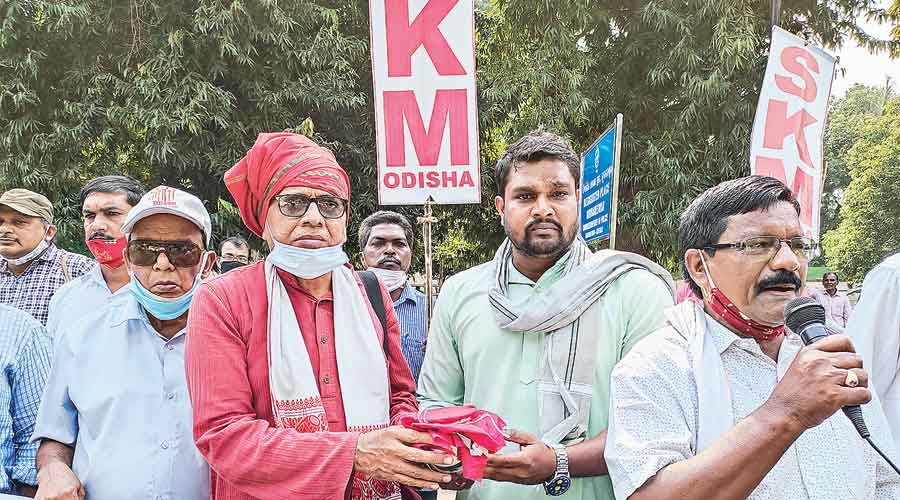 Sachin Mohapatra (right) and other members of the Samyukta Kisan Morcha at the protest in Bhubaneswar on Tuesday with the farmers' ashes urn
Telegraph picture
---
Bhubaneswar
|
Published 27.10.21, 01:07 AM
|
---
Sachin Mohapatra's hands trembled as he touched the urn containing the ashes of the four farmers who were crushed under the wheels of a Union minister's car in Uttar Pradesh's Lakhimpur Kheri.
"They died for our cause. Their killing was a shameless attempt to stifle the voice of the farmers protesting the controversial central farm laws. But we will not be cowed down by such threats," said Sachin, a 32-year-old MBA graduate from Rohtak University who opted for farming after changing jobs.
The urn had been brought to Bhubaneswar by members of the Samyukta Kisan Morcha's Odisha unit from Lakhimpur Kheri to be immersed in the Daya river on the outskirts of the Odisha capital.
"Farmers are being exploited and this must come to an end," Sachin said.
The Morcha, leading the farm struggle against the Modi government, chose the Daya river for the immersion of the ashes, including those of a journalist who too was mowed down by the Thar jeep of Union junior home minister Ajay Mishra Teni, because of its symbolic value.
"Here on the banks of the Daya river the great Kalinga war was fought between the people of Kalinga (Now Odisha) and King Ashoka, the emperor of Magadha. Here we pledge to wage a war against the Modi government as long as we are alive. Either we will win or we will be finished," said social activist Mahendra Parida
Mishra's son Ashis has been arrested against the backdrop of the charge that he was in the Thar when it ran the farmers and the journalist over on October 3.
When the urn covered in red cloth reached the farmers' protest site on Tuesday at the Master Canteen Square near the Odisha Assembly, there was a rush to touch it.
"You see the anger of the people. Our interests have been ignored by the Modi government," Sachin said.